Dec 20 - Have Yourself A Healthy Little Christmas….
By Giulietta Durante
How not to pile on the pounds over the festive period
Everyone loves Christmas but no one likes bursting out of their jeans when the festive season is over. Here are my tried and tested tips to help keep that expanding waistline at bay - enjoy! 
Eat mindfully and savour your food.
Enjoy every mouthful and don't feel guilty, if you stop to really savour what you're eating you're much less likely to overeat.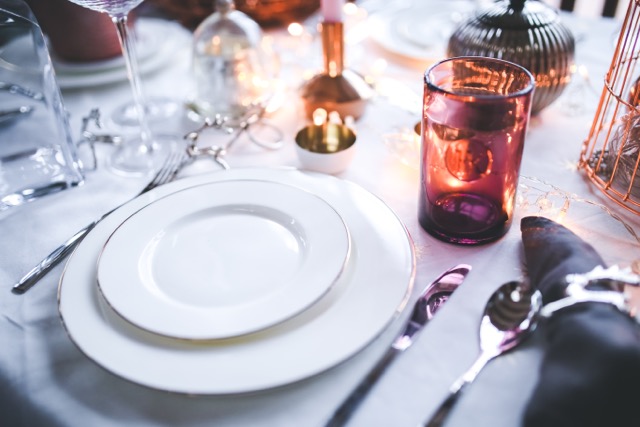 Hit the veggies first!
The traditional Christmas menu comes with lots of great vegetable side dishes, pile them high on your plate and eat them before anything else. This will make it harder to over-indulge as you'll already be half full!
Don't go to a party when you're starving.
Make sure you have a quick snack before going anywhere where there might be lots of unhealthy snacks as this will stop you from reaching out for the crisps. You could even offer to take a couple of your own healthy snacks (hummus and crudités, raw unsalted nuts, etc).
Don't drink on an empty stomach.
This is always a deadly move and will inevitably set you up for failure. It raises your blood sugar which in turn raises stress hormones that trigger fat storage. It also leads to poor food choices and overeating as you lose touch with your satiety signals (i.e. the signals your stomach sends to your brain to let it know it's had enough).
Limit alcohol.
This might sound unrealistic but limiting your alcohol intake is probably one of the most effective ways to avoid gaining weight over Christmas. No one's saying you should avoid it completely (I'm not that much of a party pooper!) but by employing a couple of clever tactics you could dramatically reduce your chances of gaining weight. One of my favourite tactics is alternating every alcoholic drink with a glass of water (sparkling water if you're feeling fancy). If drinking wine you could add a couple of ice cubes to your wine (yes, even red wine - think about it, the French love serving chilled red wine and they're the experts!). Be wary of sugary mixers and go for drinks like vodka, soda and lime rather than sweeter concoctions such as bacardi and coke and gin and tonic. And lastly, beware of the Bailey's! Did you know one small glass contains over FOUR teaspoons of sugar? Eeeeeeeek!
Watch what you eat in between meals
Along with excessive alcohol consumption it's the mindless picking in between meals that probably causes the most damage to our waistlines. (Ever looked down and realise you've chomped your way through half a box of Celebrations?) Try and make a conscious decision not to eat between meals and if you do feel like snacking go for healthier options such as nuts and satsumas.
Focus on getting a good breakfast in
A good breakfast will limit the damage done the night before AND set you up for the day ahead. Avoid the temptation to go for sugary cereals (or left over dessert!) and go for energy boosting smoothies and fatigue fighting eggs. Eggs are also great for stimulating detoxification so get cracking! You could always experiment with one of my Start The Day Right Smoothie recipes found below.
Keep moving!
Ok, so no one's asking you to go to the gym on Boxing Day but getting out for a brisk half hour walk every day will work wonders for keeping that mince pie muffin top at bay. It'll also stimulate digestion and help you to feel less sluggish.
So there you go folks, I guarantee that even just implementing ONE of these tips will help no end!
Wishing everyone a healthy and happy Christmas,
Giulietta x
Start The Day Right Smoothie Recipes
Detox Breakfast Smoothie
1 scoop SunWarrior vanilla protein
1 tablespoon whole or ground linseeds
200 ml unsweetened almond milk (Alpro or Provable are good brands)
300ml water
1 large handful of rinsed kale, stalks removed
1 teaspoon coconut oil
3-4 ice cubes
Method
Blend all the ingredients together in a high speed blender and serve immediately.
Berry Beetroot Burst
Berries are PACKED with antioxidants which are great for mopping up the damage done eating and drinking too much. Beetroot is fabulous at increasing blood flow and the delivery of nutrients round the body - a surefire way of boosting energy levels straight away!
1 large handful of frozen mixed berries
1/2 raw (peeled) beetroot
1 scoop SunWarrior vanilla or natural protein powder
1 small knob of fresh ginger (chopped)
300ml water
1 tablespoon of mixed seeds
Method
Blend all the ingredients together and serve immediately - I like to add a squeeze of lemon at the end for a tangy twist and for extra vitamin c.
Avocado, Coconut and Spinach Smoothie
One of my all time favourites - packed with good fats to keep you going all morning.
1/2 avocado
1 scoop SunWarrior vanilla protein powder
1 handful washed baby leaf spinach
1 cup of water/ nut milk/coconut milk of your choice
1 tablespoon desiccated coconut/flaked almonds for topping
Method
Combine all the ingredients in a high speed blender - super delicious and creamy!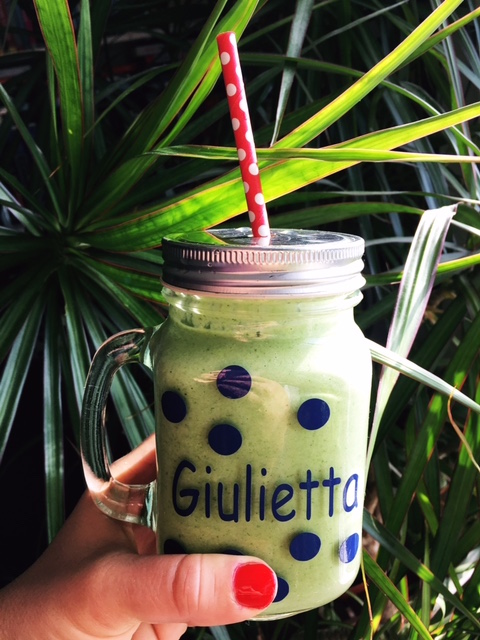 Giulietta is a Nutritional Therapist and Health Coach with a special interest in women's health. She is based in London and offers worldwide Skype and FaceTime consultations. To find out how Giulietta can help you achieve your health goals email her at: This email address is being protected from spambots. You need JavaScript enabled to view it..uk or visit her website www.hormonesinharmony.co.uk.