Apr 19 - Clause Twenty-Two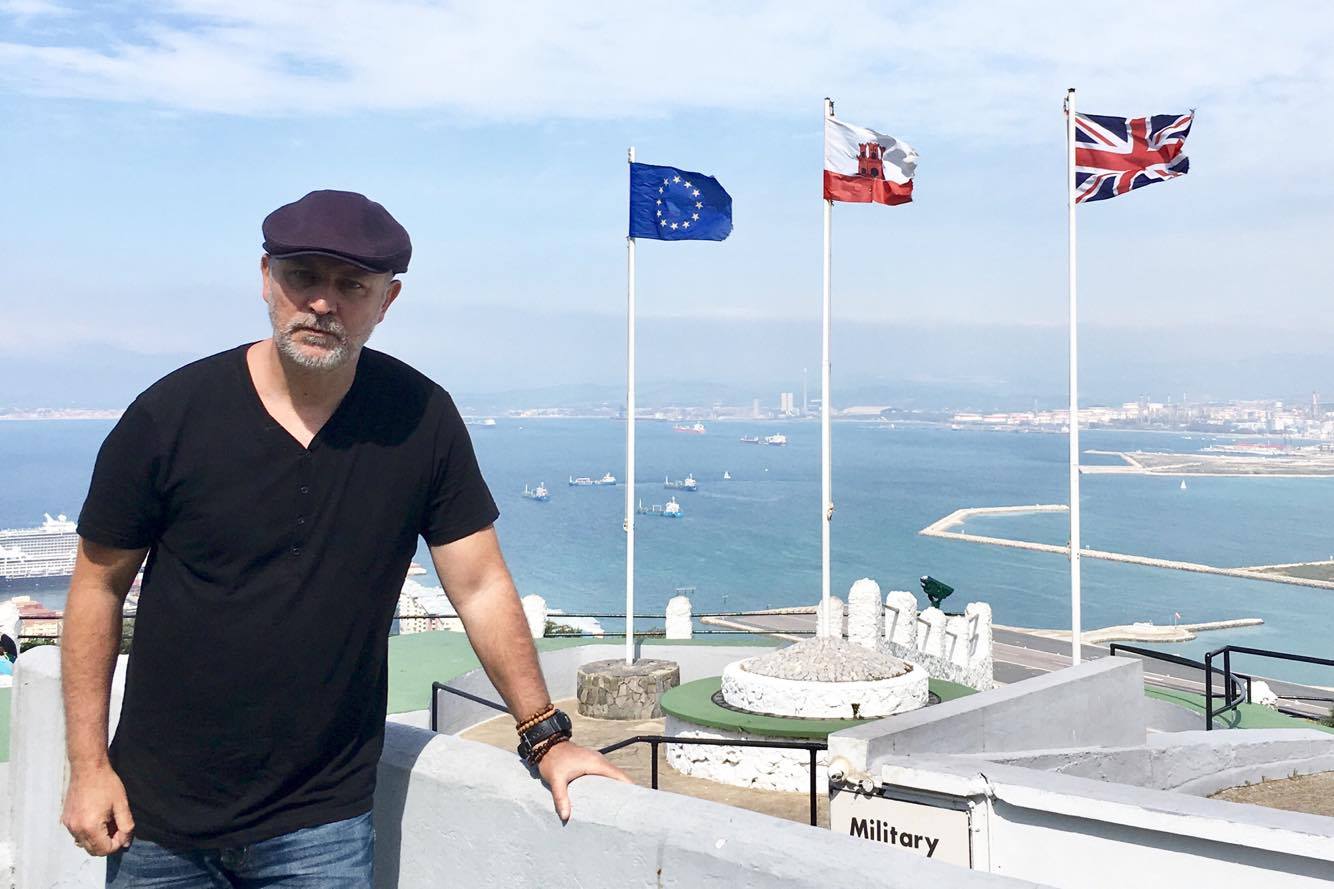 By M. G. Sanchez
I was in the departure lounge at Heathrow airport when I saw the guy flash up on a nearby television screen.
He was a robust middle-aged fellow, heavy-jowled and neatly shaved, and he was talking about the recent triggering of Article Fifty.
I can't remember exactly what he was saying, but he had this look of tremendous exultation on his face, of sheer unalloyed joy, as if exiting the EU represented the pinnacle of his entire frigging life.
Thank God that I'm going on holiday to Gibraltar, I thought, gazing down at my flight ticket. At least I'll be able to escape all this hullabaloo for a few weeks!
But when I get to Gib the story is no longer about Article Fifty, but about Gibraltar and Clause twenty- two. Foreign journalists are scurrying all over the Rock; Michael Howard is reminiscing about the Falklands War; and every morning in the papers I'm coming across the most outrageous allegations about the native 'Gibraltuns':
a) That we are a dodgy tax-haven full of smugglers and money launderers.
b) That we are all British expats who don't speak Spanish and sit around drinking tea all day.
c) That many of us are voracious Sun readers who cheered uproariously when the newspaper arranged to clandestinely project the phrase "Up Yours, Señors" onto the northern face of the Rock.
Well, that's just how it goes, I can almost hear you say. We live in a democracy and everybody is entitled to their opinion, aren't they?
That may be so – but let me ask you a question: have you seen a single article written by a Gibraltarian among the thousands of Gibraltar-related articles that have appeared over the last few weeks?
Because I certainly haven't!
It's almost as if we've been banned from the journalistic banquet altogether, expressly prohibited from sharing the same breathing space as our good British compatriots.
Look at the way, for instance, the Guardian refused point-blankly to give our Chief Minister the chance to speak on our behalf.
It all started when the Guardian yielded yet again to its strongly ingrained anti-Gibraltarian instincts and began publishing a series of very derogatory articles about the Rock.
One of them was by a woman called Michele Hanson. 'What's the point of keeping Gibraltar,' she wrote with cutting directness. 'Let's make life easier, and give it back.'
Even more disparaging was a piece in the Guardian by a guy called Oliver Bullough. This Bullough fellow started his article by claiming that he was bringing some impartiality to the Gibraltar debate – and then proceeded to write a piece full of juicy little tidbits gathered from discredited sources.
But Bullough, that self-styled paladin of impartiality, was not simply content to criticise Gibraltar's economy and political set-up.
On 7 April he went one step further and insulted us by tweeting that we were "essentially a bunch of spivs with territory attached."
Yes, you've read correctly – Mr Bullough of the Guardian thinks that Gibraltarians are "essentially a bunch of spivs with territory attached."
In response, the Gibraltarian Chief Minister asked the Guardian if he could at least reply to Bullough's article with a piece of his own.
Picardo says he asked the British broadsheet five times for the right of reply, but was repeatedly ignored.
After he took to Twitter to express his frustrations, the Guardian finally gave him a response: No. We are not interested in hearing your side of the story.
Why is this happening, you might ask yourself? Why are Gibraltarians – the people who live on the Rock and call it their home – being pushed to the periphery of the debate in this way?
To answer this question, I propose to spend a few moments focusing on an article that was recently published in the New Statesman by Siobhan Fenton. Bearing all the hallmarks of a very hastily written piece, it sought to present the Rock as an enclave of parochial, narrow-minded Britishness:
Locals, clad in M&S polo shirts, speak English with clipped British accents. Bursts of "bloody" and "gosh" reveal themselves to be the going expletives.
Mmm. Let me think. Does this sound like the Gibraltar that we all know, where most conversations are conducted in Llanito and people frequently code-switch from English to Spanish depending on conversational context?
But wait a minute, it gets much worse.
Some are retired pensioners from Cheshire and Kent, Fenton very earnestly continues, looking to retire to sunny Spain, without the effort of learning Spain's language and customs, or the distress of giving up home comforts like the Daily Mail and a decent cup of breakfast tea.
Retired pensioners from Cheshire and Kent? I mean, come on, Ms Fenton? Did you really visit Gibraltar – or did you, perhaps, just sit at home and watch a few episodes of Channel Five's ridiculously anglocentric Gibraltar: Britain in the Sun?
But back to Fenton's piece....
Other residents, she solemnly remarks, have been here since the first families at the turn of the eighteenth century. They have never integrated with their Spanish neighbours or strayed far from the two square mile landmass, other than occasional trips across the border for work, school or healthcare.
Oh, really, so we have never integrated with our neighbours across the border, have we? Then how come many of us have family in Spain or – like me - bear Spanish surnames? How did all this come to pass living in this airtight vacuum of Britishness in which you have decided to place us?
Gibraltar, Fenton gravely concludes, is nothing more than "an anthropologist's paradise, a surreal case study" and "its entire history and identity is built on a notion of British exceptionalism. Once that goes, it has little left to hold it together."
So there you have it, folks. Now you know why Gibraltarians have been pushed to the periphery of the current media debate. In the eyes of journalists like Fenton, you see, we are an oddity, an anomaly that isn't worth bothering about, a valueless bauble that can be discarded without consequence.
As far as ironies go, it is got to be up there with the very best of them.
Back in the nineteenth century, let us not forget, British colonial administrators tended to look down on Gibraltarians as a superfluous adjunct, one of those troublesome burdens that necessarily come with Empire.
Now, more than a full century later, anti-colonial crusaders like Hanson or Fenton are doing exactly the same thing – by writing about the Rock as if the men, women and children living here didn't come into the equation.
Mismo perro, diferente collar, as we say around these parts.
M.G. Sanchez has written various novels and books of short stories on Gibraltarian themes. He occasionally tweets under the handle @MGSanchez.