Apr 16 - Frangos - Restaurant Review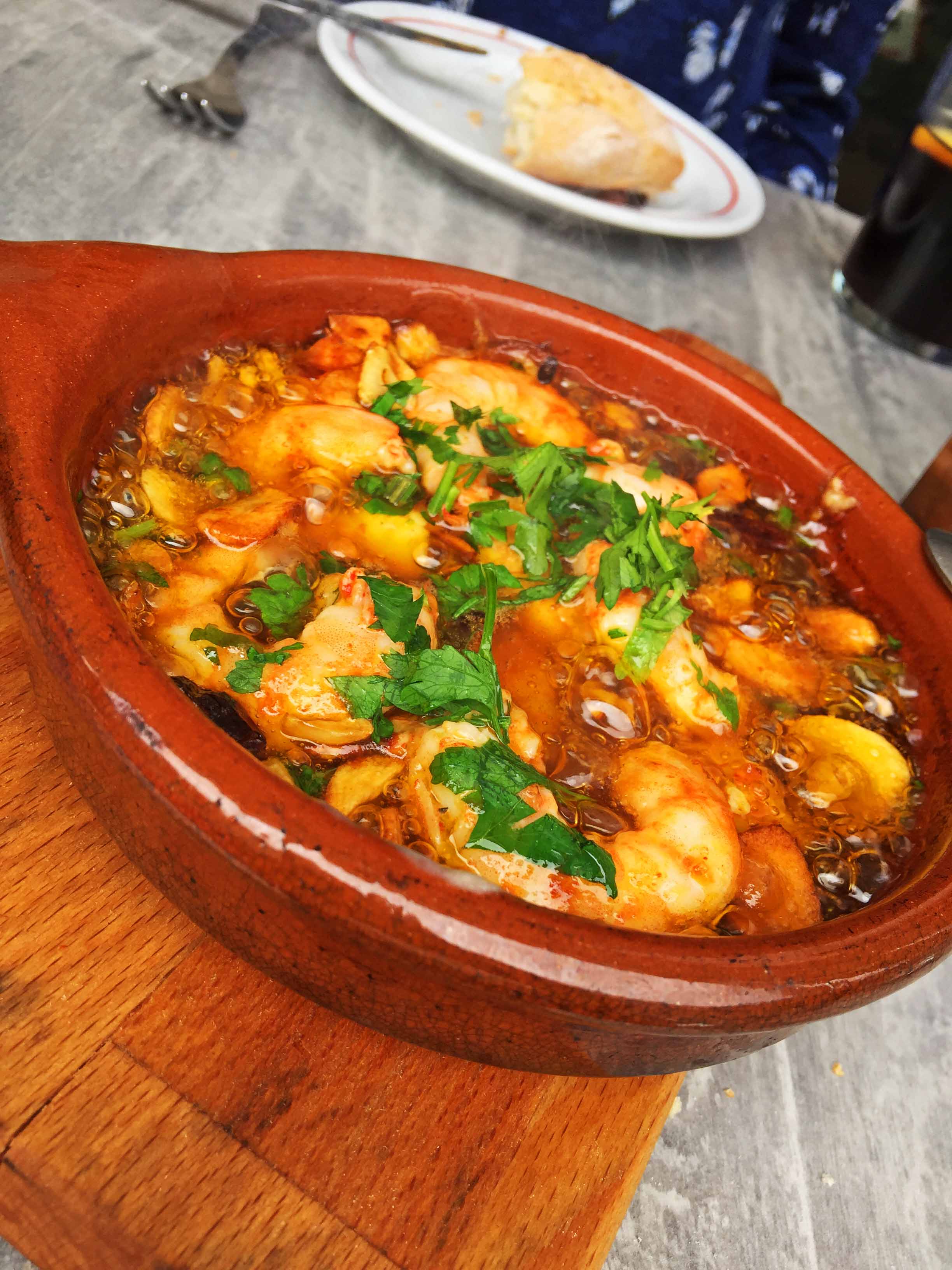 By Gastrorob
Last year, when Frangos opened on Chatham Counterguard with its lawn terrace, white furniture and retro ashtrays I was compelled to try it out as this was very different from everything else we were currently enjoying on 'The Strip'. I wanted it to do well especially as it was the first Portuguese restaurant in Gibraltar and, to top it off, placed in a great location with very stiff competition.
August 2017
So shortly after opening, I popped down with a friend for some lunch and unfortunately neither of us was impressed. Thanks to the wonder of Smartphones, I can tell you we ordered the pastel bacalhau (cod pasties) and some prawn piri-piri to nibble on whilst we both waited for our piri-piri chicken – I had the butterflied chicken breast and my friend the ½ piri-piri chicken. Sadly, none of the dishes we ordered hit the mark.
Since then, I have been giving Frangos a bit of a wide berth – to the extent that if any of the other spots along 'The Strip' have been full and there have been tables available at Frangos I've tended to walk right passed and ended up somewhere else.
April 2018
Now fast forward to April 2018.
A friend and I decided to go for an impromptu lunch to Chatham Counterguard and without negotiation she walked straight to Frangos. It seemed that it was time to give Frangos a second chance.
The staff courteous and friendly – they recognised my friend, where she sat the last time she dined there and what she'd ordered! JM recognised me from his days as a waiter at the Village Inn and then the Blue Anchor. They came to help us with the menu – thankfully no longer in tablemat format – and introduced us to the specials. We had a few questions about the menu which they were very quick to help us with and brought us our drinks.
I was glad to see some of the changes they'd made to their menu especially the addition of the 'bocaditos' as they make for great lunch time snacks; ideal if you're popping out of the office for a quick bite. I can recommend the Alentejo (pork loin with alentejana sauce, potatoes and fresh coriander) and the Coimbra (piri-piri chicken, caramelised onion and mayonnaise) which were great, I dare say the others are equally delicious.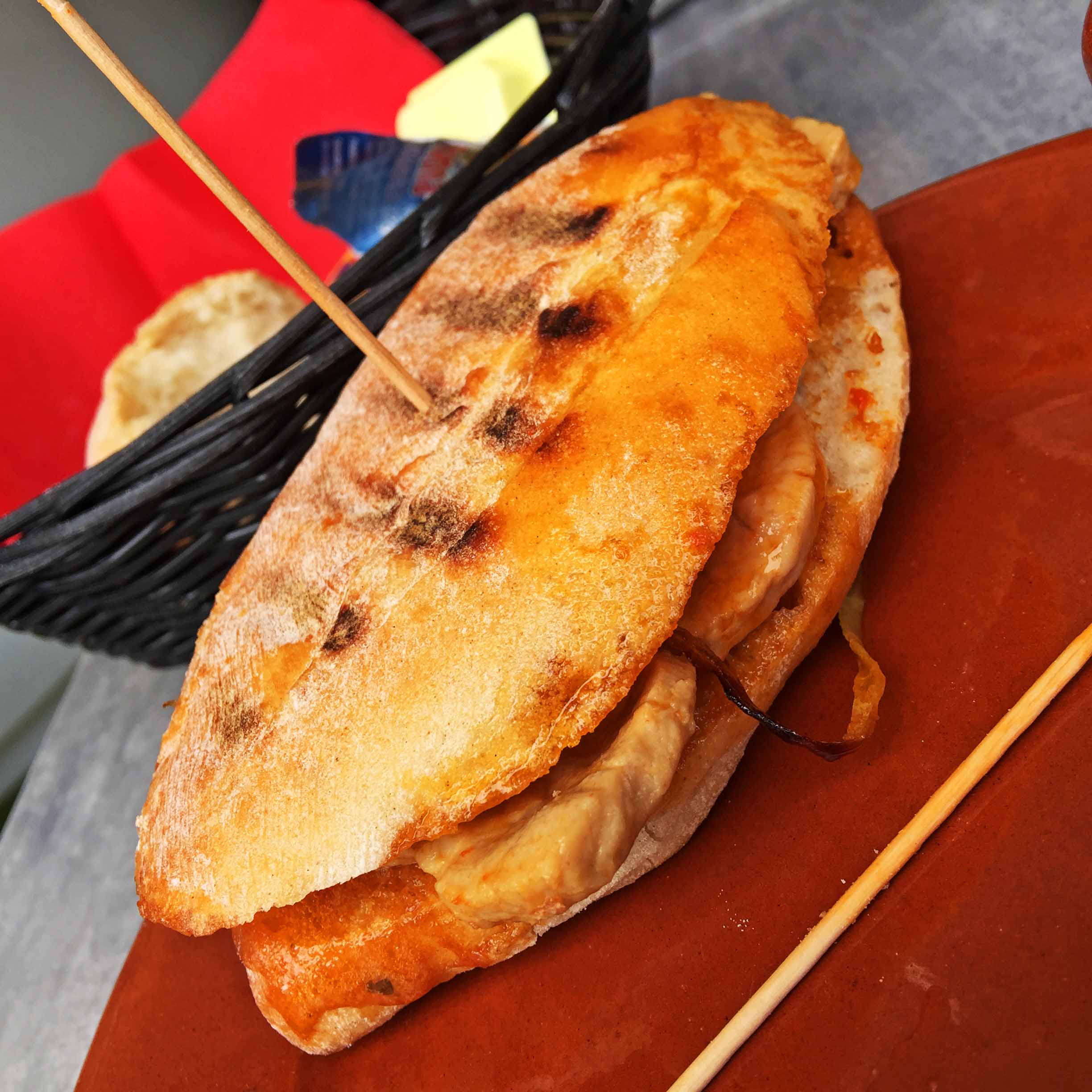 The Prawn Piri-Piri arrived as it should; sizzling and spluttering as it was set down on the table. The piri-piri heat was packed full of flavour, the prawns: large and succulent; devoured in moments. So different to the impotent version we were served last year.
We then shared a large dish of Carne Porco a Alentejana com Ameijoas (pork and clam stew) which sounds much more delectable and enticing in Portuguese than in English! Over a bed of chips/potatoes, tender slow-cooked chunks of pork (cooked in a white wine, onion, tomato and paprika sauce) and Portuguese clams served generously soused in sauce and scattered with pitted black olives and coriander. This dish was luscious. Actually, it was such a bountiful dish, that after the prawns piri-piri and the 'bocaditos' we couldn't finish it between us.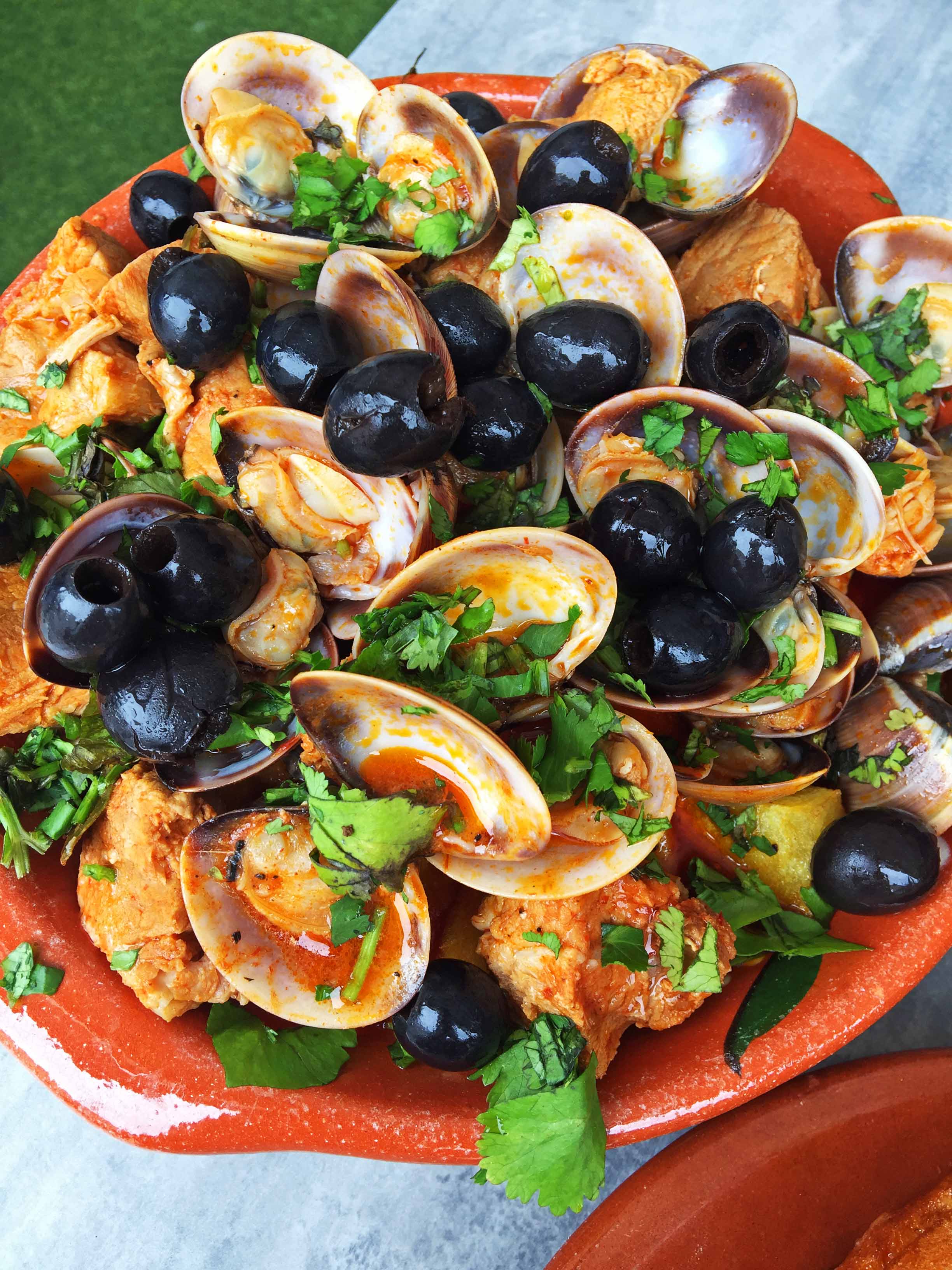 A real treat of a quick lunch.
Having read some of the testimonials on the Frangos Facebook page, it seems to have a very positive reputation with several 5 star reviews, "Delicious and service was great too!", "Excellent food and service", "Will be returning soon", "My (chef) husband was very impressed".
Frangos ≠ Nando's
Now, I personally didn't do the math at the time (but others may have done):
Frangos = Portuguese = Piri Piri Chicken = Nando's. And if that is what you did then you'd be disappointed. This is not a mass produced chicken chain, this is good Portuguese home cooking of which piri-piri chicken is one of the many items on the menu.
I would like to try some of the seafood dishes such as the Cataplana de Mariscos or the Arroz de Marisco which I know some people rave about, "I no longer have to travel to Portugal for my cataplana!" But these dishes need to be pre-ordered or at least allow for the 35 minute wait time.
I am quite angry with myself for not having given Frangos their second chance sooner. The slight changes to their menu and improved overall product have made for a very enjoyable meal. Without a doubt I shall be visiting again, hopefully it won't be 8 months until my next time!
My faith in Frangos restored.
For more reviews, recipes and food-related musings, visit/follow: Web: gastrorob.com 
Facebook: http://www.facebook.com/gastrorob 
Twitter: http://www.twitter.com/gastrorob  or @Gastrorob