Nov 09 - Russian Navy Returns To Ceuta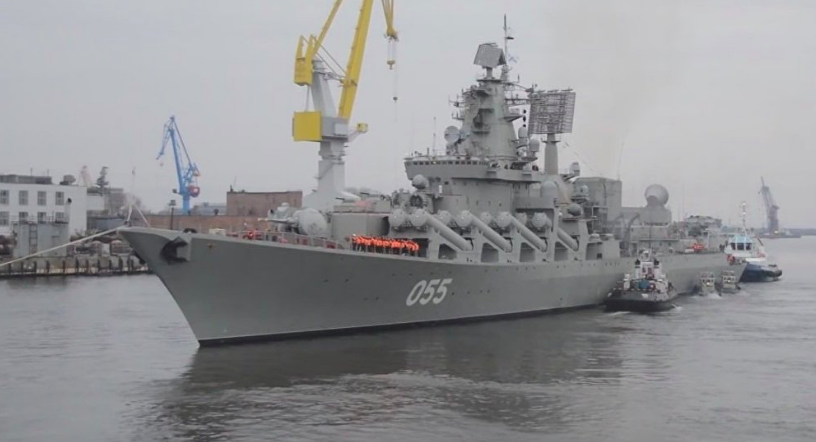 By David Sanchez
This morning the Russian Navy Slava-class cruiser RFS Marshal Ustinov, accompanied by the replenishment oiler Dubna and the Naval Tug SB406 called in at the port of Ceuta. The vessels proceeded from the Eastern Mediterranean with Marshal Ustinov having taken part in operations in the Syrian theatre. She had entered the Mediterranean on the 11th of August this year in company with the Udaloy class destroyer Severomorsk.
This is by far not the first time that the Russian Navy has been hosted by Spain, this has been observed to be an occurrence by sharp eyed Gibraltar-based ship spotters as early as 2013. Attention was drawn to various NATO and media sources via social media and this culminated in 2016 with significant pressure being put to bear on Spain when the aircraft carrier Vice Admiral Kuznetsov and her battle group were intended to call at Ceuta for a logistical visit circa the 26th of October that year on their way to Syria. Such was the success of this widespread condemnation that the visit was called off.
These visits then stopped but the re-appearance of these warships across the Strait from us has raised eyebrows in the maritime defence world. Indeed many influential think tanks such as the respected United States-based Heritage Institute have reacted with barely concealed disbelief and anger.
The rationale behind these visits by the Spanish Government has been that Ceuta is not under the NATO umbrella. Be this as it may, the clear and irrefutable truth is that it is a Spanish port in a Spanish territory under Spanish administration. The diplomatic clearance for such a visit could only have come from Spain, a NATO partner and ally. Yes, it is to be conceded that this is not the first time that a NATO member has hosted Russian warships but in the current security climate and considering the recent sanctions imposed on the Russian state, this visit has served to make some influential commentators and observers look on Spain with a jaundiced eye.
In terms of the effect of this situation locally it serves as yet another reminder that Gibraltar will only increase in strategic relevance. It may well be the case that we find ourselves as the only reliable military presence for the alliance in the Strait, albeit not being a NATO base. Every cloud has a silver lining and now is a golden opportunity to showcase our facilities and credentials as a military base. In sharp contrast to the presence of the Russian bear beyond the southern horizon, USNS Carson City still remains at South Mole. At least in Gibraltar our strategic conscience is more than clear.
© Photo: Youtube / Zvezdochka Shiprepairing Center