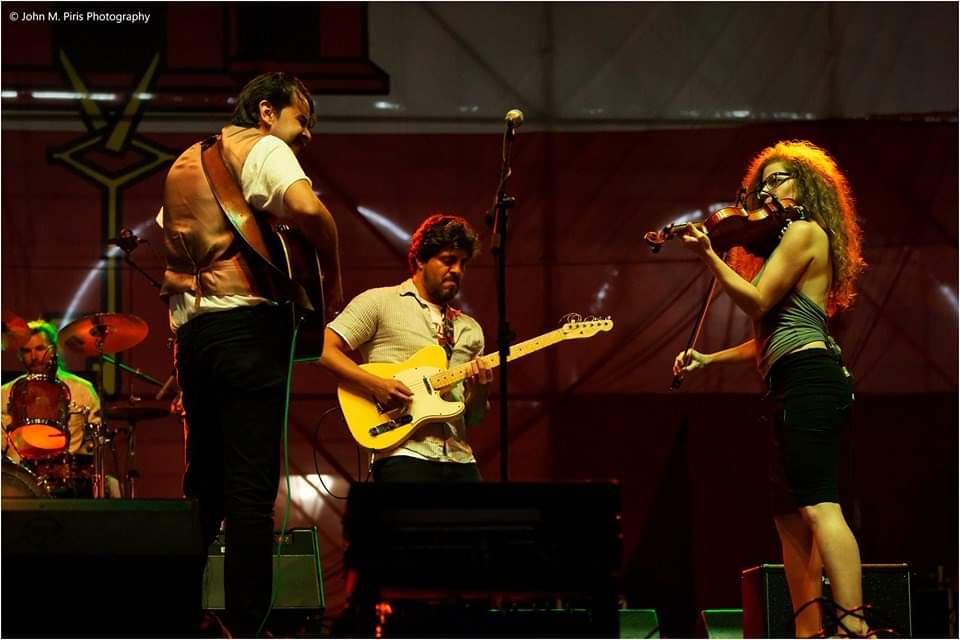 The Moon Is A Spider - EP Review
By Mark Montegriffo
I last saw Gabriel Moreno perform with the Quivering Poets in September, on Gibraltar National Day. The band ended their European tour with a memorable set in the late summer air to an enchanted audience. They were enchanted by the stage presence of a moustachioed troubadour. Enchanted also by the unabashed individualism of a man who eschews the average and the mundane. Moreno and The Quivering Poets have released their second EP in under six months. It is anything but average and mundane.

The Moon is a Spider is the title track of the EP, fittingly released on Halloween. Pablo Yupton launches into a fiddly staccato jazz motif, in tandem and then in a call and response with a trumpet.

Something about this song reminds me of the spirits of Manhattan, both the poltergeist and the alcoholic variety. It could also be Paris, with the Jacques Cousteau reference. Regardless, we are swinging to the rhythm of urban lust.

Before the Gibraltar-born poet played his opening song for the Casemates Square crowd, I had no plans for my life other than probably spend a year working in Gibraltar. I had recently returned from New York, where I used whatever time I had available to connect myself to the folk music scene. For me, being back in Gibraltar was a creative come-down for the most part.

I fell in love with the city that never sleeps. But "romance will change your heart ever so fleetingly; give it sixteen weeks and it's back to my silly old dreams", as croons Moreno at the start of the second track. Searching for the "shortcut to eternity" alienates those who are settled in their routine, even if they intended to support you.

Silly Old Dreams could be a response to Joselin, one of my favourites from the Farewell Belief album of two years ago. Lines like "I guess no-one cared for your Spanish guitar; and the blue pointy shoes you wore in your dreams". In Joselin, there is no obviously unwilling partner in the artist's poetical exploits: "Oh Joselin, I need you and your dreams; let us stay here tonight drinking the starlight. Oh Joselin, who cares for flash limousines; let us write poetry in the rivers and the streams."

Jack Gilbert is the third tune of the album, and it takes us back to the funky urban vibe of the title track. It is possible that this character is a contemporary of the songwriter from old Blighty.

"Do you now permeate the streets with your haunted violin?" Moreno describes a mood I've felt after a long London night, where I currently reside. Usually, it's during a long commute home and you're caught wondering about a quirky individual from the evening's events. There are many Jack Gilberts, and their peculiarities make them shine in our memories from time to time.

A new version of Lena Kalinka closes out the four-track EP. Since the slightly more sparsely recorded folkier version on Poetical Resistance, I've been very keen on this song. It has accompanied me through many cramped and smelly subway journeys.

Perhaps I'm biased as a guitarist, but Pablo Yupton nails a bright and ephemeral accompaniment to Moreno's Spanish guitar (and his blue pointy shoes?). The percussion on this song is pounding and direct, coming in midtrack to establish a sense of urgency.

Luckily, the final line of this song reviews the whole album for me. As I trudge back home from a Halloween concert, this Quivering Poets release is my last flame in the night, although extinguished too soon.
Pic credit: John M. Piris