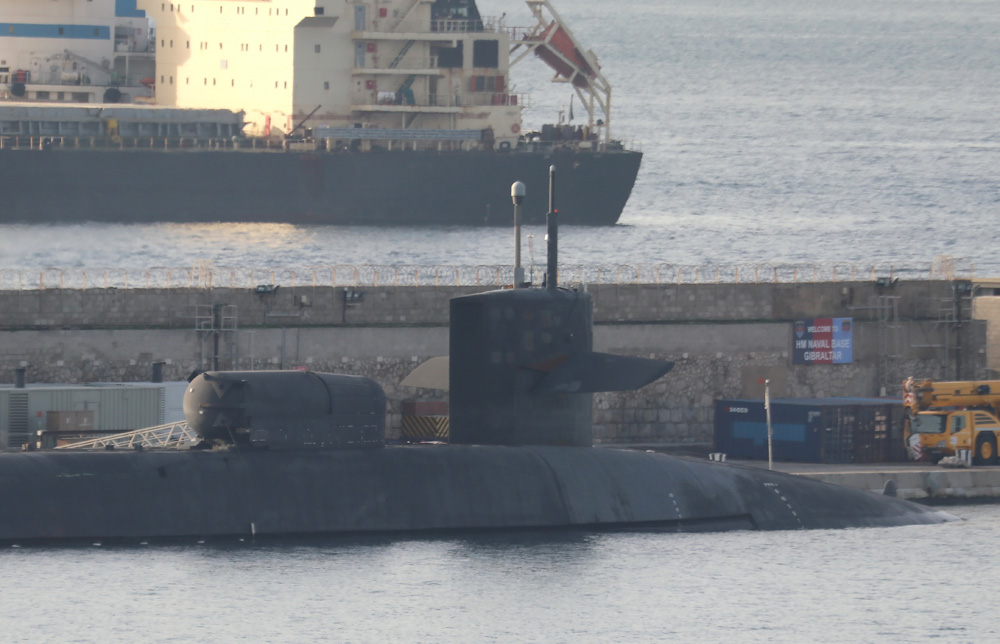 Military Movements Review: December
YGTV's article series continues - each month, David Sanchez will review military visits to the Rock. Drawing on his in-depth knowledge and photographic skills, the articles will provide readers with valuable background facts to the aircraft and vessels that pop into the Rock.
By David Sanchez
As usual with my December articles, I will summarise the month's military activity before giving a general synopsis and review of the year.
December seemed to be set for the usual quiet period as many units return home from deployments overseas. Gladly this was not the case for us with another humdrum month in the air being balanced out by a busy one at sea with perhaps our most exciting visitor for some time.
The aviation calendar kicked off on the 5th with two  United States Navy MH60 helicopters with serial numbers '168110/700' and 705 operating off the Nimitz-class aircraft carrier USS Harry S Truman passing close to Europa Point and giving the Eastern Side a flypast as the aircraft carrier and her escorts transited the Strait of Gibraltar Eastbound. The large flat top was also visible from the Rock for a time.
Our only RAF visitors were once again A400s with ZM419 calling on the 15th followed by ZM417 on the 22nd and ZM419 again on the 29th.  Boxing Day saw a small, white twin turboprop aircraft arrive that could very easily be mistaken for another private aircraft. A closer look however revealed it to be the United States Navy Fairchild C26D Metroliner '900528' which arrived in support of our flagship visitor for the year as we shall see later on.
At sea a familiar face returned on the first of December with the Offshore Patrol Vessel HMS Forth making her second visit to the Rock this year. She was heading South to the Falkland Islands where she will be based long term.  A week later the Type 23 frigate HMS Kent called for a brief stop as she was heading home at the end of a highly successful and often tense deployment to the Persian Gulf.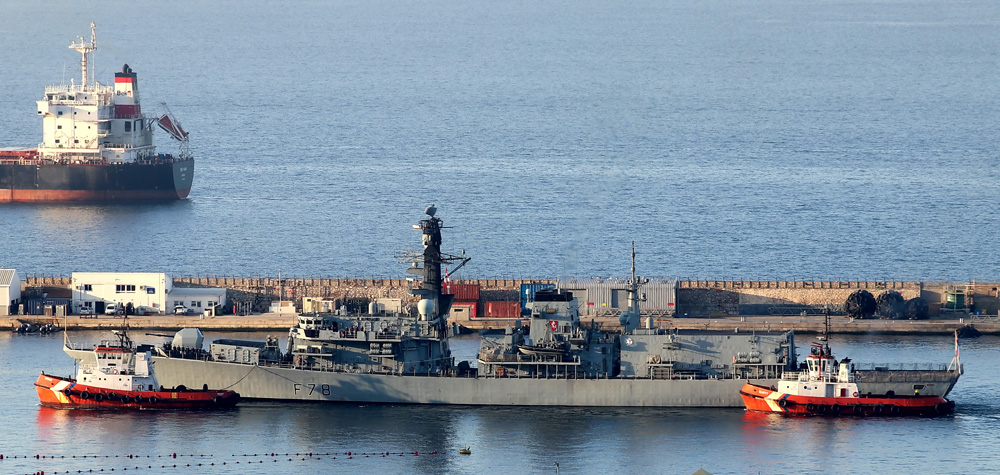 The MoD charter support vessel SD Victoria also called in on the 15th having proceeded from the East Coast of the United States and departed for home shortly after.
On Christmas Eve we were treated to an early Christmas present from the United States Navy. The most impressive visitor since HMS Queen Elizabeth last year took place in the form of the Ohio-class nuclear powered guided missile submarine USS Ohio SSGN-728. The 170 metre long giant is a member of the largest class of submarines in Western military service and the third largest in the world. Converted to fire Tomahawk cruise missiles instead of the Trident nuclear missiles she formerly carried, Florida (Big Flo as she was dubbed by some enthusiasts) also had a Dry Deck Shelter fitted on her casing. The massive and impressive submarine made her presence felt as only the United States navy can as she glided to her berth at South Mole.
Activity at sea rounded up on the 27th with  the interesting sight of the United States Department of Defense Maritime Security Program vehicles carrier Alliance Norfolk unusually berthing at North Mole where she was seen to load a high number of desert sand coloured Toyota vehicles. One hopes that this is not a one off and our base will have its strategic relevance opened up in a new direction, we need it!
On the whole 2019 was a good year. Total visits at sea and in the air were up compared to 2018. To be fair there was nothing outstanding in the air as we still wait in vain for fast jets with fading hopes. Timid politics seems to have finally killed off the most exciting visitors of all.
At sea we had a very busy year by comparison. An elevated number of submarine visits characterised the first quarter. Summer provided the highly publicised and dynamic Grace 1 incident as well as the extended survey of BGTW by HMS Echo. Similarly HMS Scott gave us extended visits into the autumn and became a familiar and welcome sight both alongside and in the Bay.
A small increase in United States military presence was noted in 2019 too with two submarines (Olympia and Florida) visiting. Sadly Spanish political pressure seems to have put an end to the frequent visits by the High Speed Transport vessels like USNS Yuma and Carson City who have chosen the civilian and unprotected ports of Malaga and Valencia for visits instead of us. What began in a most promising fashion seems to have been stamped out by our NATO allies north of the border. It is my hope that this has not gone unnoticed in the relevant circles!
Unfortunately we have only seen United States and British military visits in all forms this year. We must concede with some irritation that Spain has been allowed to strangle all foreign visits from our shores, one way or the other.
Ending on a happier note, 2019 has served both to put Gibraltar on the defence map and I will venture to suggest that continued drawing down of our defence infrastructure cannot be sustained considering the dynamic and often volatile security situation both in the Mediterranean and further afield. May 2020 bring further growth and sensible, far sighted strategic thinking to place our perfectly located naval base and RAF station in its rightful strategic position, whether Spain likes it or not!
Happy New Year to all my readers and let us all look forward to an interesting and thrilling 2020!
David Sanchez is a local military enthusiast and photographer with a degree in International Relations and Strategic Studies.