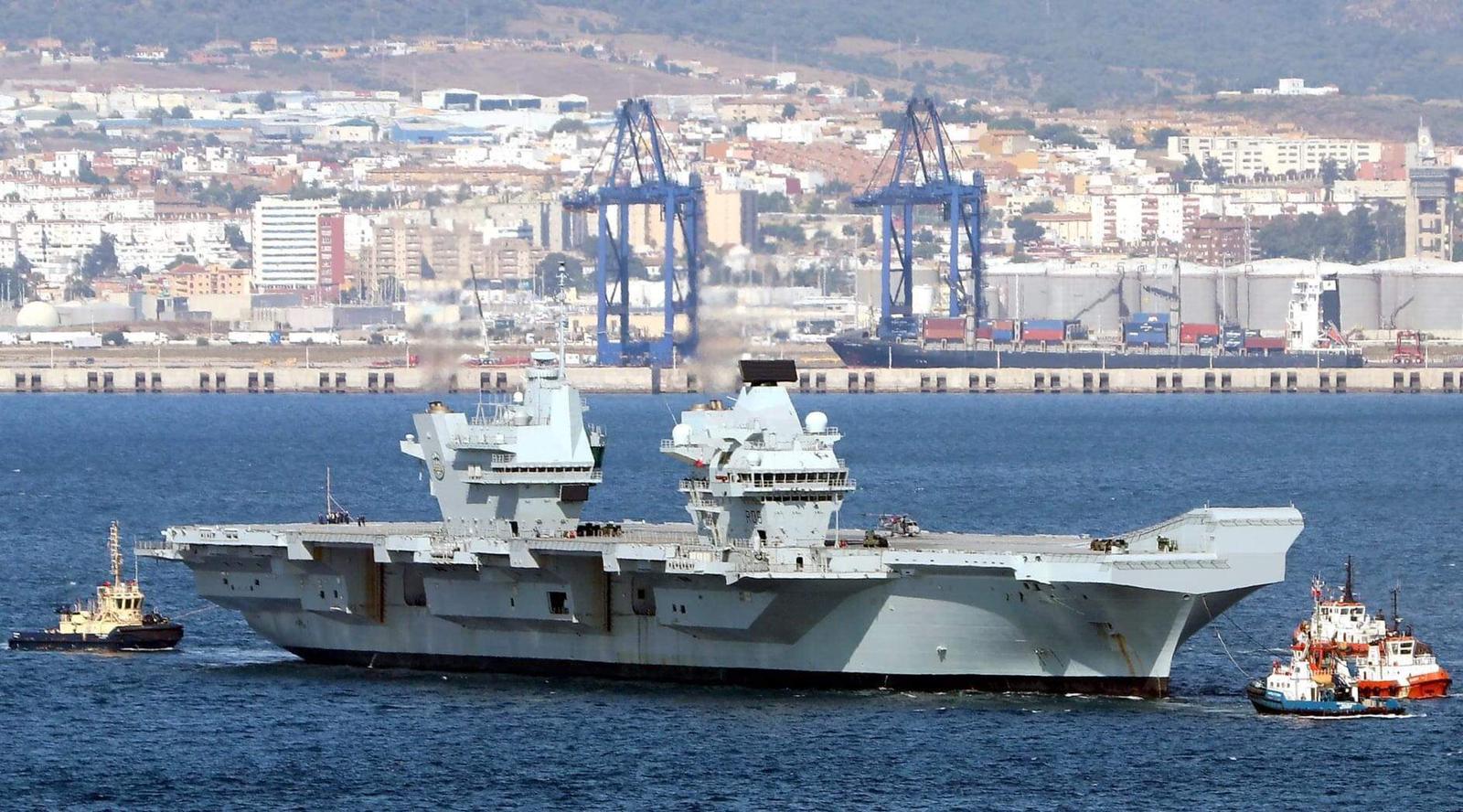 Military Movements Review - July 2021
YGTV's article series continues - each month, David Sanchez will review military visits to the Rock. Drawing on his in-depth knowledge and photographic skills, the articles will provide readers with valuable background facts to the aircraft and vessels that pop into the Rock.
By David Sanchez
If last month was a busy one for military movements, then July rose to the challenge and gave us a month that provided a jam-packed period of a great many interesting sights on land, air and at sea.
We begin with the aviation moves, this month RAF Gibraltar barely had a day without fixed wing or rotary craft at either of the two military aprons. 
The first visitors by air were a pair of Royal Navy 825 Naval Air Squadron Wildcat helicopters, ZZ376 and ZZ379 from HMS Prince of Wales. They arrived on the 6th and spent the following week conducting training sorties in the local area and further afield, marking an end to a relatively long period without military helicopter visits for Gibraltar. On the same day A400 ZM407 paid us the first of numerous visits during August. The same machine called in on the 7th, 13th, 14, 20th and 23rd engaged on numerous taskings including in support of operations in West Africa. Her sister airframe ZM412 was also a frequent sight in July with two visits on the 28th and 29th. 
Other types added to the spectacle to give some variety to proceedings, two RAF BAe146s joined us, ZE708 on the 8th and ZE707 on the 22nd as well as an old familiar face, C130 Hercules ZH874 on the 11th bringing the locally highly popular Scots Guards on exercise as shall be seen later.
At sea we enjoyed a tempo and variety of visits which once again shows that at least for now, the placid days where we would struggle to see anything grey for months seem to be well and truly over.
On the 5th the highly advanced nuclear powered attack submarine HMS Artful gave us another visit. The next day was one which will be long remembered by naval enthusiasts in our city. We were honoured by the visit of the new aircraft carrier HMS Prince of Wales which berthed at the North Mole. Not only does this mark her maiden call to the Rock but also breaks the record for the largest Royal Navy warship to call at Gibraltar in history, being herself slightly larger than her sistership HMS Queen Elizbeth as her crew will gleefully point out. This healed the wounds caused by the apparent last-minute cancellation of the visit to the Bay by her sistership some weeks ago. A great many people were invited aboard and having been fortunate enough to accept one such invitation I can safely say that she is an enormously capable and impressive vessel, leaving an impression that few others can. 
Two days later a frigate dear to my heart called in after an uncharacteristically long absence from our waters in the form of the Type 23 frigate HMS Lancaster. Being myself a graduate of the university of the same name it was good to see my favourite frigate back. 
The 12th saw the return of the now familiar oceanographic survey vessel HMS Scott sporting her distinctive penguin on her funnel. She made a brief return visit on the 30th as well. Our good friends the RFA were not to be left out in July and the large amphibious warfare vessel Mounts Bay also arrived on the 27th with our usual Ro-Ro visit in the form of M/V Eddystone taking place on the 29th. 
On land the Scots Guards were seen on exercise all over town, often patrolling in full battle dress complete with weapons. Added to this they performed Convent Guard duties in their distinctive red tunics and bearskin hats. They must be highly commended for their stoicism in donning this stunning uniform in the sweltering Gibraltar summer sunshine. Judging by the very many photographs posted all over social media this proved enormously popular and for a couple of weeks the Convent evoked memories of Buckingham Palace, adding a most distinctive air of tradition to what is already a ferociously proudly British city. Long may that continue!
In sum, July had it all. Whether you yearned for the sight of an aircraft carrier dominating the western horizon, wanted to hear the beating of rotors or sought a dash of the elegant pageantry that makes the British Army one of the world leaders for such events you were not to be disappointed during this most interesting period of time.
The understandable anger generated by the CSG21 affair was well and truly cooled as it is clear that as a city we were not to be left behind as has often felt the case. The tempo of visits has most certainly increased and is in consonance with official statements released by the Ministry of Defence. This coupled with the infrastructural improvements mentioned in such press releases lead me to this that this time, we seem to have turned a corner. Time will tell but whilst we lack the sheer number of hulls, airframes and regiments of the 1980/90s (times change and defence affairs are always in flux) I think that the frustratingly slow days are over. As summer reaches its zenith it is hoped that August will bring us yet more interesting sights and sounds. I will cross my fingers and charge my camera battery!