Sep 13 - Charity Fashion Show Pays Tribute To Priscilla Sacramento's Dress Designing Career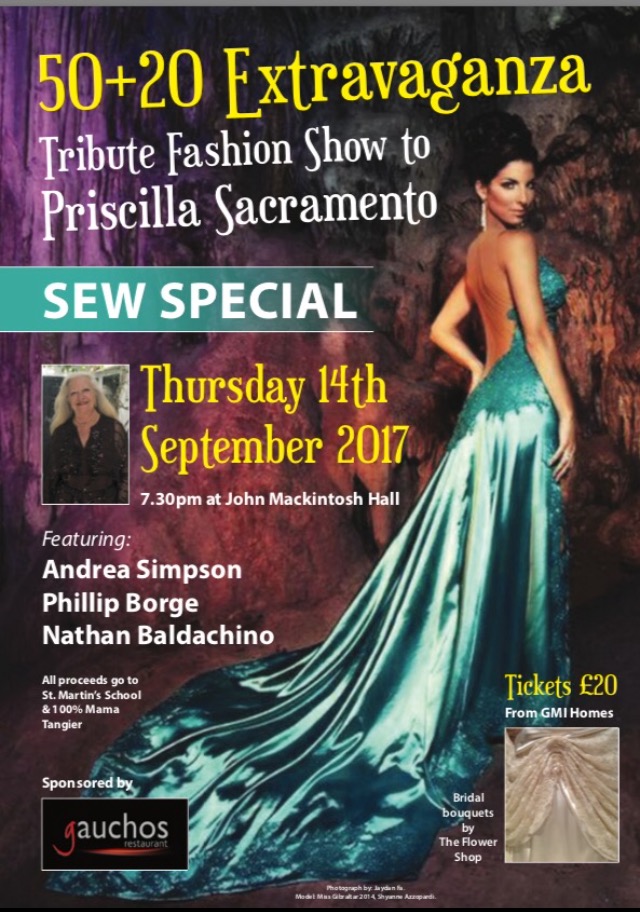 Just a handful of tickets are left for the "50+20 Extravaganza" fashion show which will pay tribute to Priscilla Sacramento's career as a dress designer.
Henry Sacramento is producing the show to mark his wife Priscilla's retirement from couture and will showcase as many of her garments as they can gather.
The show is being held tomorrow evening at the John Mackintosh Hall and money raised will go towards St Martin's Special School and Tangier-based charity 100% Mamans.
Priscilla started out in garment designing when she started making dresses for her dolls as a child, learning through experience, examining garments, reading about design, cutting and dressmaking, and making garments for herself, close friends, and her daughter.  Priscilla's career was in education, and that took up much of her time. She has always worked unaided: designing, cutting and doing all the sewing herself.
In order to combine her passion for design and couture with her passion for her career, Priscilla made a collection of evening dresses, called 'Bijoux' and describes each dress as a gem. The proceeds of the catwalk show (November 1993) went to St Martin's Special School, of which she was the Headteacher.  'Bijoux' was a huge success and was followed  by numerous requests for bespoke evening gowns, wedding dresses and pageant dresses over the years.  
Priscilla won the Designer Award for Best Evening dress on two separate occasions in the 1990's, in shows organised by Sonia Golt.
Priscilla also loves hats and fascinators, and in September 1997 she showed a millinery collection that she had been working on in her scarce spare time, called 'Way Ahead', again all proceeds for St Martin's Special School.
In September 2002 GBC recorded 'Sew Special', a series of thirteen programmes where Priscilla explained and demonstrated different cutting and sewing techniques, and interviewed other local designers, culminating in a fashion show featuring outfits by all the designers.
In 2006 she made a collection of pink turbans for Sonia Golt's Bosom Buddies Show.
Apart from several theatrical costumes for Theatre Group 70 and for individuals taking part in various other local productions, Priscilla has made special garments that have required very specific details, such as a Berberisca wedding outfit for a local Jewish bride of Moroccan ancestry, and two historically accurate costumes commissioned by the Gibraltar Museum - the First Moorish Governor and the Gibraltar Woman.
Tickets are priced at £20 and available from GMI Homes in Tuckey's Lane.