May 21 - 'Flags For Thanks' Sewing Events In Gibraltar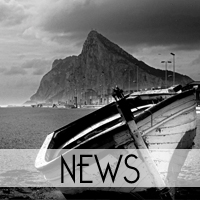 Alabaré's Homes for Veterans provide supported accommodation to British Armed Forces veterans who are homeless or at risk of becoming homeless. In June this year, the city of Salisbury will host the National Armed Forces Day celebrations and, as part of this year's activities, they are launching a community art project called Flags of Thanks. Events will also take place in Gibraltar to encourage participation.
Headed by Lieutenant Colonel Neil Stace (The Great British Sewing Bee's Sewing Soldier) they are asking the community to sew customised flags to reflect their gratitude for our Armed Forces. These will be displayed during the celebrations, following which the general public will be able to sponsor having a flag made into something meaningful or useful, such as a sleeping bag or quilt. These will then be gifted to residents of Alabare's Homes for Veterans, who have previously been homeless, as a gesture of support from the community.
MAKING YOUR FLAGS:
Anyone can make a flag - from the experienced quilter and sewer to the creative novice who can use a pair of scissors and glue. The fabric flags can be either patchwork, appliqued, embroidered, drawn or painted with washable fabric ink or any combination of the above. Designs are to be military themed or literal messages of thankfulness. Also, those making a flag are asked to review the specific instructions shown on the www.flagsofthanks.org website as they all need to be the same size. The website has all the key practical information that anyone would need.
Donations of material/old uniform can be made prior to 31 May at either of the locations listed below.
EVENTS AS FOLLOWS:
There will be three 'Sewing Events' to encourage participation and get people together to share their sewing skills:
Friday 31 May - 1000-1400 - Gibraltar Arts & Crafts, Unit 15B, Casemates Square (above Cafe Solo)
Thursday 6 June - 1000-1600 - Helm Point Community Centre, Four Corners
Thursday 6 June - 1000-1330 - Gibraltar Arts & Crafts, Casemates Square
The organisers would like to encourage members of the community to come along to one of the above events and share their skills, but will happily accept completed flags at any of the above locations up until 6 June.  The flags will then be sent back to the UK and added to the display in Salisbury during National Armed Forces Day and thereafter made into sleeping bags, quilts, etc.
{fcomment}