Mar 31 - Jake Cycles 4,000 Kms For Charity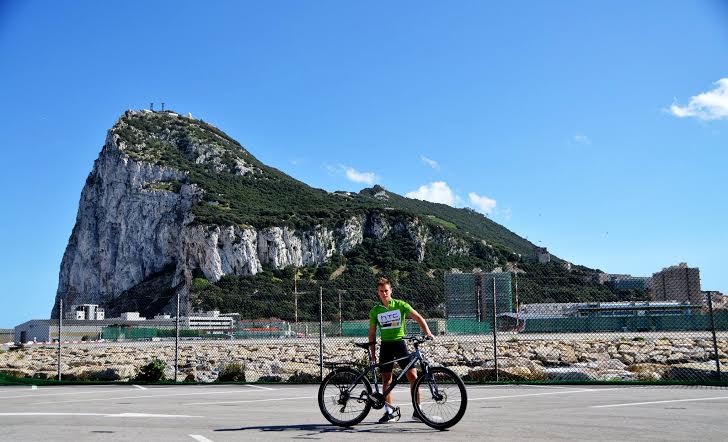 Personal Trainer Jake Wilde will cycle 4,000 kilometers from Gibraltar to John O'Groats in aid of charity.
He has chosen to raise money for two charities; Gibraltar Cancer Relief and BFBS Charity the Big Salute, which supports five forces charities.
He will raise money through sponsorship via his Just Giving Page for the Big Salute and from pledges on his Facebook page for Gibraltar Cancer Relief.
Before he sets off on his epic journey on April the 13th he is offering two Charity Fitness Boot Camps to help raise further funds.
He will run a Children's Fitness Boot Camp on Wednesday 9th April at 10am on Catalan Bay, all children aged between 5 and 15, and their parents, are welcome to come along for a work out and should give a minimum donation of £1 to both charities.
There will also be an Adult Fitness Boot Camp on Catalan Bay for anyone over 15 on Thursday 10th April from 6.30pm; a minimum donation of £1 for each charity will apply agai
Jake said: "I really wanted to support both a local charity and a military charity because I live in Gibraltar and have strong family links to the MOD. I thrive on a challenge and remember my first charity ride was in aid of the Army Benevolent Fund when I was 15 and cycled from Salisbury to Lands End. This ride will be a much tougher challenge; I am totally unsupported and will be riding with basically my tent and food!"
"I hope to get as many people as possible to come along to the Charity Boot Camps to raise money beforehand whilst boosting their fitness. The Boot Camps are designed for all fitness levels and if you do come along please make sure you bring plenty of water with you."
For more information call Jake on 54034018 or to donate go to http://www.justgiving.com/jakewildecycle or https://www.facebook.com/JakeWildePersonalTrainer?fref=ts