Jul 09 -Met Police Officers Drive to Gibraltar for Charity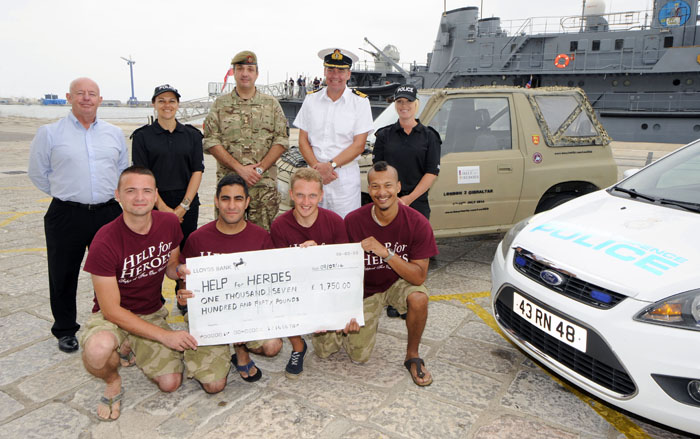 Four Police Officers from the Metropolitan Police Service in the UK drove from London to Gibraltar in a modified Suzuki Jeep in aid of the Help for Heroes charity. 
Andy Le Geyt, Max Chung, Daniel Wickham and Milad Amini raised £1,750 for the charity by doing something different. They went about hatching a plan, Andy Le Geyt says: 
"It took us about two to three months to plan, we bought the car for £550 and decided to do  it up to look like a military vehicle, that way we can draw attention to the charity we are collecting for. People have been stopping and speaking to us along the way and many of them have made donations."
The trip started in London on the 5th July and it took them four days to travel the 1,480 mile trip. 
"We wanted to visit the beaches of Normandy on the way down and when we arrived we all ran into the sea, it was pretty cold and we did notice we were the only ones doing it! We had a gear box leak in France which needed fixing urgently and we literally managed to limp into a service station and then we managed to get down to Pamplona in time for the Bull Run where Max jumped over a wall and nearly got himself skewed by a bull" said Andy.
The team were met in Gibraltar by CBF Commodore John Clink, Lt Col Ivor Lopez and Help For Heroes Co-Ordinator Pete Jackson.