Jul 11 - Sign Up For Childline's Journalism Workshop – Starts Monday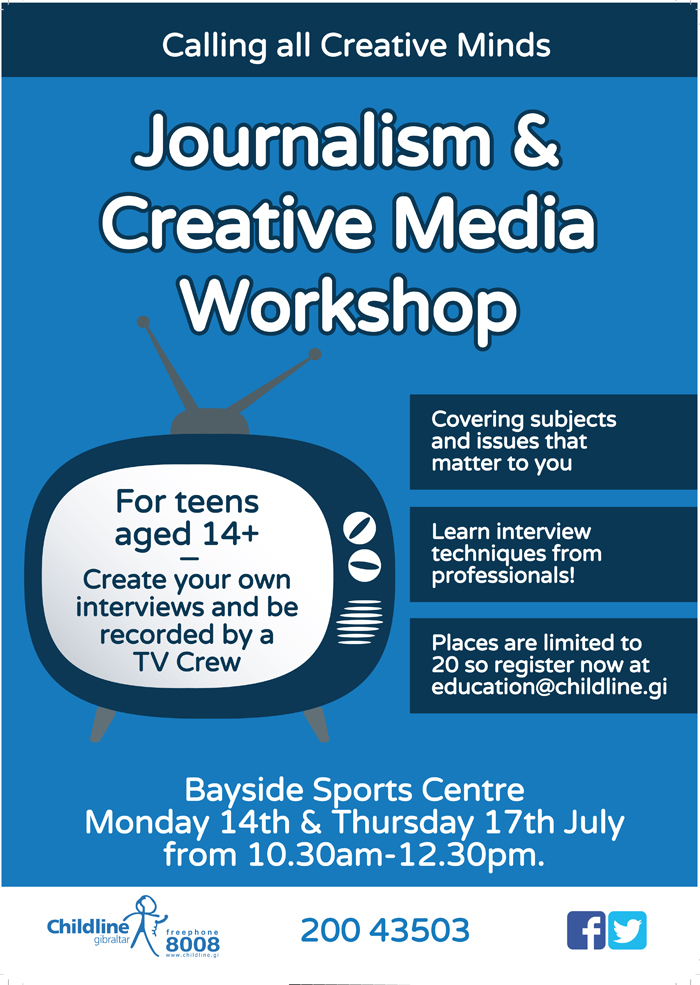 Do you enjoy following the news? Are you interested in broadcasting? Do you fancy learning interview techniques and tips from a professional journalist? Come along to Childline's Journalism/Creative Media Workshop which will be held at the Bayside Sports Centre next Monday for teenagers aged 14+.
Participants will learn how to conduct an interview with help and advice from a professional journalist and will then have the opportunity to create their own interviews based on topics that matter to them, such as peer pressure, body image, online safety and drugs/alcohol abuse. The interviews will be filmed by a local TV crew.
A representative speaking on behalf of Childline Gibraltar commented: "This workshop forms part of our early intervention preventative strategy where we tackle issues that have been brought to our attention via calls received on our Telephone Helpline Service. It is important to us to engage with local young people to find out more about how these issues affect their lives and we felt that this would be a very creative way to do this. In return, the teenagers will learn some valuable techniques and have the opportunity to take part in an exciting project."
Places are limited to 20 and anyone interested should email: This email address is being protected from spambots. You need JavaScript enabled to view it. to request a registration form. Parental consent will be required for attendance and for permission to film the participants.
As well as this workshop, Childline will be working alongside the GSLA throughout their Summer Sports Programme to deliver interactive activities for young people on topical issues.