Feb 21 - Local Fishing Boat Capsizes In Rough Seas Off Europa Point - Owner Safe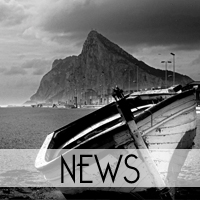 The RGP Marine Section attended a report of a vessel in distress in rough seas off Europa Point this morning shortly after 9am.
A combined search operation of the area was conducted involving the Gibraltar Port Authority, HM Customs, the RN Gib Squadron and the Department of the Environment and Climate Change.
The boat, a small fishing craft, had capsized in rough seas and its owner, a 79-year-old local man, managed to pull himself out of the water of his own accord.
He was able to swim a distance of approximately 25 metres to the rocks below Lighthouse Cottages.
Once ashore, the man, who had sailed out at 6.30 am, received treatment in the first instance from the Gibraltar Fire and Rescue Service before being conveyed to St Bernard's Hospital for medical attention by the GHA Ambulance Service.
Although shaken and disoriented he sustained no life threatening injuries.
Given the prevailing weather conditions and sea state, RGP land patrols and GFRS personnel were deployed to assist the maritime assets in locating the vessel and directing them to the scene of the incident.
The boat sank after crashing against the rocks.