Feb 26 - ATM Card Skimmer Found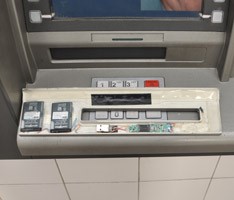 An ATM cash machine skimming device has been detected at a local ATM when a member of the public discovered the device whilst in the process of carrying out a transaction.
Card skimming devices are built to closely resemble the panels on existing ATM's and are placed over the original, requiring close inspection for their presence to be detected. They work in one of two ways;
Card trapping device: This is usually placed over the card entry slot and 'traps' the card as it goes in. The user inputs his PIN number but does not have his card returned. Once he leaves the ATM, the fraudster will remove his duplicate entry slot device and retrieve the card.
Card skimming device: In this instance the card entry slot is again fitted with a cover to closely resemble the original. This device is a 'skimmer' that reads the data from the card as it goes into the machine. Typically the user will complete the transaction without problems and be none the wiser.
In both instances the fraudster will place a second device over or close to the keypad. This will have a miniature camera attached to it that will record images of the user inputting his number. With a card trapping device, the fraudster now has both the card and PIN number and will be able to make cash withdrawals at that or any other ATM straight away. With card skimming devices the fraudster will create a clone or duplicate of the original card for use at a later date, again armed with the users PIN number.
The device found locally appears to be a 'card trapping' device, although this is pending further examination. The keypad had an attachment over the cash dispenser which had a pinhole camera, a miniature circuit incorporating a small data storage device, and two mobile phone type batteries to power it. The device was found at a Natwest ATM at the northern end of Main Street, near Casemates Square on Sunday morning.
We would urge any member of the public who has had his debit or credit card retained by the ATM or experienced any other issues with the ATM in question in the past few days to contact either the Royal Gibraltar Police Serious Crime Unit on 200 72500 or email This email address is being protected from spambots. You need JavaScript enabled to view it. or to contact Natwest Bank directly.
We also urge the public to familiarise themselves with the ATM's they regularly use and to be aware of any visual changes to them that may alter the appearance. These duplicate panels very closely resemble the originals, but it is likely that gaps will exist between the device and the machine itself, or a poor fit of any panel within it. User should be aware that these panels can be fitted over virtually any type of ATM and are nor limited to one model or bank.
As general advice when using any ATM the public should:
Be aware of others around you. If someone nearby is behaving suspiciously or makes you uncomfortable, move away and use another ATM elsewhere.
If there is anything unusual about the machine or signs of tampering, do not use it and call the bank or police immediately.
Give other users space to enter their PIN
Be aware of persons that may be crowding you as you carry out your transaction, or watching you.
Do not accept help from well meaning strangers and do not allow yourself to be distracted
Shield your hand as you input your PIN to avoid anyone seeing your number.
Ensure you put your money away safely before leaving the ATM.
If your card is retained inform your bank immediately
If you do not want the receipt, tear it up and dispose safely, or take it with you and dispose at home