Nov 20 - Chief Minister Celebrates The 'Literate Rock' In Festival Closing Dinner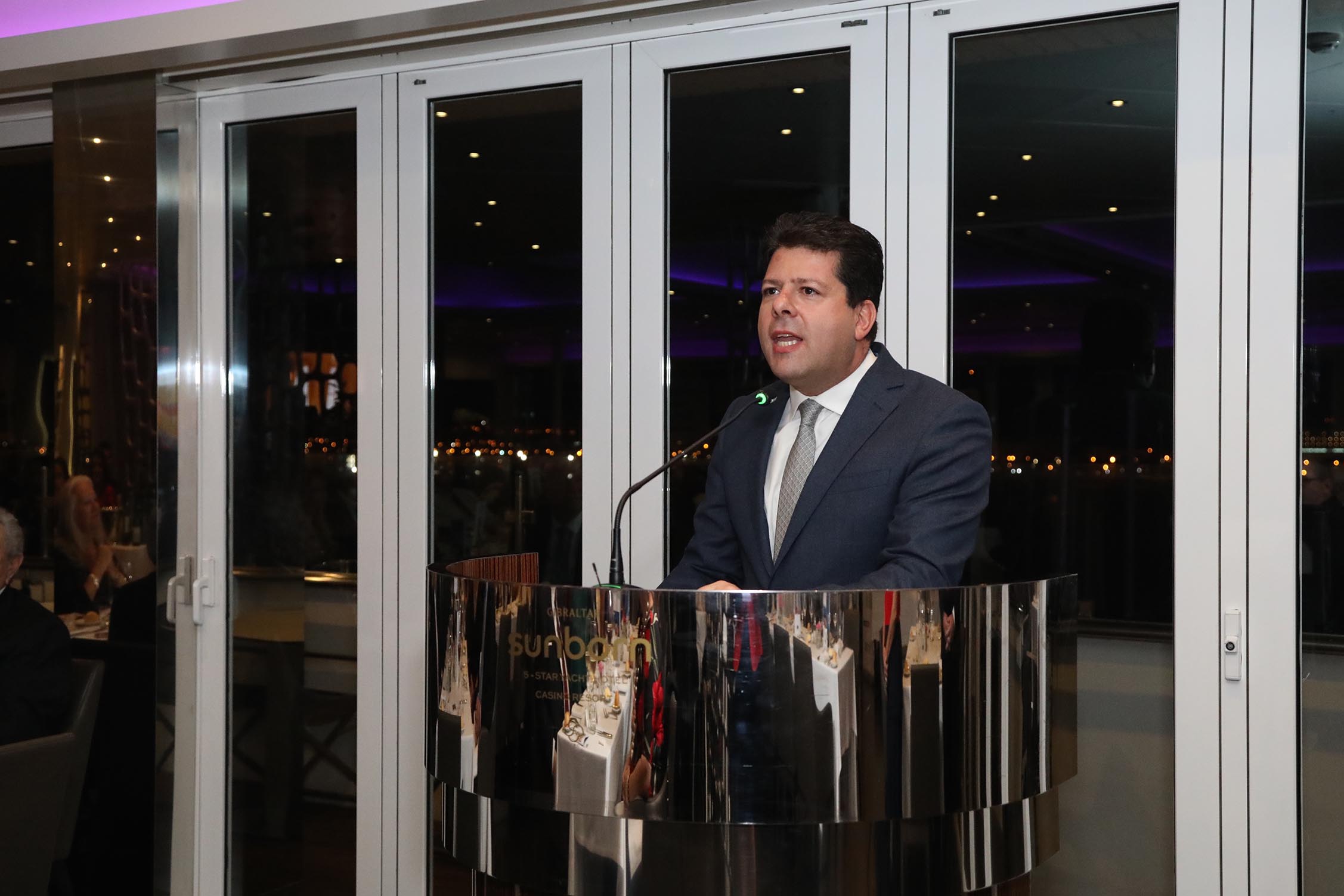 Here's the full text of the Chief Minister's speech last night during the closing dinner of the Gibunco Gibraltar International Literary Festival.
Good evening ladies and gentlemen.
Thank you for joining us tonight.
"So foul and fair a day as today I have not seen" for a long time.
Because coming to the end of the Gibunco Gibraltar International Literary Festival is like coming to the end of a good book. 
'Good' and 'end', like 'foul' and 'fair', are difficult emotions to reconcile.
They engender mixed feelings. 
Satisfaction and fulfilment because of the pleasure a great read has given you, but disappointment because it's over. 
But, the good thing about books and this Festival is that there will be many more.
Because "if letters be the food of love, give us Gibraltarians excess of it, so that surfeiting, the appetite may sicken and so die," to borrow a phrase from the greatest of the great.
But there is no sickening or death of this Rock's appetite for literature and the benefits this festival brings to our culture and growth.
The last four days have satiated our hunger for words, pictures, music, moods, stories and opinions. Audiences have rushed from one venue to another to ensure they can cram in as much as they can in four days. 
Because it is clear to me that the 'Digital Rock' of Block Chain and Crypto Currencies is also the 'Literate Rock' of poetry and prose, learning and friendly discourse.
And our illustrious speakers have not disappointed, delivering learning alongside entertainment to young and old.
A glowing testament to our Festival is the fact that writers ask to be invited back, which speaks volumes about how highly regarded this event has become within the world of words. 
For Gibraltar, there is no better way to share our story than to rely on our guests to return home and talk about what they have learnt, seen and done while they have been here. 
And this year, there has been a wealth of Gibraltarian writing recognised in this Festival. 
I am delighted to see a record number of local writers also talking about their works and sharing their experiences with their audiences. 
Sanchez. 
Garcia. Two of them! Both of them at different times holding office at 6 Convent Place, incidentally.
Finlayson.
Sacramento.
Chiappe.
Francis-Tiron.
Ladies and gentlemen, my fellow Gibraltarians: you do us all proud.  You do excellent justice to the well-known phrases - "we all have a book in us", as well as the more prosaic, "better out than in".
Well done!
These names alone show you the cultural depth and breadth of our nation.
I would particularly like to single out the members of Unify, one of our Young Enterprise companies, who have shown there is writing talent in the making.
I must mention also the opportunity we have had to hear from international authors about Gibraltar.
This year in particular I would single out some brilliant Gibraltar work by non-Gibraltarian authors.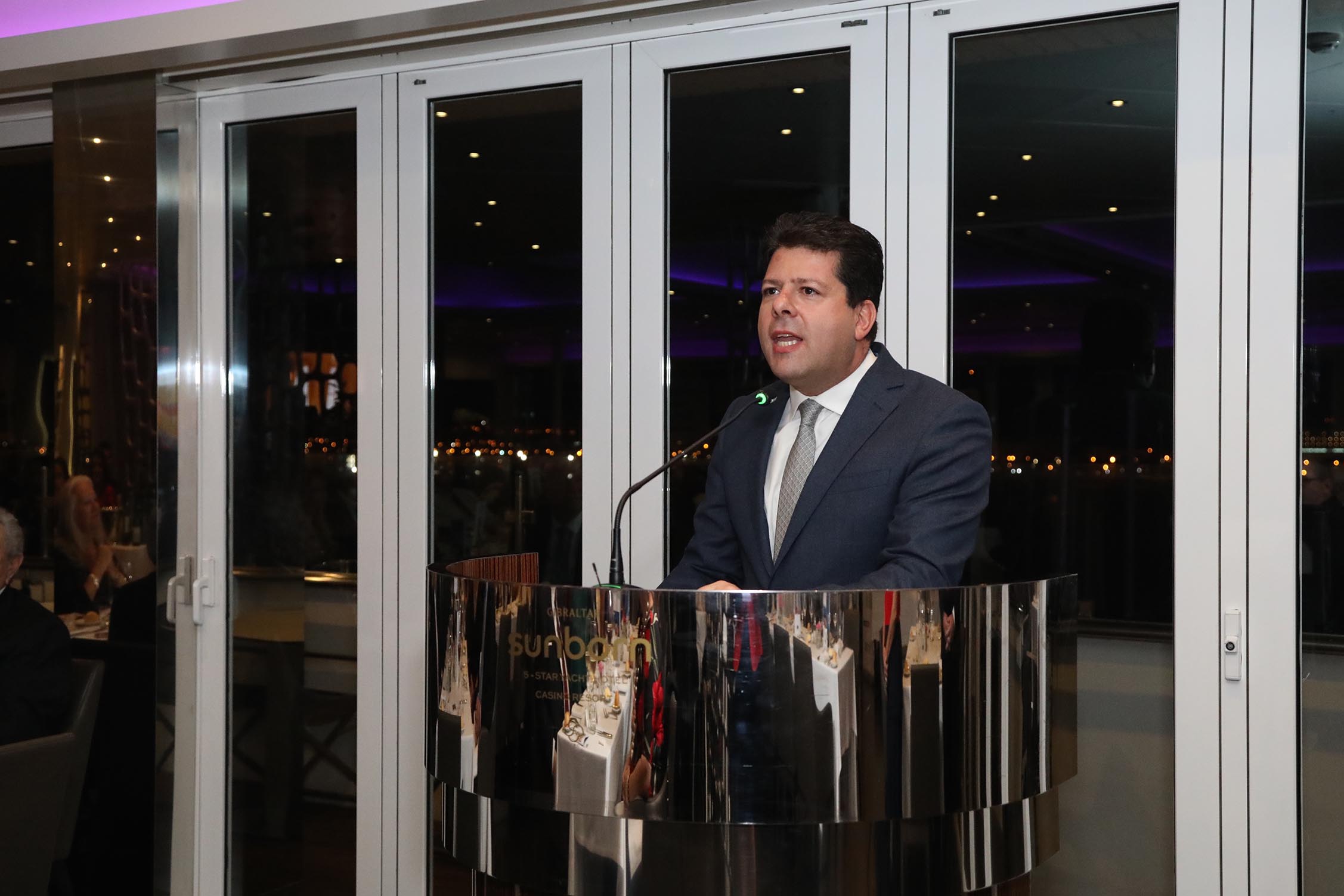 The excellent Greatest Siege in British History by Roy and Lesley Adkins.  Who would have said that this beloved Rock of ours was chosen over the whole of North America, when the choice had to be made to determine which of those two the United Kingdom would choose.
It may seem peculiar, but when you pause to think that even today 80% of the goods consumed in the European Union and one third of the World's fuel passes through the Strait of Gibraltar, it may start to make sense.
Thank you Roy and Lesley for bringing our story to a wider audience.
The riveting crime thrillers of Robert Daws - although rest assured that 'The Poisoned Rock', his latest work, is not set during the closing dinner of a literary festival.
Nicholas Rankin's historical roller coaster, 'Defending the Rock', which leaves us with Hitler's fatal understanding that it was letting Gibraltar out of his grip that led to the unravelling of his Axis powers and to their losing the Second World War.
And Christopher Lloyd went straight for it with "The Story of Gibraltar", which will provide as fascinating a route map to our history for children as it will for the parents who take them through the two metre pull out.
And to all our authors, from the youngest, Nicholas Parsons, to the oldest: Thank you.
There is not one MALVOLIO between you.
All of you are so welcoming of engagement with those attending that I know you make this festival a dream for them.
Thank you all for becoming "accidental" ambassadors to this great Rock of ours.
Each year, this Festival sets out to demonstrate the unity of all races and religions that we are immensely proud of in Gibraltar. 
This year, it has been the turn of our important and welcoming Muslim community to share their story. For this, I am grateful to Imam and Preacher, Abdessamad El Mokhalfi and Kaoula Elandaloussi for arranging to have the mosque at Europa Point open to visitors and for providing Moroccan treats and refreshments to all who visited. 
I must also thank academic, political and author, Dr Ahmed Boukhobza, for coming over from Tetouan to talk to us about "Historical and Literary Relations between Morocco and Gibraltar in Medieval Times".
Last month, I had the honour of hosting the Princess Royal at Gibraltar House in London.
During her visit, I am pleased to report to you that Her Royal Highness pledged her continued patronage of our Festival.
I am sure you will agree that such royal patronage is a fitting and very powerful endorsement of the values and aspirations that the people of Gibraltar have as a vibrant and loyal British nation in the British family of nations and of this Festival. 
Many people work tirelessly throughout the year to deliver the four days of entertainment we have just enjoyed. 
They deserve a special mention. 
Festival Director, Nicky Guerrero, heads a team from the Gibraltar Tourist Board here and in London, Gibraltar Cultural Services, the Garrison Library, the Government's Press Office and the Department of Education. 
His Excellency the Governor, Ed Davis, for his continued support of the Festival and for allowing us to use The Convent, his residence, as one of the venues. 
The Minister for Tourism, Gilbert Licudi, has been a great supporter of the Festival since its first edition five years ago. 
Tony Byrne and Sally Dunsmore, our special advisers, whose knowledge and experience have guided us from day one.
The Government could not do this annual event on its own. We rely on sponsors and partners to help us. 
I am most grateful to Gibunco for being our title sponsor since the Festival was born. And particularly thankful to Johnnie and Eileen Bassadone, and their son John, for their continued support.
All our other sponsors and media partners are equally important in delivering this excellent event.
Thank you all on behalf of the Government for making this Festival a continued reality.
Thank you on behalf of all who attend to be enriched by the authors and their works.
And thank you in particular, on behalf of the children of Gibraltar, for bring literature to life in their schools and in their minds.
That alone is a priceless gift.
I sincerely hope you have enjoyed being with us as much as we have enjoyed having you with us. 
I look forward to next year's Festival growing and developing even more.
Now let's tuck in!
Pic: Chief Minister with Dame Jenni Murray, DBE.