Lek Bangkok – A taste of south east Asia here in Gibraltar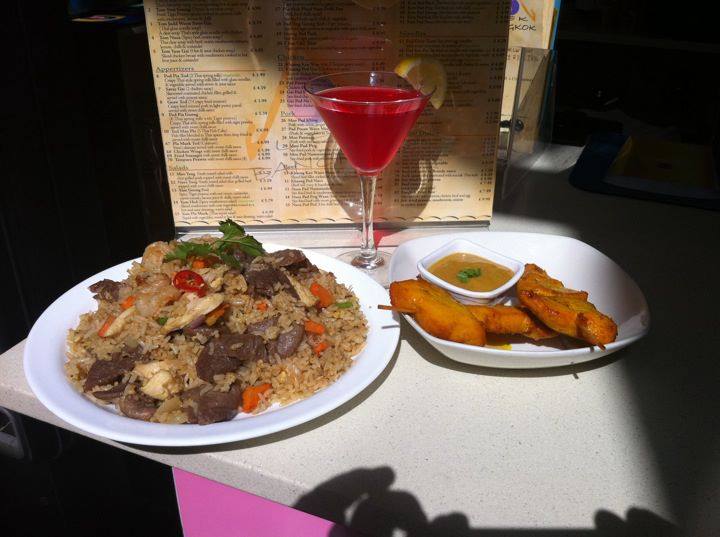 If you live in Gibraltar and like Thai food, then you already know all about Lek Bangkok. The restaurant was opened in 2006 and has become a firm favourite for so many locals here in Gibraltar. Be it a quick takeaway, quick lunch or a sit down meal, Lek, Feed and their team look after you 100% all the time.
Feed and Lek are a husband and wife team, with more experience in cooking, restaurants and the hotel business than you can even begin to imagine. Their friendly and caring style has made them two of the best business owners in Gibraltar and has been the key to their success.
I must be honest at this point, I LOVE Lek Bangkok, and although I can recognise that not everyone likes Thai food, I once ate there 4 nights in a row. Goes to show, there is a great variety on the menu and the food tastes so good you have to go back.
Some favourites of mine on the appetisers menu are the prawn spring rolls, No 9 off the top of my head, the calamari, which is fried but with a Thai style batter (No 67) and the Chicken satay with peanut sauce No 7.
The main courses are just as good and the variety can keep you going back for months without eating the same dish twice, unless you want to obviously. One of my favourites is the Bangkok Fried Rice, which has pretty much everything in it. Prawns, chicken, beef, veg and all mixed in with fried rice. If you like things "Mac Mac" which is Thai for spicy, then Lek can whip it up with extra chillies and give it that true Thai feel.
The green curry, although probably the most clichéd dish in Thai food history, it's still a great meal, I suggest you try it with the fried rice, the rice soaks up the sauce and it's delicious. Alternatively try the beef red curry in brandy sauce, it has a slight kick to it and tastes great. It's a brilliant alternative to a standard Red Curry.
I have only mentioned a few, because, well, I'm biased when it comes to Lek Bangkok. For five years I have been eating there and have come to the conclusion that these dishes are the ones I like the most. However, along those five years, I also loved No 34 – Sweet Chilli Beef and the Pad Tai Noodles, served with an egg on top, two dishes that go together like Bonnie and Clyde.