Beef and Mustard Baquette - Kitchen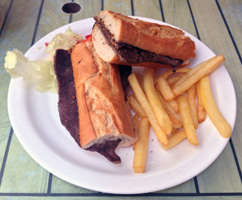 We were walking down Main Street feeling a little peckish, so decided to pop into Kitchen in College Lane for a bite to eat.
After a quick browse through the menu we decided to try out the Beef and Mustard Baguette. Dino nodded his head in approval, so we knew we had made a good choice!
Next time you are in the area go check it out for yourself.  You wont be sorry.