Mar 16 – Gibraltar "Will Be Key Part" Of Brexit Negotiations – Walker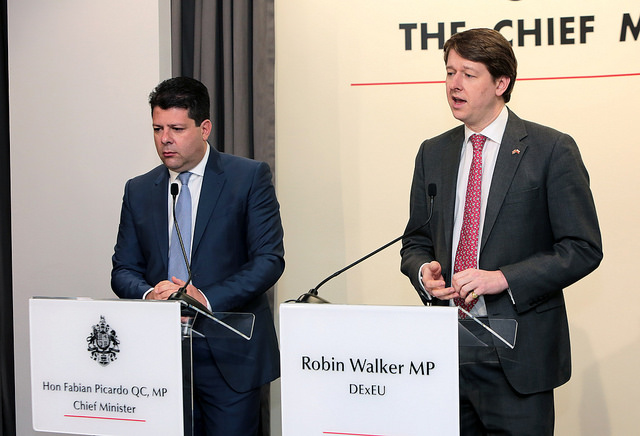 Gibraltar will be a key part of the upcoming Brexit negotiations, the Parliamentary Under-Secretary of State for Exiting the European Union, Robin Walker, said at a press conference held at Number Six this morning.
Mr Walker is in Gibraltar for a 24-hour familiarisation visit – he is the first member of the UK's 'Brexit ministry' to visit the Rock.
He was welcomed to Number Six by the Chief Minister Fabian Picardo this morning, and described the trip as a useful opportunity to continue with the regular discussions he has been having engaging with the Gibraltar delegation in preparation for the UK exit from the EU.
Mr Walker, who chairs the Joint Ministerial Committee on the EU Exit between the UK and Gibraltar Governments, said: "Gibraltar is a key part of the British family and this visit will allow me first hand to see the thriving community Gibraltarians have built for themselves.
"It is important we continue to work together to maintain and strengthen the UK-Gibraltar bond as we continue into a wider future."
Mr Walker added the UK government is fully committed to not entering any sovereignty discussions against the will of the people of Gibraltar.
He said it is the UK's intention to maintain Gibraltar's current access to UK's financial markets, and they will take Gibraltar and other overseas territories into account when the UK looks to establish new trade deals with the wider world.
When asked to what extent Gibraltar will be involved in these negotiations, Mr Walker said: "There is a world of opportunity of deals out there, and there will be a number of meetings moving on. We will be wanting our department for international trade to engage with Gibraltar so that we can explore all opportunities.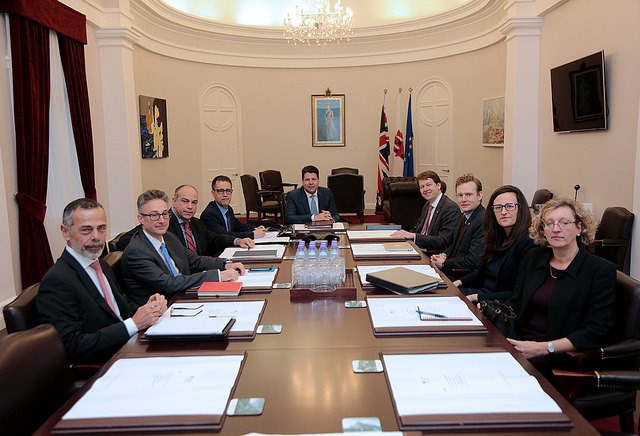 "There are some exciting opportunities, and to give one example, we have an upcoming meeting with Commonwealth trade ministers to discuss the opportunities there and I am sure there are many interests in this family of nations in doing business with Gibraltar as well with the wider UK."
Mr Walker said the UK government will also work to ensure a fluidity at the border will continue, adding that they will have to look at the mutual interests for those on both sides of the frontier when it comes to negotiations.
Mr Walker said: "We've had some very constructive conversations this morning and we will work with the Government of Gibraltar to ensure all their interests are taken into account in the upcoming negotiations.
"I am determined we keep up this engagement throughout the process and I am delighted to have the opportunity to speak to so many representatives from so many sectors of Gibraltar's growing economy.
"We are very clear that we want a deal that works for everyone, including the people of Gibraltar, as we prepare for the United Kingdom exit and new partnership with the European Union."
When it comes to EU funding and compensation for Gibraltar, Mr Walker said EU funding will continue for the next two years, and the UK's Treasury has provided guarantees to continue funding until 2020.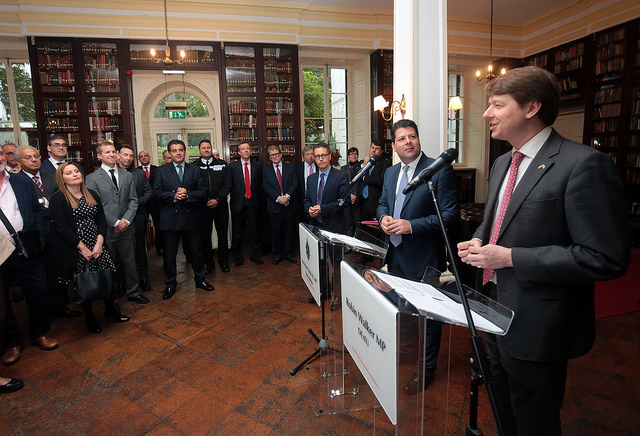 Mr Picardo said: "This visit symbolises the relationship that exists between the Governments of Gibraltar and the UK, and this visit is a clear reflection of the real action there is on the real pledge that Gibraltar would be fully involved in exiting the European Union."
Mr Picardo said Gibraltar has had access to the highest levels in the UK government  and believes that access will continue, which will allow Gibraltar to put its views across.
However, Mr Picardo added that the next two years, once Article 50 is triggered by the UK government to formally start Brexit negotiations, will be a challenge for both Governments.
GARRISON RECEPTION
Speaking at a reception held later at the Garrison Library, Mr Walker said the UK "deeply values" the sovereignty of the Rock.
He said his government intended to maintain Gibraltar's access to the UK's financial services market and to examine broader economic cooperation and "increased market access."
Mr Walker added that he had unexpectedly had to cross the frontier yesterday as his flight had been diverted to Malaga.
"We understand very well that a well-functioning border between Gibraltar and Spain is vitally important," he said.
He ended on an upbeat note: "I am confident that, if we approach these upcoming negotiations in a spirit of goodwill, we can deliver a positive outcome that works for all including Gibraltar."
The reception was attended by business leaders, politicians, NGOs and members of the media. Number Six said that it had facilitated the event to enable Mr Walker to hear the views of a wide cross-section of Gibraltar's community.