Sep 25 - Chief Minister At Gibraltar Reception At Labour Party Conference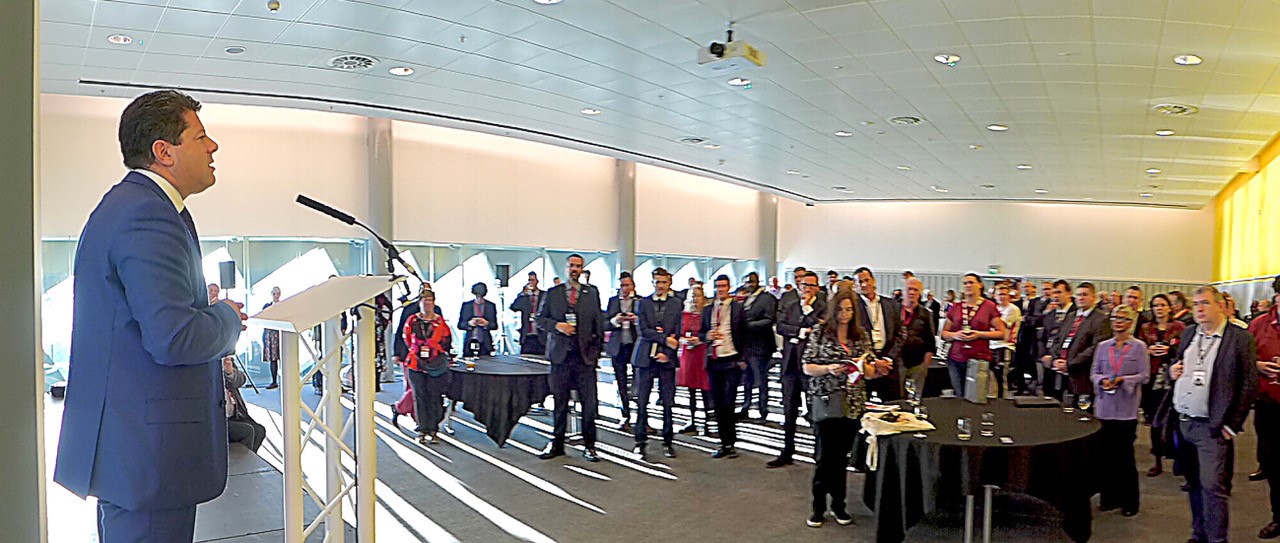 The Chief Minister, Fabian Picardo, addressed the Gibraltar Reception during the Labour Party conference in Liverpool.
Here's his speech, and a speech by Shadow Foreign Secretary Emily Thornberry.
Chief Minister: Ladies and gentlemen, colleagues, comrades.
Thank you so much for joining us.
Another year at the Labour Party conference with the Government of Gibraltar hosting this event but not just any year, the last year before we leave the European Union. Or at least, so it seems, so the timetable seems to suggest. I've learned in the last twenty-seven months to take nothing for granted.
I'm sure that all of you here will be following the debate as carefully as we are in Gibraltar. You'll know that fifty years ago in 1969 the Spanish Dictator General Franco closed the land frontier between Gibraltar and Spain and it was only our common membership of the European Union that kicked open those gates.
We are not going back to a world where it's likely the frontiers will close between Gibraltar and Spain but for Gibraltar, that voted by ninety-six percent to remain in the European Union, leaving the European project is something that our people definitely do not want to do.
We are going to make the best of this moment. It's our obligation to remain positive. It's our obligation to remain optimistic and continue to attract business to Gibraltar.
But this is not the choice of the British people of Gibraltar.
But we were at a fork in the road. Do we choose to remain in the European Union without Britain, or do we choose to remain with Britain?
If there's something that's in our blood, if there are ties that are stronger for Gibraltar, and the ties that made us part of the European project, it's our ties to the United Kingdom.
And so, we might have voted ninety-six percent to remain in the EU but we voted by a stonking ninety nine percent to remain entirely British in 2002 and in 1967 and that doesn't change.
Blood runs thicker than water.
So Gibraltar's choice was to stay in the EU with the support of the United Kingdom and in the United Kingdom I know, with that support also of our friends in the British Labour Party.
I know that amongst us here today is Glyn Ford, who represented us in the European Parliament before we even had a vote in European parliamentary elections.
And also with us is Clare Moody, who represents us today in the European Parliament now that we finally have a vote.
So from our first MEP to our last MEP, you're all with us here in the Labour Party.
And also joining us is my dear friend Emily Thornberry the shadow foreign secretary, a sensible voice on foreign affairs in the House of Commons, particularly when it comes to Gibraltar.
Thank you very much Emily for your continued support and the continued support of your whole team.
Thank you so much to all of you for continuing to support Gibraltar.
In the months and weeks and we're going to need your support more than ever before. I know we can count on it.
Thank you very much indeed for being here.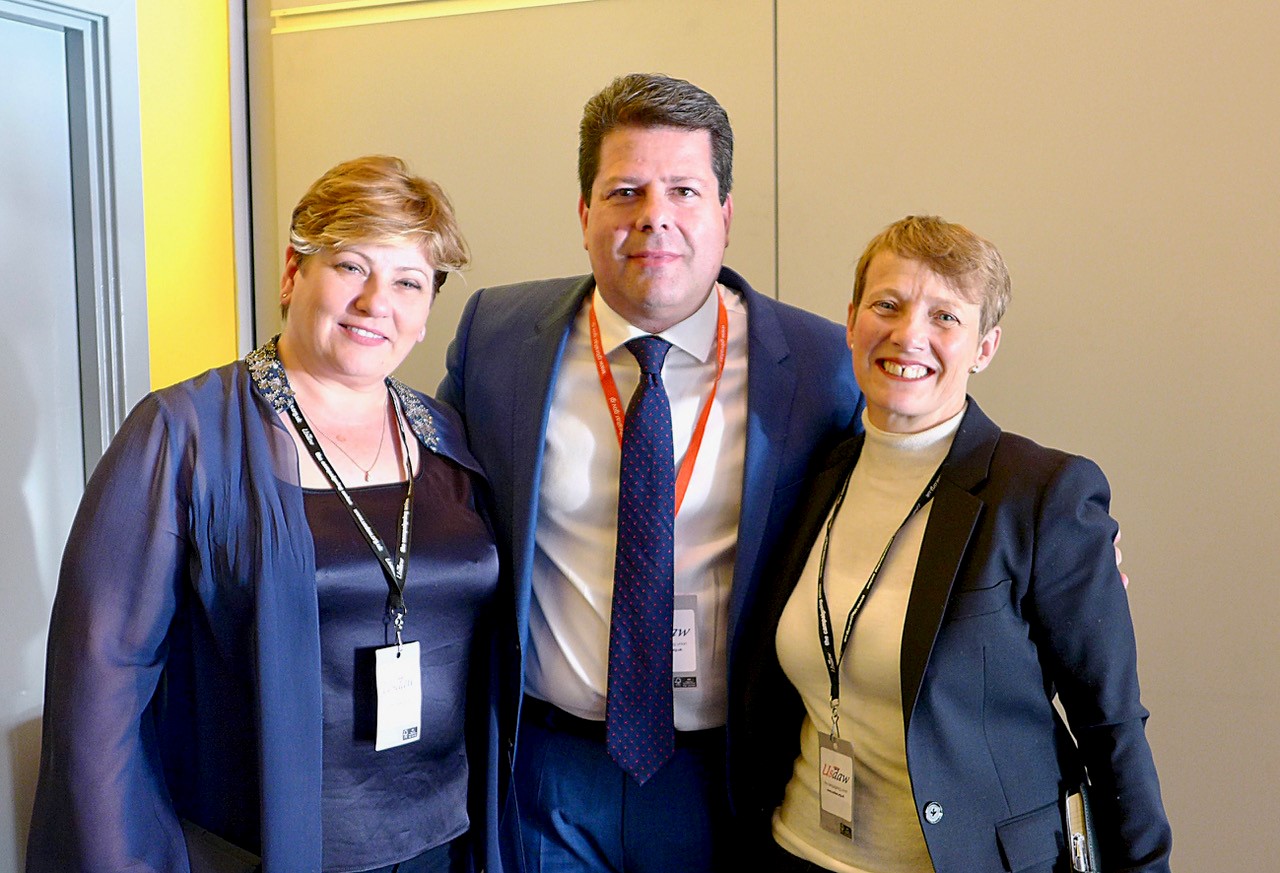 Emily Thornberry: It's great to be here and to celebrate the close links that the Labour Party has with the people of Gibraltar. And I was pleased to see that Joe Bossano has been knighted, the man who was the former Socialist Labour Party Chief Minister, and that he's also been granted the Freedom of the City of Gibraltar. Joe, congratulations.
So this last year has been replete with visits by the Shadow FCO team but most recently Ray and Liz from my team went out to Gibraltar for Gibraltar Day. On her most recent visit Liz remarked that no visit to Gibraltar will be complete without tracking down to the Unite offices because the solidarity between the unions of the Rock and back here is something very special. I know that Liz would be here tonight but her last trip was to Sudan and I'm afraid she seems to have gone down with something very nasty and some sort of bug as a result of her trip to Sudan so we all wish her well.
So, Brexit mustn't lead to any change in the rights and status of the people of Gibraltar. That we are clear about. I've been to the border myself and met the people who cross it every day and recognise the impact that increased delays would have. Any arrangement with the EU needs to protect a fluid border and guarantee economic security for the people of Gibraltar. Gibraltar is British and nothing could be done to compromise that sovereignty. It's hard at the moment with all the nonsense that's going on in relation to Brexit. We have no idea what's going to happen next because nobody has any idea what's going to happen next, least of all the Prime Minister and after 2 years of waiting for her and her Party to decide what it is that they want to negotiate with the European Union we are still waiting for them to tell us what it is that they want on our behalf. And how unfortunate it is that we have a political party in power whose only interest is fighting amongst themselves and looking after their own personal ambition rather than raising their eyes and thinking about the good of the country and places such as Gibraltar. Because their internal squabbling is completely undermining our country and could be of profound significance and extremely serious for a little place like Gibraltar, who relies on close relationship with Spain. You know, I think that Gibraltar is just about the only place that actually have a higher turnout in favour of remain than my constituency.
But the referendum result was the referendum result and what we need to do is try to ensure that the Brexit that he have is one that does not undermine our economies and does not take away jobs. Unfortunately, we are not in power. We don't know how long it is going to be until we are in power. Though one thing seems to certain, that the prime minister incapable of the coming back with any form of deal that the, that either the European Union or her own backbenches are likely to agree to and so, and particularly after the last week the chances of us getting a hard Brexit seem be closer than ever before. If that happens, or if she comes back with a deal that we do not accept and do not meet our 6 tests, they shouldn't be surprised, we've made it perfectly clear, we are not going to vote for it. We are not going to vote for a deal that undermines the British economy. And then the question would be what to do then. I'm an old fashioned girl. I am always of the view that if the government couldn't govern, we should have an election and we should get ourselves another government. And that is what should happen in these circumstances. If they are incapable of governing and they have no idea what to do, it would be simply wrong and they would never be forgiven if Theresa May decided that she was going to stay in the front seat, she was going to hang on to the driving wheel, she's going to try and drive our country over a cliff. It will not happen, we will not allow it, there must be a general election.
But what I know of Gibraltar and I've got to know people very well is that is that they're never going to sit back and let other people all by themselves without going out and lobbying strongly and speaking out hard and making good friends. And the people of Gibraltar have been doing exactly that and I do applaud Fabian for the work that he's been doing. He is a lobbying machine and it should be of no surprise that there have been many positive noises coming from the leadership, the socialist leadership, both of Gibraltar and of Spain, and certainly I wish them all the best when it comes to their own agreements that they're hoping to be able to make with Spain. But if there is no agreement between the United Kingdom and the rest of the European Union, if we leave without a deal, then that will have a fundamental impact on Gibraltar. But I am here to say to Gibraltar today that the Labour Party will stand with you and we will do everything that we can to protect you.