Feb 04 - Licudi Signs India and Greece Tax Agreements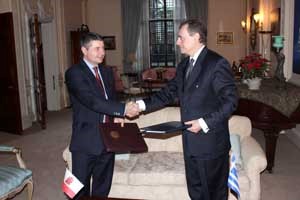 Minister Responsible for Financial Services, Mr. Gilbert Licudi signed a further Tax Information Exchange Agreement with the Indian High Commissioner to the United Kingdom, Dr. J. Bhagwati. Following the signing, Minister Licudi discussed a wide variety of policy areas, with the High Commissioner. This Tax Agreement with India is particularly significant due to the country's status as a G20 member.
Minister Licudi also signed a further TIEA with the Hellenic Republic with the Greek Ambassador to the UK, His Excellency Konstantinos Bikas. Minister Licudi commented, 'the signing of three TIEAs in one week underscores the commitment of the Gibraltar Government to International co-operation'. This brings the total number of Tax Agreements signed, up to 26.