Feb 04 - Thomson Cruises Visit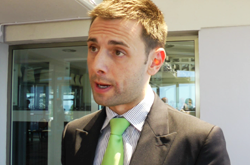 Following the recent visit by representatives from Carnival UK, two more cruise company executives arrive in Gibraltar today on a familiarisation visit. Neil Duncan, General Manager - Marketing and Planning, and Jacqui Nobile, Port and Shore Excursion Operations Manager of Thomson Cruises are here to experience first-hand what Gibraltar can offer their ships and passengers on a cruise call.
Minister for Tourism, Commercial Affairs, Public Transport and the Port, Neil Costa, met with Thomson Cruises at their UK headquarters last year to discuss ways in which the number of calls to Gibraltar by Thomson's ships could be increased and how we could develop the shore excursions offered to passengers.
During their visit, Mr. Duncan and Ms. Nobile will meet the Minister, the Captain of the Port and the Gibraltar Tourist Board, will tour the port and cruise facilities and will sample the tours offered to their passengers. Meetings have also been arranged with Thomson's local ship agents and shore excursion agents.
Commenting on the visit, the Minister said, "I am very pleased to welcome senior executives of another cruise company to Gibraltar. Their visit is part of the Government's ongoing commitment to increase cruise ship calls and to develop new tours for passengers. I am looking forward to holding further discussions with Thomson Cruises with a view to developing the successful working relationship we already enjoy with them."