Feb 05 - Daniel Feetham - New GSD Leader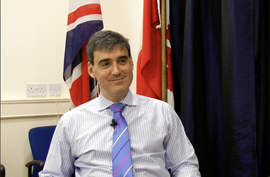 Yesterday evening, the GSD Executive voted to make former Deputy Leader of the party, Daniel Feetham, the new Leader of the Party. Following his appointment, he gave this statement:
'Firstly, I would like to thank Damon Bosssino for putting his name forward and demonstrating that anointments of political party leaders in stage-managed meetings are for others. Mr. Bossino is, and remains, a valued and important member of an experienced and talented Parliamentary Opposition, which over the next three years will, I hope, discharge the constitutional duties of Her Majesty's Opposition in a way that earns the respect and confidence of the people of Gibraltar, as the alternative government. 
I would also like to thank the Executive Committee for entrusting me with the Leadership of the Gibraltar Social Democratic Party, and in particular, the Chairman, Ernest Britto, for the work he has done to ensure that the election has run smoothly.
But above all, I would like to thank Peter Caruana for all he has done for the party and for Gibraltar and for the support and encouragement that he has always given me. I could not have hoped for a better person to have been my political mentor these last eight years. He will indeed be a tough act to follow.  
We in the GSD are committed to working hard for the values that have made this party so successful over the years.  At the end of the day it is values that underpin and bind people together in political parties and it is our core Social Democratic values, the values of Social Democracy, which have allowed the GSD to do so much for people and families of modest means.  Our values are traditional values, rooted in our community. They resonate with, and appeal to, the people of Gibraltar. 
Under my leadership, the GSD will continue to project this strong sense of values that has always been associated with us and that I believe will mark the difference between ourselves and our political opponents.   A way of doing things: such as good governance, prudent, open and transparent economic management.  A calm, mature, confident and intelligent way of approaching our relations with Spain: always striving to achieve normality in Gibraltar's relations with our neighbour whilst at the same time not crossing the fundamental red lines that make our community secure. 
Politics is about values and policies, not about cosmetics and platitudes.  
Whilst discharging the duties of an Opposition to oppose, scrutinise and hold the Government to account, I believe there is also room for constructive and positive politics. My record in that regard, as Minister for Justice in the last GSD administration, is there for everyone to see.  I intend to reach out to the Government in areas where it is important that we are constructive, particularly where Gibraltar's vital interests are at stake.  
However, the Government will find that we will be a tough and searching Opposition under my leadership.  I do not believe that people would have it any other way.'