Aug 19 - Gibraltar's First Green MEP Visits the Rock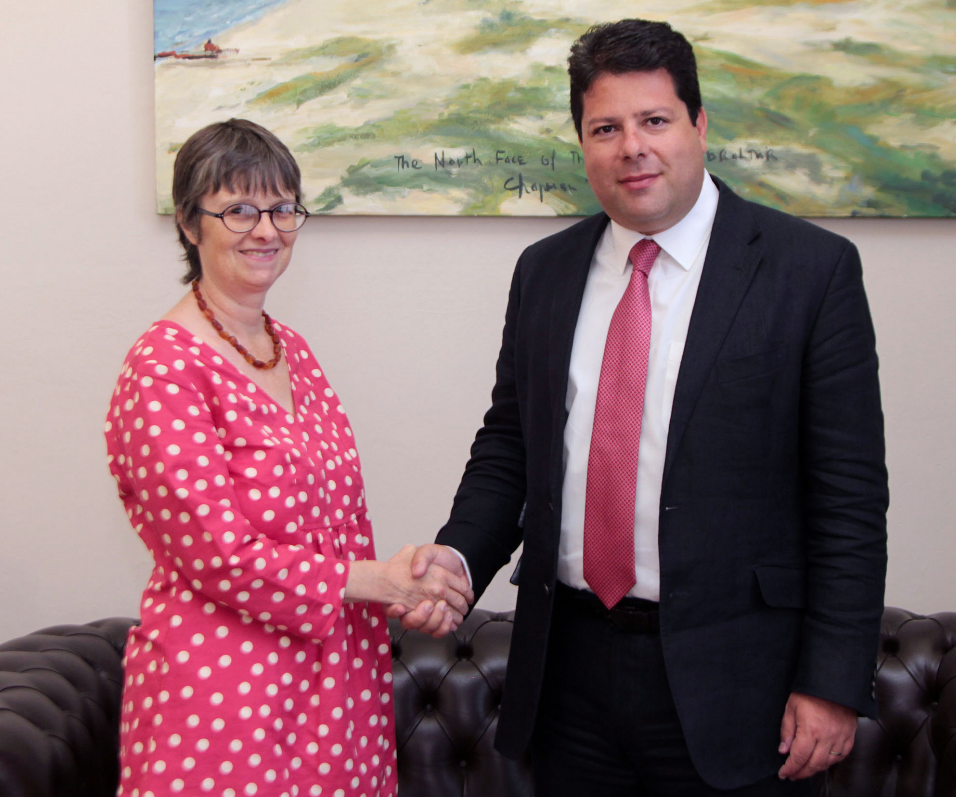 Newly elected Green Party MEP for the South West and Gibraltar Molly Scott Cato today took in Gibraltar, as a constituency, for the first time, with much of her visit involving briefings on environmental issues surrounding Gibraltar, including, areas of marine conservation.
Speaking to YGTV about her visit to the Rock during a tour of the frontier and the new implementations on the Gibraltar side, the Green MEP noted that as a new MEP 'the purpose of [her] visit is to find out as much as [she] can about Gibraltar and its issues.' She added, 'I think that because I'm the first Green MEP for the South West of England and Gibraltar, the Government's focused my visit a lot around environmental issues, so I'm finding out a lot about biodiversity and marine conservation areas and the nature reserve, and so on.' She went on to also express her interest in the economy of Gibraltar, as a former economist.
Commenting on the ongoing dispute with Spain that has seen further friction recently following an incident at sea involving the Guardia Civil Mrs. Scott Cato said that 'it feels to me like people are getting caught up in something they really shouldn't have to suffer from. Gibraltar has a right to self-determination and so the people here should be able to go about their business without interference. Part of my role as an MEP is doing the best I can to lobby and protect people here against that sort of undue pressure, which they just shouldn't have to suffer'.
On what she was looking to take back to Brussels from her trip to the Rock, Molly Scott Cato explained that as an MEP there are an infinite number of things she could do. 'The way to be successful I think, is to review some issues and I've already decided that marine conservation areas are going to be one of my issues because that's obviously very relevant to one of my areas in the South West. I'll work with the environment department here. Also, the ongoing issues of the border and the relationship with Spain, I think those are inevitably going to come up either in Brussels or in London and maybe arranging meetings in London to see what pressure can be brought to bear on the Foreign Office.'
Mrs. Scott Cato went on to suggest that her time in Parliament so far has been somewhat bewildering. She spoke of her positions in the Economics and Monetary Policy Committee and the Agricultural Committee. She went on to add, 'I've had a few opportunities, I questioned the Italian Foreign Minister in my second week.' She has also previously questioned Jean-Claude Juncker, the new President of the European Commission, on Britain. 
Speaking on the role of the European Parliament in the EU, and the extent of its influence, the MEP insisted that the European Parliament has gained more power over time. She went on to say, 'every time people challenge the lack of democracy within European institutions, there's incentive to increase the power of people who are democratically elected, which is us in the Parliament. You've got three bodies… the Commission, the Parliament and the Council of Ministers, who very often will stop something from happening. People say, "well that's not democratic" but actually those are the governments of Europe, you have to think about how Europe works, it's not like a nation state, it works in a different way and there's different ways that compromises have to be made and I'm learning that still. I am impressed by the amount of power your politicians have here in Gibraltar. You have a huge amount of freedom to try things out and be radical.'