Feb 15 - BIC Announces Second Blockchain Educational Workshop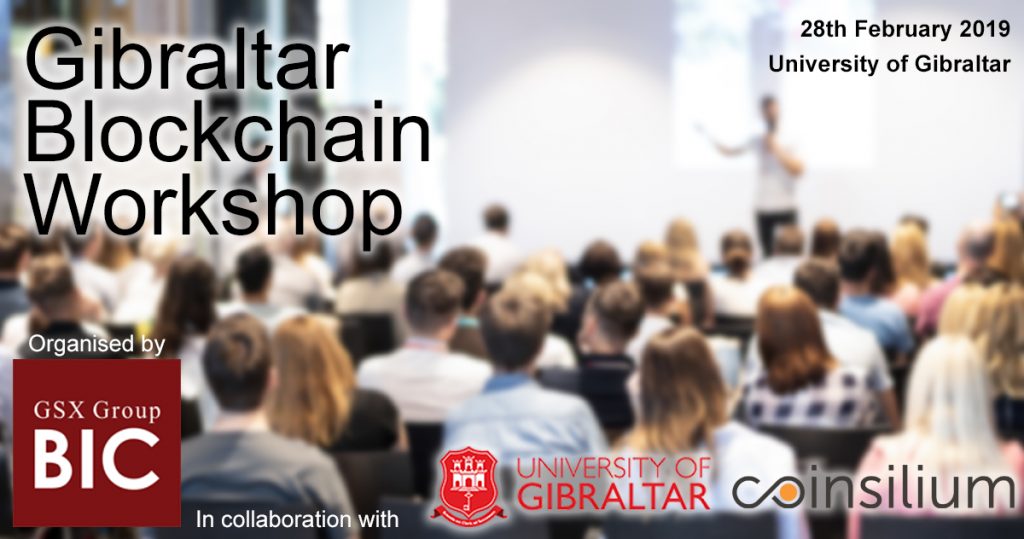 The Blockchain Innovation Centre (BIC), a community and education initiative by the GSX Group, has announced its second Blockchain Educational Workshop in collaboration with the University of Gibraltar.
The workshop will be delivered by Coinsilium, an investment company focused on blockchain technology, harnessing growth through investment, acceleration and development.
The event will be held in collaboration with the University of Gibraltar on Thursday, 28 February, from 9:00 am to 4:30 pm.
A spokesperson said: "The BIC is an education-focused network created by the GSX Group to support the growth of an industry workforce in Gibraltar for the new digital era. The BIC works to connect Gibraltar to the world of blockchain technology, striking up partnerships with local and international startup hubs, universities, and industry associations. Through these partnerships, the GSX Group aims to facilitate the jurisdiction's aim to create breakthroughs within the global blockchain community.
"The BIC's second Blockchain Educational Workshop will consist of a full day's session surrounding the blockchain industry, including an introduction to blockchain and the blockchain ecosystem; understanding ICOs and tokenomics; hands-on practice, including how to setup wallets and transfer/trade; and finally, the impact of blockchain technology on vertical industries. The workshop will be divided into four different seminars, with in-depth discussions regarding the aforementioned topics."
Nadine Collado, Director of Professional Development & Continuing Education at the University of Gibraltar said: "The University of Gibraltar is delighted to host the second workshop in new technologies in collaboration with the Blockchain Innovation Centre. It reaffirms our commitment to providing education in this field. We are particularly excited to welcome CEO of Coinsilium, Eddy Travia on campus. Eddy is an early investor in blockchain and a leading provider of blockchain training for finance professionals and developers his expertise will provide delegates with invaluable insights into this dynamic sector."
Leading figures within the ever-evolving blockchain ecosystem will provide expert lectures at the BIC workshop, including Eddy Travia, CEO at Coinsilium, and Jean-Louis Carrara, Managing Director at L&S and Consultant at Coinsilium. Coinsilium provides services and investments to innovative fintech and blockchain companies and enables them to further develop and commercialise their technologies. Coinsilium shares (COIN: NEX) are quoted on NEX Exchange, a recognised stock exchange in London.
"Gibraltar, as a jurisdiction, is firmly positioned at the forefront of blockchain technology with a sound, progressive regulatory framework. This workshop offers participants the chance to gain a solid understanding of how the technology works and the opportunities it presents for businesses and individuals alike." Eddy Travia and Jeal-Louis Carrara from Coinsilium added.
Paul Astengo, Senior Executive at Gibraltar Finance said: "Education is a key component and underpins the foundations for growth and development of our community. It is great to see multiple contributors joining forces to deliver the Gibraltar Blockchain Educational Workshop organised by the GSX Group's Blockchain Innovation Centre together with the University of Gibraltar and private sector firm Coinsilium. We are privileged to have Eddy Travia and Jean-Louis Carrara, experts in their field, here in Gibraltar, sharing their knowledge and experience.
"The Blockchain Innovation Centre was formed as part of GSX Group's commitment to continually support and aid in Gibraltar's development as a leading global blockchain hub. Education plays a crucial role in that development and we're thrilled to be announcing our second Blockchain Educational Workshop in collaboration with the University of Gibraltar and Coinsilium. It's another fantastic example of industry leaders and government working closely together to create a prosperous future for the blockchain industry in Gibraltar," concluded Nick Cowan, Founder and CEO of the GSX Group."