Feb 22 - McCluskey: No Deal Brexit Would Be "Serious Blow" For Gibraltar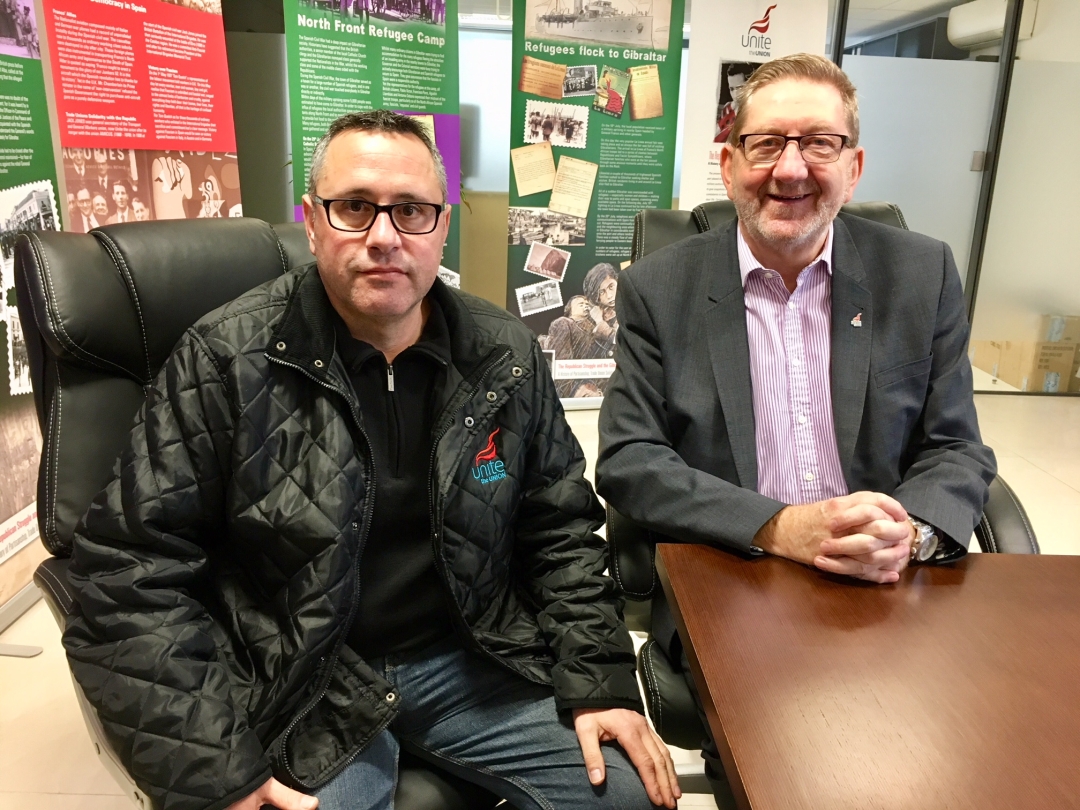 Len McCluskey, the General Secretary of Unite the Union, has said that a no deal Brexit would be a "serious blow" for the Rock's economy and workers. Mr McCluskey was in Gibraltar today and has met with local activists and the Chief Minister.
BREXIT
Speaking to the press this morning, he said that Gibraltar was at "sharp end" of Brexit. He added that he had made it clear to Prime Minister Theresa May that the no deal option which could, in his opinion, embolden right wing parties in Spain, "must be taken off the table."
However, Mr McCluskey says he's confident a positive solution would soon emerge: "I'm optimistic that in these coming weeks, as we head towards March 29th, a no deal will be ruled out."
He admitted that these were "strange times" but that he always made sure Gibraltar's concerns are part of Unite's strategy in the UK adding that Labour's policy of supporting Gibraltar was "clear" and the party had left behind the joint sovereignty proposal that it put forward when in government in 2002.
GIBRALTAR ISSUES
Mr McCluskey also spoke about the recent dispute with the Gibraltar Government over agency workers. He said that the union was working to develop a new model for its relationship with the Government as the current one was "a bit distorted". The new model would see the union working closely with the Government but keeping its independence to criticise and oppose policies which it disagrees with.
He said: "Whilst we are keen to work with them, by the same token we are an independent union and, if we feel they're doing something wrong, we will react against them - we've seen that recently with the incredible demonstration over agency labour.
"When we're reaching agreements, we've got to guard against the fact that we don't slide into too much of a comfortable relationship which subconsciously can mean that you don't fight when you should fight."
This is a shift from Unite's position in 2015 when, just before the General Election, the then National Officer for Gibraltar, Kevin Coyne and Unite Convenor Albert Hewitt openly backed the GSLP.
Mr McCluskey today said that had been a mistake: "He shouldn't have done that - we are not affiliated to any political party here in Gibraltar - it's important people should know that. Whilst we appreciate many of that gains made by workers since Fabian Picardo became Chief Minister, we are an independent union."
Mr McCluskey said the union would be presenting a Workers' Manifesto ahead of this year's elections and warned that implementing cuts or austerity measures in Gibraltar simply "didn't make sense" given the Rock's healthy economy.
Pic: Len McCluskey (R) with Gibraltar Branch Chairman Christian Duo