Feb 04 - AKIN Sierra Leone Raise £27,000 in Raffle Ticket Funds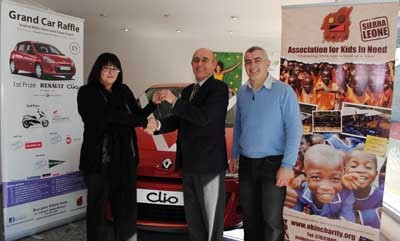 The hotly awaited AKIN Sierra Leone Project car raffle was held late last week at the Rock Motors showroom. Following a massive team effort with raffle ticket sales, the team managed to raise a record breaking £27,000 to help build further schools in Sierra Leone this year. All 7000 tickets were sold. Winning tickets were chosen by Miss Gibraltar 2012, Jessica Baldachino.
Some of the prizes included a brand new Renault Clio from Rock Motors, which was won by ticket number 4070 belonging to L Pincho. A Honda PCX Motocycle from Bassadone Motors was won by ticket number 5752 belonging to G Hernandez. All other prizes and winners are published below.
Commenting on the initiative, AKIN Sierra Leone spokesman, Jimmy Bruzon noted, 'we wish to thank everyone who helped with the sale of the tickets, everyone who bought tickets and all the sponsors. Special thanks to Miss Gibraltar, Jessica Baldachino who drew the 18 lucky winners and to Albert Codali, Commissioner for Oaths who was present during the draw. We have raised £27,000 for our school projects, thank you Gibraltar for your generosity, you have made a huge difference to the lives of many poor children'.