Feb 13 - Young Artist 2013 Competition Exhibition Opening Boasts Impressive Turnout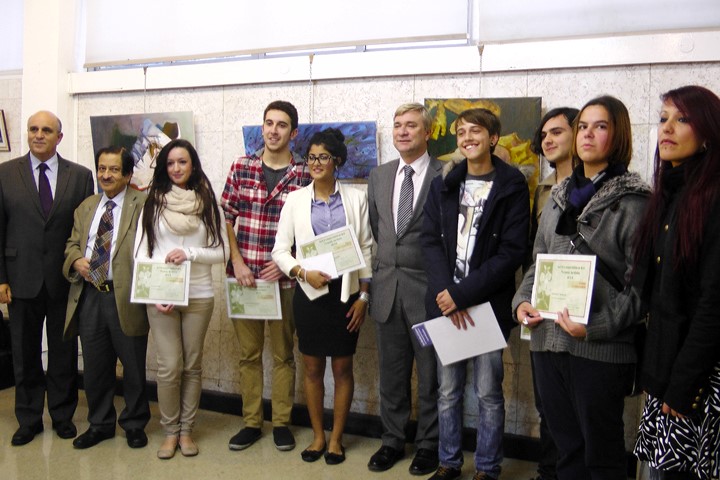 Yesterday evening, Minister for Culture, Steven Linares officially opened the Young Artist 2013 Competition exhibition at the John Mackintosh Hall. A total of forty – nine artists submitted seventy-two works. The exhibition saw a great deal of interest from the local youth, with individuals as young as 14 years old submitting pieces.
Commenting on the competition, Minister Linares explained that the quality of the work continues to rise every year.
Seven pieces were chosen as Highly Commended by adjudicator, local artist Ermelinda Duarte, these included; No.9 'Pause' by Jesse Joel Barnes, No. 20 'Triptych 'The Trinity' by Kaylan Escamez, No. 37 Me, Myself and I' by Anthony Macias, No. 42 'Guernica Poster' by Daniel Marin, No. 55 'Words on Cardboard' by Connah Romano-Scott, No. 61 'Grasshopper 1' by Ellen Tirado and No. 73 'Gibraltar Bus' by Kiana Wink.
The winner of the £500 Alwani Foundation Award, for School Years 9 – 11 was Aouatif Ghabraoui for No. 23 'Distortion 1'. Gabriella Martinez's no.44 'Awkward' was awarded the £500 Alwani Foundation Award for school years 12 to 13. 2nd Prize, for the Aquagib Award of £500 was awarded to Anna Imossi for No.30 'Untitled' and the 1st prize, for the Ministry of Culture Award of £1000 was awarded to Claire Olivero for No.51 'Movement'.
The exhibition opening was extremely well attended with appearances made by His Excellency the Governor and His Worship the Mayor. The exhibition will be open to the general public as from Wednesday 13th February 2013 to Friday 22nd February 2013 on weekdays from 10am to 10pm.