Mar 14 - Special Olympics Gib Starts Countdown To Austrian Games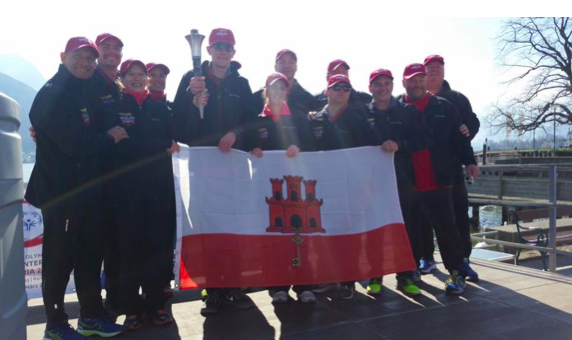 With just days left before the Opening Ceremony of the Special Olympics World Winter Games in Austria, Special Olympics Gibraltar have been making their last-minute preparations as the excitement mounts amongst the athletes.
With training now complete, the squad of 15 athletes and eight coaches travels today to Malaga from where they will fly to Zurich and onwards by coach to Bregenz in Austria. After spending a couple of days adjusting to the Austrian climate, the team move on to the sport venues at the end of the week and the grand Opening Ceremony in Schladming on Saturday 18th March. After that the Games begin and Gibraltar athletes will be participating in floor ball, snowshoeing and alpine skiing events which continue until the closing ceremony on Friday 24th March.
It has been confirmed that the team will be supported in Austria by Government of Gibraltar Ministers Samantha Sacramento and Steven Linares who will travel to be present at the Opening Ceremony of the Games on Saturday. Also travelling to the Games will be a number of family members from Gibraltar and local Patron Denis Lafferty who has been a long-term supporter of Special Olympics Gibraltar.
Gibraltar will be one of 107 countries competing in the Games which involve over 2,700 athletes in nine different events. Special Olympics Gibraltar has been busy fund-raising for this trip with a number of activities including their "Sponsor an Athlete" campaign which has been very generously supported by several local businesses.
In the meantime, the "Flame of Hope" Olympic torch for the Games was lit in Athens on 2nd March in a formal torch lighting ceremony and is now being carried through towns and cities in Austria by teams of torch runners. These include our very own Francis Mauro who was selected as one of only 10 athletes worldwide to carry the torch, and Borders and Coastguard Officer Joseph (Pepe) Gilbert representing Gibraltar in the accompanying team of Law Enforcement Torch Runners. Both will be taking part in a polar plunge into the icy lake in Schladming on March 19th, where the temperature is currently dropping as low as -12 degrees!
The Games are being covered nightly on ESPN sports TV channel who will be showing the Opening Ceremony live. Alongside other international and local media the progress of our athletes can also be followed on the Special Olympics Gibraltar Facebook site at:-
https://www.facebook.com/SpecialOlympicsGibraltar/
Pics: Athlete Francis Mauro and Officer Pepe Gilbert in Austria with the flame