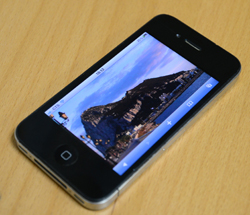 iPhone 3, iPhone4, iPhone 4S including Siri, still won't help you if you live in Gibraltar. According to the "Designed in California" product, the 426m high Rock of Gibraltar doesn't exist. If you live in Gibraltar and you want to register your iPhone, and or other Apple product, you will notice that the scroll list of countries doesn't include Gibraltar.
Having made the international press today, it has been interesting to see how people react to this, including Apple. Gibraltar is not the only place to have been vetoed by the technology leader Apple. The Cook Islands and the British Virgin Islands have also been left out. Strangely, the US Company didn't leave out the US Virgin Islands.
Is this a message to the Queen, or purely an oversight due to the fact that Apple do not consider us to be a large enough captive market to warrant our country on that list?
Android phones, the competitor to the iPhone and iOS software, allow people to enter countries by typing them manually. Apple, set to release a new version of their software, iOS6, might include our small overseas territory in the update. Let's see.