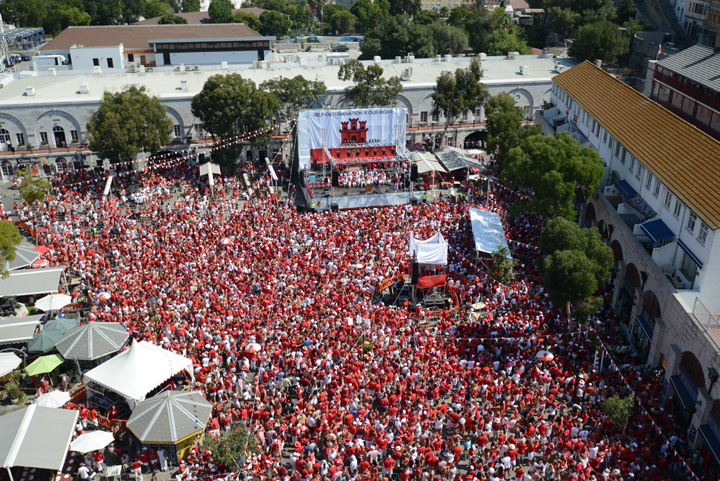 Yesterday saw Gibraltar's 20th National Day celebration. The event dates back to 1992 and commemorates Gibraltar's first sovereignty referendum of 1967, during which Gibraltarians voted to remain under British sovereignty. With the event returning to 'it's home' in Casemates Square, thousands of red and white clad locals were in for quite a show.
The morning was host to a selection of dance and song performances by various local dance schools and Gibraltar's Got Talent Finalists. This was followed by a performance by the Gibraltar National Choir and the ever-famous political rally. First to speak was Chairman of the Self Determination for Gibraltar Group Dennis Matthews followed by a selection of UK MPs including Angus MacNeil of the Scottish National Party, Ian Paisley and former MP Lord Chidgey. The general theme of the rally was the UK's ongoing support of Gibraltar's attempt for Self Determination.
During the Chief Minister's speech, Fabian Picardo echoed the Government's position on Spain's threats to Gibraltar and promised that the Government would never concede 'one grain of sand, one breath of our air, or one drop of our water'.
Following the Chief Minister's speech, His Worship the Mayor, Anthony Lima released the balloons, which were followed by a small red and white fireworks display and thousands of red and white strands of confetti filled Casemates Square.
Following the Rally, the crowds dispersed to celebrate the rest of the festivities at the various parties that were being held, including the almost traditional party at Boyds which saw attendance from thousands of Local youngsters. Employment Minister Joe Bossano and Chief Minister Fabian Picardo also turned up for a quick visit.