Sep 12 - HMS Penzance Visits the Rock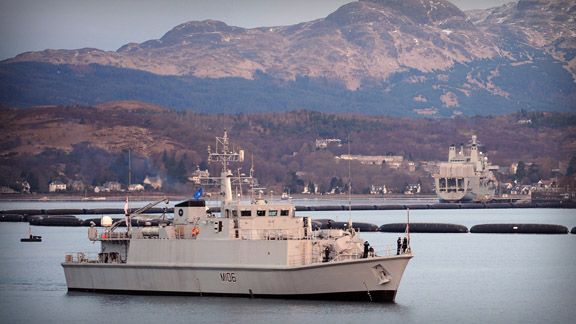 Royal Navy minehunter HMS Penzance arrives in Gibraltar on Friday for a short visit before heading into the Mediterranean as part of the German-led multi-national maritime force 'Standing NATO Mine Counter Measures Group 2' (SNMCMG2),
The Faslane-based warship is the UK's most up-to-date minehunter and is carrying out her first sea deployment since her six-month comprehensive refit programme. Her role is to neutralise underwater threats and clear the sea-lanes for shipping. HMS PENZANCE is one of seven Sandown-class minehunters.
A rigorous programme has ensured that both the ship and the ship's company are fully prepared for the NATO mission, ready to make her contribution to the safeguarding of sea lanes.
Commenting on the matter Lt Cdr Nick Unwin, Penzance's Commanding Officer said, 'our departure is the culmination of a very challenging period.'
'Only four months ago, we took responsibility for the ship from Babcock Marine as the refit period drew to a close and we moved back on board.
'Since then, my ship's company has worked tirelessly to complete trials and training to deploy and I am immensely proud of what they have achieved. The support we have had from all areas has been tremendous not just from Naval organisations but also from our families we leave behind too
'This particular commitment is a long-standing, enduring commitment our Royal Navy mine countermeasures vessels have undertaken for many years and our upcoming work in the Mediterranean region will continue to build and strengthen our working relationships with our NATO colleagues.'