Jul 02 - 'Big Up Diaz' Tribute Charity Concert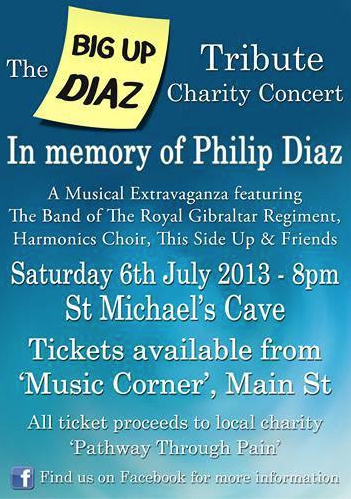 This weekend, a tribute charity concert will be held in aid of local charity 'Pathway Through Pain'. Local Teenager, Philip Diaz, passed away last year following a battle with terminal Cancer. Philip had become increasingly involved with the charity, which assists families who are experiencing financial troubles due to illness.
The concert, dubbed the 'Big Up Diaz Tribute Charity Concert', will feature performances by the Royal Gibraltar Regiment band, the Harmonics Choir, local act This Side Up and others.
The concert follows past charity initiatives, which included the 'Big Up the Beard Campaign' that saw Philip himself raise funds for 'Pathway Through Pain' by not shaving his beard for 4 months, early last year.
The evening will commence at 8pm on Saturday evening, at St. Michael's Cave. Tickets are available from Music Corner.