Aug 27 Chief Minister Flies To London For Meetings With Prime Minister And Foreign Secretary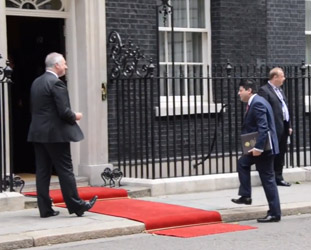 The Chief Minister, the Hon Fabian Picardo MP, travels to London today Tuesday to hold meetings with the Prime Minister, Rt Hon David Cameron and the Foreign Secretary, Rt Hon William Hague.

These meetings will enable Mr Picardo to discuss face to face with each of them a number of important matters, in particular the current abuses by the Spanish authorities at the Gibraltar frontier and the statements from senior Spanish politicians threatening further measures against Gibraltar.
During the Chief Minister's stay in London he will also hold further meetings with senior Whitehall officials on a wide range of issues.  The Minister for Financial Services and Gaming, Hon Albert Isola, MP will accompany the Chief Minister for working sessions at the Treasury.

During Mr Picardo's absence from the Rock (and given that the Deputy Chief Minister is presently away on annual leave) Minister for Justice, Education and Telecommunications, Hon Gilbert Licudi, MP will act as Chief Minister.

The Chief Minister will return to Gibraltar on Friday.