Sep 03 - CITYPEG confirms that Spanish Radicals could protest on National Day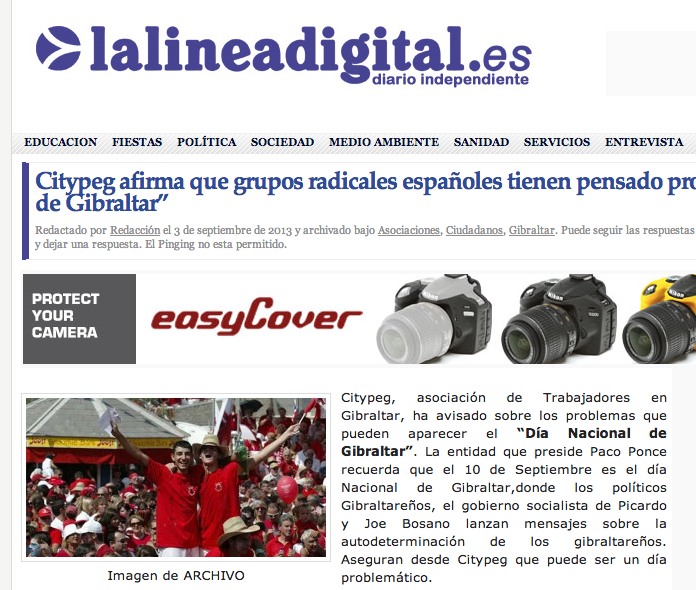 According to Spanish Website, La Linea Digital, the cross border workers association has warned that there could be problems with Spanish Radicals coming to GIbraltar to form a protest on the 10th September this year.

National Day is a day of great pride here in Gibraltar and the Royal Gibraltar Police is already working on how to ensure that everyone has a great and safe time. The heightened tensions have been caused by the artificial reef that was laid over a month ago, sparking retaliation from Spanish Government, especially at the Frontier.
Citypeg said: "With the situation we are currently facing, and from the information we have been given, there will be problems that day"

"Con la situación que estamos viviendo, según nuestra información va haber problemas ese día. Unos grupos de radicales de España piensa acudir a dicho evento con la intención de mostrar su rechazo a dicha convocatoria. Puede haber una confrontación no deseada, a la cual mostramos nuestra oposición"

The article refers to the speeches on National Day, speciifically Joe Bosano's speeches, which have been referred to as "Anti-Spanish" and which Spanish Radicals will not put up with this year.

Full article:

http://www.lalineadigital.es/2013/09/citypeg-afirma-que-grupos-radicales-espanoles-tienen-pensado-protestar-en-el-dia-nacional-de-gibraltar/