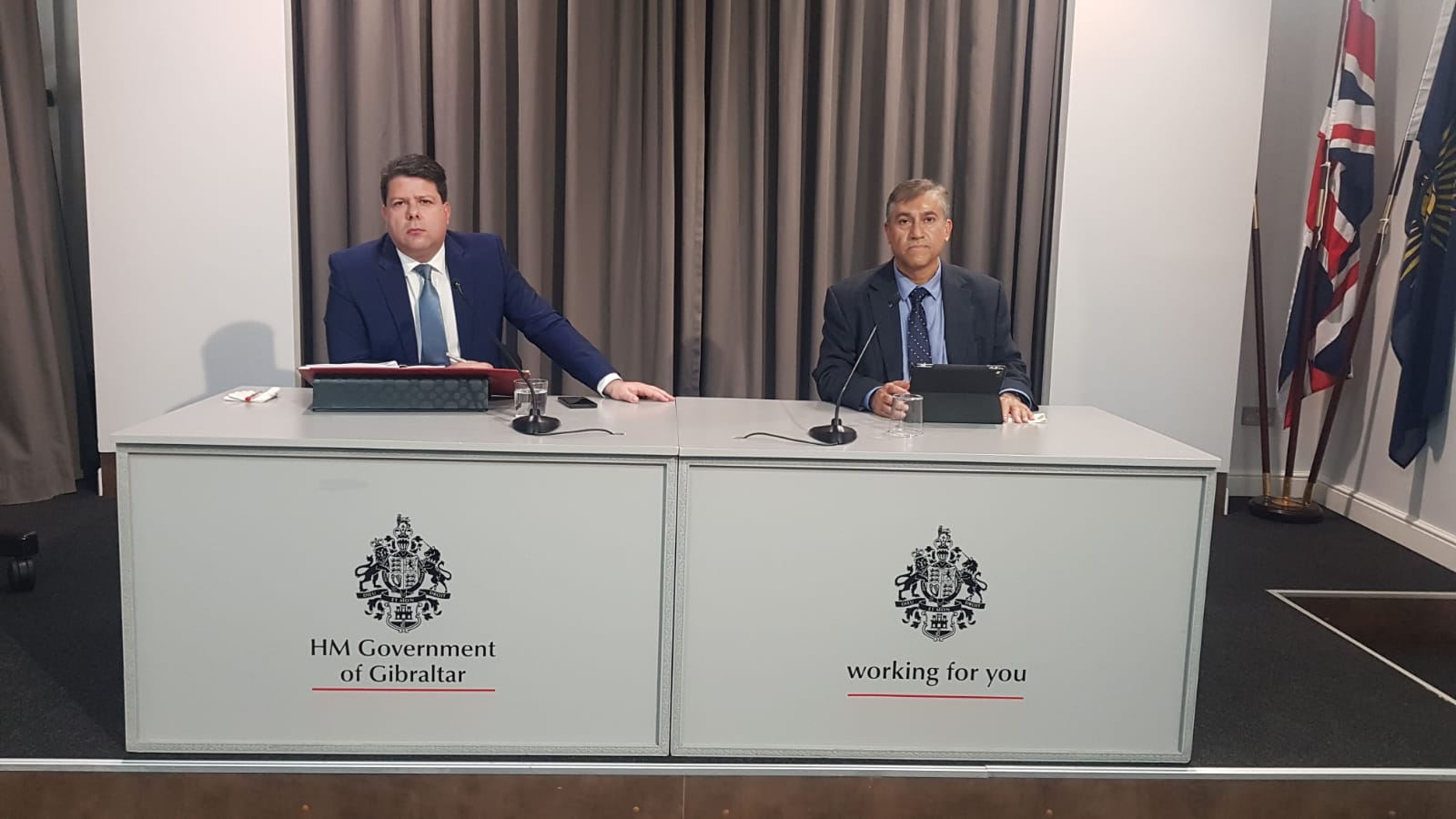 Cabinet Approves 'Unlock The Rock' Document - Full Text Of Chief Minister's Statement
Here's the full text of the Chief Minister's statement from this afternoon's COVID-19 briefing:
Welcome and good afternoon to No6 Convent Place for our daily Press Conference and information briefing on COVID-19.
Today I am going to address our updated statistics, tell you about Cabinet's approval this morning of our UNLOCK THE ROCK document and then move onto some new and exciting news about what the future may hold in that respect.
 Let me start with the statistics in respect of the progress of the infection through our community.
The number of tests carried out now is 2,931.
We have 60 results pending.
We have received 2,871 results.
The number of confirmed cases remains static at 144.
The number of recovered cases is increased by 1 to 133.
The number of Active Cases is down to 11.
As at May the fourth, the number of deaths brought about in Gibraltar by THE PHANTOM MENACE that is the COVID-19 virus, remains zero.
And there are no patients confirmed with COVID-19 in any of our COVID wards or ERS.
This represents A NEW HOPE that we are winning the battle against COVID-19 unless THE VIRUS STRIKES BACK.
It is against that background that the Cabinet this morning has approved the Unlock the Rock document.
This will be our route map out of lockdown.
I expect we will be in a position to publish this document in the next 48 hours.
The document is comprehensive.
It is taking time to finalise this in order to be as full and useful as possible once the document is published.
And it is being compiled against the backdrop of an ever-changing scientific understanding of the COVID-19 virus.
I have shared it with the Leader of the Opposition and he has shared it with his team also.
I have consulted widely on it and will continue to do so.
Remember this has to be a dynamic document as we may need to change what we are going to do as the science continues to change.
Our unlocking plan will set out the six phases we presently expect to transit before we get back to ROCK UNLOCKED : PHASE NORMAL.
We are now already half a week into PHASE 1.
In this respect, we have seen retail shops, construction and hairdressers and beauticians able to reopen, but subject to some restrictions.
Our whole strategy to unlock rests on two key criteria.
The first is that the advice on social distancing and respiratory and personal hygiene should be followed.
And the second is massive testing, aggressive contact-tracing and enforced self-isolation in order to ensure that any future cluster of the disease does not become a surge.
In that respect let me elaborate a little further.
We must understand that we cannot go back to what we used to call normal, however much that may be our natural instinct, in particular when the sun shines.
A virus, like any other predator, is looking for us to relax our guard. 
When we do, it will pounce. That will be when we see a new attack of the virus.
So in order to keep the virus at bay, to stop THE RETURN OF THE VIRUS, we must be able to come out of our homes once again, but to do so observing the rules of social distancing.
Otherwise we will see a second wave which would really enable the revenge of the virus to manifest on us.
That phrase, 'the rules of social distancing' is becoming quite ubiquitous these days.
We need to understand what it means and how difficult it is to write down in law and to police.
What it means is that we need to avoid touching each other, shaking hands, hugging etc., outside of our household bubble.
Additionally, it means that we have to stay between a metre and two metres apart when we are not with our household grouping.
It also means that we have to avoid large crowds, as it may be harder to keep those distances if crowds accumulate in tight areas.
But let us be clear, asking law enforcement to police such rules is dystopian.
It would put huge pressure on police and it has severe repercussions in civil liberties' terms.
So we must avoid that.
That is why to a great extent, in future, we will be policing ourselves and we have to have new norms of social behaviour, new values, which we apply to ourselves and expect of each other.
I think most if not all already understand this and there have been very few instances of concern in this respect.
Additionally, it is important that we should understand what we mean by 'enforced self-isolation'.
This is likely to be coercive.
That means that we are looking at fines and if necessary enforced confinements – which would ultimately mean imprisonment – for people who refuse to self-isolate once they have been diagnosed.
Because a person who has been diagnosed would become a focus of contagion if they do not self-isolate.
We have concerns that this may be starting to become an issue and we will therefore be consulting on amendments to our regulations going forward requiring such people to self-isolate by compulsion of law.
This may seem draconian.
But it will be the only tool available to us if people are irresponsible enough to come into contact with others when they know that they are infectious.
Our detailed document will address more aspects of this.
But I must say that I think this weekend has gone well.
Our law enforcement agencies have done a magnificent job.
We just need to be mindful that although our retail shops are now open for limited hours, we are still ONLY allowed out to access a shop, alone.
We are NOT able to go out as a family to the shops.
If you need to go to the shops, go as if you were going to one of the supermarkets.
Normality has not yet returned.
Please do not fall into the trap of thinking otherwise.
The sun may be out.
But the virus is out there also.
THE VIRUS WILL STRIKE BACK if we become complacent.
So the beaches will remain closed for now.
You will only be able to enter if you are over 70 during the golden hour period.
If you are under 70, you will be allowed to access the beaches for exercise, which can include a swim.
You will be allowed limited time on the beach, about 30 minutes.
Enough for a walk and a quick dip.
Or for a run for the more adventurous.
But that is it.
If you have a relative who you are accompanying as a carer, and that relative is disabled or suffers from autism or any other similar condition, you will be allowed longer.
You can identify yourself with your disability information card.
Our UNLOCK THE ROCK document will address these matters also.
This week, we are also working on two new aspects of the BEAT COVID Measures.
The first will involve allowing businesses in the excluded sectors to make employees inactive and pay BEAT of 50% of the salary of the employee or the BEAT COVID rate of £1,155 whichever is the higher.
The maximum part of the workforce to which this will apply will be 25%, unless discretion provided for in the law permits the application to a greater number.
Any employees affected will only be able to be subject to this for four out of the next eight weeks until the end of June.
There will be a filter via the Financial Secretary and the Director of Employment to be able to qualify for this non BEAT furlough.
There will also be an opportunity for representations from an individual's trade union or the individual himself.
I have consulted CELAC and the Opposition on this and have broadly agreed how this would potentially operate.
The details are being drafted now.
Additionally, we are working on a variation of the BEAT COVID Measures for the included sector also to allow employees to be brought back in part. 
This will therefore allow an employee who was made inactive in April to be brought back for, say, half the month of May.
That employee would still qualify for half the BEAT payment they received in April and could be made active for half the month.
This is also in its drafting stages. 
We shall publish the updated rules as soon as we are able.
I can tell you that we continue to receive many queries on BEAT payments refused and the amount of BEAT payment approved in some instances.
We are working through all of these.
The volume is high, so please do bear with the teams which are working tirelessly on these responses.  
They really do not stop and I acknowledge the magnificent work that they are doing on this.
Also, we have now agreed how to progress matters in respect of new rules on insolvency which are being prepared for this period.
I expect we will be publishing a Bill in respect of these matters this week.
The law will cover the whole of the pandemic period, and will therefore likely have an element of retrospection.
I expect we will be able to deal with it in a parliamentary session in the last week of May.
We have seen today the start of how life will be in the future.
At our entry points we are already deploying quite rudimentary temperature scanning.
Not fail-safe, but a useful aid to those who may not know they are running a temperature.
We are already seeing face masks deployed in our businesses, inside shops, hairdressers and offices, where social distancing cannot be observed.
We are likely to see that also in the return of public transport and elsewhere.
A less brave new world than before perhaps.
But the world into which we are condemned to live for now.
Is it that bad?
In my view, if we get back the ability to return to you your constitutional freedoms sooner rather than later, then it is a proportional requirement, in keeping with our medical advice, that we must see through.
I have often told you in the past weeks that the first duty of government is to protect life – to protect your safety and your security.
Undoubtedly, it is our immediate next duty also to protect your civil liberties.
And in developing apps to help us with contact tracing we will have that top of our considerations.
This weekend, I was on a call with APPLE developers for the iOS system to enable that decentralised system of track and tracing.
This is likely to give us interoperability with the Spanish systems which appear to be pointing also to this decentralised mechanism.
We nonetheless continue in contact also with NHSX also on the potential use of their centralised systems.
And the changes in our world and in the way we work will not all be bad.
We have to be brave in the way that we shape the future.
We will be.
That is why today I can tell you that our plan to UNLOCK THE ROCK will also contain provisions to close a number of traffic arteries in order to seek to reduce pollution.
In a key pilot project, we will close LINE WALL ROAD as from the 1st of June.
The closure will be from the area of Orange Bastion, past the entrance to the ICC Car Park, which will be able to continue in operation as a public car park.
The closure will continue up to DUKE OF KENT HOUSE.
Line Wall Road will then be open only to taxis, buses and other public service vehicles, for deliveries and to residents who have vehicle registered in their name for an address in the areas accessible only through Line Wall Road.
Those with a BLUE BADGE will also be able to access these areas.
We will also close CHATHAM COUNTERGUARD to enable restaurants there to expand their terraces as we change how we attend restaurants.
We are looking at a plan to change how EUROPORT ROAD operates when it re-opens to allow only school and residential traffic.
All of these areas – Line Wall Road, Chatham Counterguard and Europort Avenue – will be magnificent new public realms for pedestrians and for bicycles.
There is a lot of work to be done on this.
Traffic flows will have to be worked out and the permitting will be difficult initially.
But it is undoubtedly the right thing to do.
I am convening an inter-governmental committee to address this work which will include all those already working on the Walk The Wall project.
This is Walk the Wall on steroids and it will work magnificently well as part of Green Gibraltar.
I remind you that on the morning I was sworn in as your Chief Minister after the last election, I told you I would be humble enough to say that we do not have a monopoly of the best ideas.
The LINE WALL ROAD idea was featured in the manifesto of another political party, Together Gibraltar.
I acknowledge that.
Our proposal will be slightly different and more workable, I think, but I will be inviting Ms Hassan Nahon to share her Party's ideas with the technicians I am putting together on the LINE WALL ROAD project.
Additionally, our scheme will be much wider, with more arteries involved.
There will be a full consultation process with the public also on the details but we will start the closures as from the 1st June.
And there will be work to be done on technology or other mechanisms to provide for digital access control in an advanced manner in future.
But if necessary we will start in quite an analogue way.
Additionally, we will be introducing charging mechanism at the Midtown Car Park.
Because if we are serious about cutting car use, we cannot encourage people to bring their cars to town each day, with the pollution that causes with the offer of free parking in the centre of town.
The charges will therefore apply to local vehicles as they apply to foreign vehicles.
Because we cannot fail to take the good out of the problems this pandemic has visited upon us.
The world into which we step out must be a better world for our children.
We must now be looking beyond the immediacy of this pandemic and into the future.
So, finally, I know many of you will be feeling cabin fever already.
I fully understand, especially those who are carers of people with disabilities, or those of you in abusive relationships.
But let us remember our lockdown has been less severe than in other countries.
What others are doing now as they unlock we have been able to do throughout.
And let us remember also that we have only just started the unlocking phase.
We must remember to follow the rules.
The lockdown still applies.
You can only go out to the shops ALONE or SOLO.
You can go out to exercise yourself or your pet.
And the over 70s are more limited in how they can come out.
But we must all observe the rules of social distancing.
We have to do it in order to end the lockdown sooner.
Going through this today means we can probably end the whole of the lockdown even earlier than we might have expected.  
It will likely be over soon. And the last patient with COVID will be given the all clear.
But it is not over yet.
Whilst there is anyone out there, a rogue patient out there, with the virus, we must all be on our guard.
So let us continue to work together.
And let us do so in a way that leads us to a better future when we emerge from confinement.
The rise of a new Gibraltar. That is what might make the whole of this period worth it.
Make everything that we have gone through worth it.
And make that new Gibraltar, the better Gibraltar that we all want.
EPILOGUE
Thank you all very much indeed.
My dear friends, when the Gibraltarian awakens, nothing can stand on his/her way.  So let us be clear that the rules of lockdown continue but that there is a great opportunity for us to shape a different and better Gibraltar going forward.
But let us make the sacrifice count.
Let us not throw it all away.
We are not going to get over it overnight. But we are almost there already.
So please, it is your responsibility to ensure that we do not throw the sacrifices of the last eight weeks away by observing the rules of social distancing, by observing the rules of personal and respiratory hygiene. That means not hugging or kissing people who are not in your household group. It means coughing or sneezing into a tissue. You have heard us saying this hundred times before, but please continue to observe these rules.
In particular, in hayfever weather because you may not think that you do not have COVID-19, the hayfever may make you sneeze, but you might have COVID-19 and you are unaware of that because you are asymptomatic and you are spreading it unless you catch it in a tissue.
And the please, observe the usual rules of hygiene by washing your hands constantly as I have said on a number of occasions, I sing Doctor Bhatti Happy Birthday twice more often than I have ever imagined that I would as I wash my hands continually over and over again each day. But that basic hygiene is what is going to get us through this difficult period.
Thank you very much for all of your sacrifices in the past six week. We are not out of the woods yet, but we are almost there.
Thank you for watching us this afternoon.