Nov 11 - Heritage Trust Calendar Now On Sale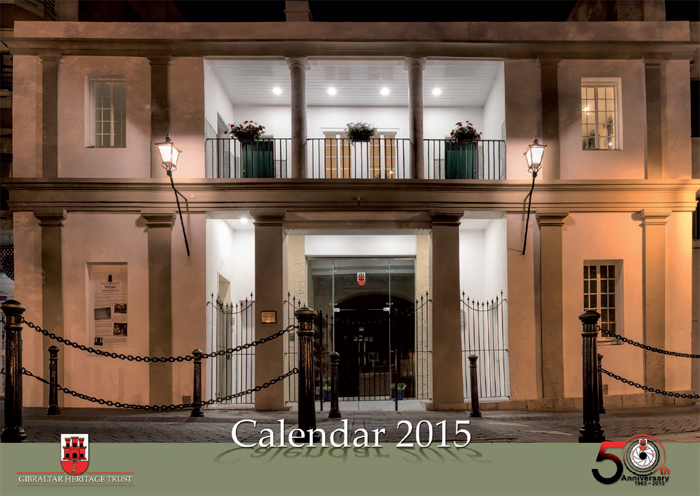 The Gibraltar Heritage Trust is pleased to announce the publication of the Gibraltar Heritage Calendar 2015.
The Trust says it is proud to have collaborated with the Gibraltar Photographic Society on the occasion of their 50th Anniversary to create a calendar which captures elements of Gibraltar's rich and varied heritage through a collection of stunning photographs.
Thirteen themes were set, aimed at encouraging creative thinking and storytelling through the power of the image. The themes were: Geology, Military heritage, Vernacular architecture, People/ community/ Language, Natural heritage/ flora and fauna, Engineering, Maritime, Views and vistas, Streetscapes, Civic buildings, 'Beauty in the detail', Traditions and one Wild Card (left to the discretion of the judges). The outcome was over 300 striking images of Gibraltar which have been whittled down to the 25 that make up this calendar.
The Trust says that heritage is not just about the past, but about the present and the future. The decisions we take today on what is built, where, what it looks like and what it will be used for is the legacy we pass on to future generations. It is this, sometime intangible, message of sustainability that is put across as the theme for this year's calendar.
The Calendar continues in its usual A4 size and comes with its own envelope, useful for those who may wish to send it abroad to friends and relatives. The Heritage Trust Calendar is the ideal Christmas gift - it lasts the whole year and once the year is out, the pictures can be framed as prints.
The Calendar is priced at £6 and is available from the Gibraltar Heritage Trust shop at the Main Guard in John Mackintosh Square or from local newsagents and bookshops.