Aug 22 - National Cricket Squad Announced For ICC World T20 Europe Qualifier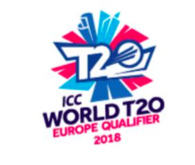 After much consideration and several months of training, the Gibraltar Cricket Selection Committee, headed by National Team Coach Simon Guy, has announced the National Squad for the upcoming ICC World T20 Europe Qualifier taking place in the Netherlands from 29 August to 3 September.
The lengthy selection process included the consideration of on-field performances over the last two years and commitment to training over the last four months.
The Squad includes ten players who have all learnt their cricket in Gibraltar and have come through the Gibraltar Cricket Development system. This includes newly appointed captain Matthew Hunter, Mark Bacarese, Julian Freyone, Charles Harrison (all from Bavaria FCC), Kieron Ferrary (Pirates CC) and Adam Orfila (Tarik CC). Hunter, Bacarese, Ferrary, Freyone, Harrison and Orfila have all represented Gibraltar in previous tournaments and will provide valuable experience and knowledge going into the tournament.
Additionally, the squad includes four newcomers from Gibraltar Cricket's development pathways over the last 20 years. This includes Timothy Caruana, Commonwealth Games Swimmer James Sanderson, 18 year-old James Fitzgerald (all from Bavaria FCC) and Mark Garratt (Pirates CC). Both Caruana and Garratt have represented Gibraltar at junior tournaments.
The return of Vice-Captain Balaji Avinash Pai (Pirates CC) adds further experience and enhances the squad which includes three new players to the Gibraltar set-up. Timothy Cleasby (Bet365 CC), Christopher Delaney (Gala Coral CC) and Richard Hatchman (Sovereign Rugby CC) will all be looking to make their International debuts at the event.
The Squad in full is as follows:
Matthew Hunter (Captain) - Bavaria FCC

Balaji Avinash Pai (Vice-Captain) - Pirates CC
Mark Bacarese - Bavaria FCC
Timothy Caruana
- Bavaria FCC
Timothy Cleasby - Bet365 CC
Christopher Delaney - Gala Coral CC
Kieron Ferrary - Pirates CC
James Fitzgerald - Bavaria FCC
Julian Freyone - Bavaria FCC
Mark Garratt - Pirates CC
Charles Harrison - Bavaria FCC
Richard Hatchman - Sovereign Rugby CC
Adam Orfila - Tarik CC
James Sanderson
- Bavaria FCC
Simon Guy (National Team Coach)
Andrew Car (Team Manager)
Andrew Rodriguez (Physiotherapist)
National Team Coach, Simon Guy, commented: "The players' commitment over the last four months has been amazing especially with a number of players putting in extra sessions to improve on their skills and fitness. The boys are raring to go and looking forward to the tournament."
President of the Gibraltar Cricket Board, Sunil Chandiramani, said: "All members of the squad have put in hours of hard work, effort and discipline in the lead up to the Tournament. On behalf of the Gibraltar Cricket Board, I would like to congratulate them all on their selection and wish them all the best of luck in Rotterdam."
It is now time for Gibraltar to get behind the team and give them your full support and wishes in what will be a challenge next week.
The squad will be travelling on 27 August and will be returning on 4 September.
About the Tournament
Gibraltar is in Group C alongside Guernsey, Norway, Sweden, Israel and the Czech Republic and will be based throughout the event in the city of Rotterdam.
Gibraltar has a tough start in the 18 team competition with a double-header on 29 August as they take on Guernsey and Israel. The following day, the squad will be up against Norway. A rest day follows on 31 August. On 1 September the squad face the Czech Republic and the tournament closes with Gibraltar facing Sweden on 2 September.
Group A consists of Portugal, France, Austria, Cyprus, Germany and Denmark whilst Group B will be contested by Italy, Jersey, Isle of Man, Belgium, Spain and Finland whilst Group B. The top two teams from each of the three groups will qualify to play in the ICC World T20 Europe Qualifier in 2019.
You can keep up to date by following Gibraltar Cricket on Facebook and Twitter, just search for "Gibraltar Cricket". Ball-by-ball commentary will be provided by the International Cricket Council website https://www.icc-cricket.com and on CricInfo http://www.espncricinfo.com/
{fcomment}