Miss Gibraltar at the Bowling Alley 23rd January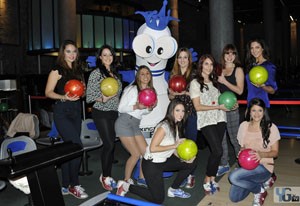 As Ice breakers go, you could do far worse than putting together the nine beautiful contestants for the 2012 Miss Gibraltar pageant and taking them out for a couple of rounds of bowling at the Leisure Centre, with all the latest equipment in a nice friendly environment, it was a great setting to allow the girls to get to know each other…
All the contestants showed up at the agreed time and were escorted to a cordoned off VIP area by Mr. James Neish this years organiser.
The girls were casually dressed with the main linking theme, whether by accident or design being skinny jeans. Contestant number 1, Christina Ainsworth showed off her individual side with a pair of gingham style skinny jeans and a plain black tank top. Contestant number 2, Rachel Robba paired a loose off white lacy tunic with plain black leggings to compliment her red hair.
Contestant number 3, Dyandra Borg went for blue skinny jeans and a pink tunic with a cape detail at the back. Contestant number 4, Karess Zammit opted for a dressier approach with a white leopard print blouse, a bodycon skirt and black leggings. In keeping with the skinny jean theme, Contestant number 5, Jade Oton wore dark blue jeans paired with a floral and bird print shirt.
Contestant number 6, Cristina Bunting paired black skinny jeans with a white t-shirt, with lace detailing on the sleves. Contestant number 7, Maxine Bettridge broke the jean trend by wearing a plain white long sleeved t-shirt with a pair of grey shorts. Contestant number 8, Jessical Baldachino paired high waisted, blue skinny jeans with a tight fitted black t-shirt. Finally, Contestant number 9, Kerianne Massetti continued the black skinny jean trend but paired them with a purple silk shirt.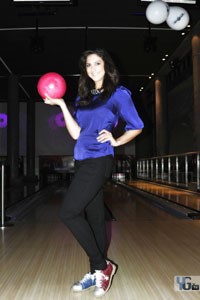 Drinks were ordered and the girls settled down to bowl, doing so with great aplomb. Between sets the girls were able to pose for YGTV and also have their group picture taken with and without the King's Bowl Mascot.  During the course of the frames the girls had mixed results with some stars hidden amongst their ranks. YGTV even noted a few strikes.
As the night progressed, it was time to allow the girls to get on with the bonding session, a session that had clearly worked as we would note when we saw the girls again at the launch of their charity events.