Feb 05 - Daniel Feetham - New GSD Leader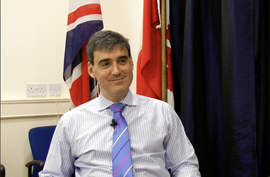 Yesterday evening, the GSD Executive voted to make former Deputy Leader of the party, Daniel Feetham, the new Leader of the Party. Following his appointment, he gave this statement:
'Firstly, I would like to thank Damon Bosssino for putting his name forward and demonstrating that anointments of political party leaders in stage-managed meetings are for others. Mr. Bossino is, and remains, a valued and important member of an experienced and talented Parliamentary Opposition, which over the next three years will, I hope, discharge the constitutional duties of Her Majesty's Opposition in a way that earns the respect and confidence of the people of Gibraltar, as the alternative government. 
Read more ...