Feb 04 - Between a Rock and a Dirty Place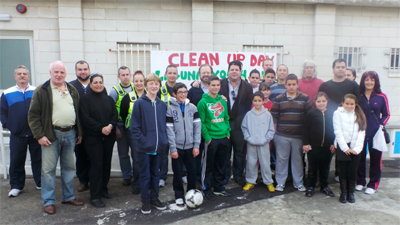 This weekend, members of the Laguna Youth Club, along with the Community Committee and the RGP Neighbourhood Policing Unit cleaned up the rubbish that had accumulated in the area between the estate and the Rock. Minister Dr. John Cortes and Steven Linares also joined in the clean up.
The team was provided with overalls, safety helmets and gloves, by GJBS and Master Service. Minister Cortes noted that the initiative was a local one, but was also consistent with the aims of the Government's Litter Committee. 
Seven trucks were filled with rubbish by the end of the session. Following a morning of hard work, the team was rewarded with lunch at the Youth club and a visit from Chief Minister Fabian Picardo.