Mar 04 - Gib Company Attends Lotus Charity Evening in London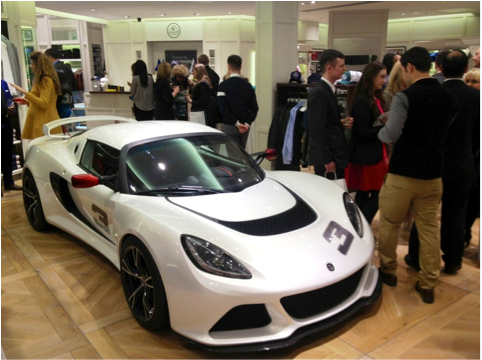 On the 27 February the Europa Trust Company Ltd was invited by the Nelson Mandela Children's Fund to send a representative to the Lotus cars "Future for Children Initiative." at the Regent Street Lotus store in London.
The company is a proud supporter of the Nelson Mandela Children's Fund and at the event, Aslam Farikullah COO of Group Lotus Plc, announced that they too would be supporters of the charity and that 25% of purchases made during their initiative would go towards the Children's Fund originally set up by President Mandela in 1994.
The Nelson Mandela Children's Fund is an international, non-profit organisation committed to creating a better future for children. Nelson Mandela was an anti-apartheid activist and served as president of South Africa from 1994 to 1999. He frequently gave priority to reconciliation, while introducing policies aimed at combating poverty and inequality.
Guests at the event included Member of the British Parliament Peter Hain; Miss Uganda, Maria Namiiro; and Igbal Meer, a former lawyer for Nelson Mandela.
Kathi Scott Executive Director of the Nelson Mandela Children's Fund (UK) highlighted the value and importance of the charity. She described the origin of the charity when President Mandela committed one third of his presidential salary to guarantee the future of the organisation. Ms Scott further explained the positive impact the fund has already had on 85 000 children it supports.
Rachael Ward Head of Fundraising for The Nelson Mandela Children's Fund expressed her delight at the continued commitment Europa Trust has made to the fund. She stated how pleased she was with efforts Europa Trust had made in bringing awareness of the charity in Gibraltar and their on-going supporting of the fund.
The evening brought together individuals and representatives of companies who take their corporate charity responsibilities seriously.
Europa Trust has been based in Gibraltar over 27 years. It is committed to local and international charitable causes. They will continue to support and create awareness of The Nelson Mandela Children's fund during 2013.