Jul 29 - Commander Visits British Forces Gibraltar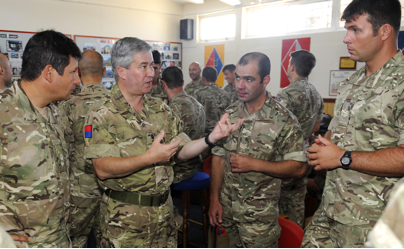 General Sir Richard Barrons, who took over from Air Chief Marshal Sir Stuart Peach as Commander of the Joint Force Command in April, called on CBF last week.
General Barrons spent a busy day touring his units on the Rock, including the RN Gibraltar Squadron, the Royal Gibraltar Regiment and the airfield, and meeting the personnel of the Command.
The General also met with HE the Governor and called on the Chief Minister.
As he left on Friday morning General Barrons said: "I was pleased to visit Gibraltar this week for the first time as Commander Joint Forces. Gibraltar is of strategic importance to the UK and offers good opportunities for training and capability, including the Royal Gibraltar Regiment. The British Armed Forces have a long standing relationship with Gibraltar and a continuing part to play in the present and future - I look forward to seeking opportunities to develop this further.'