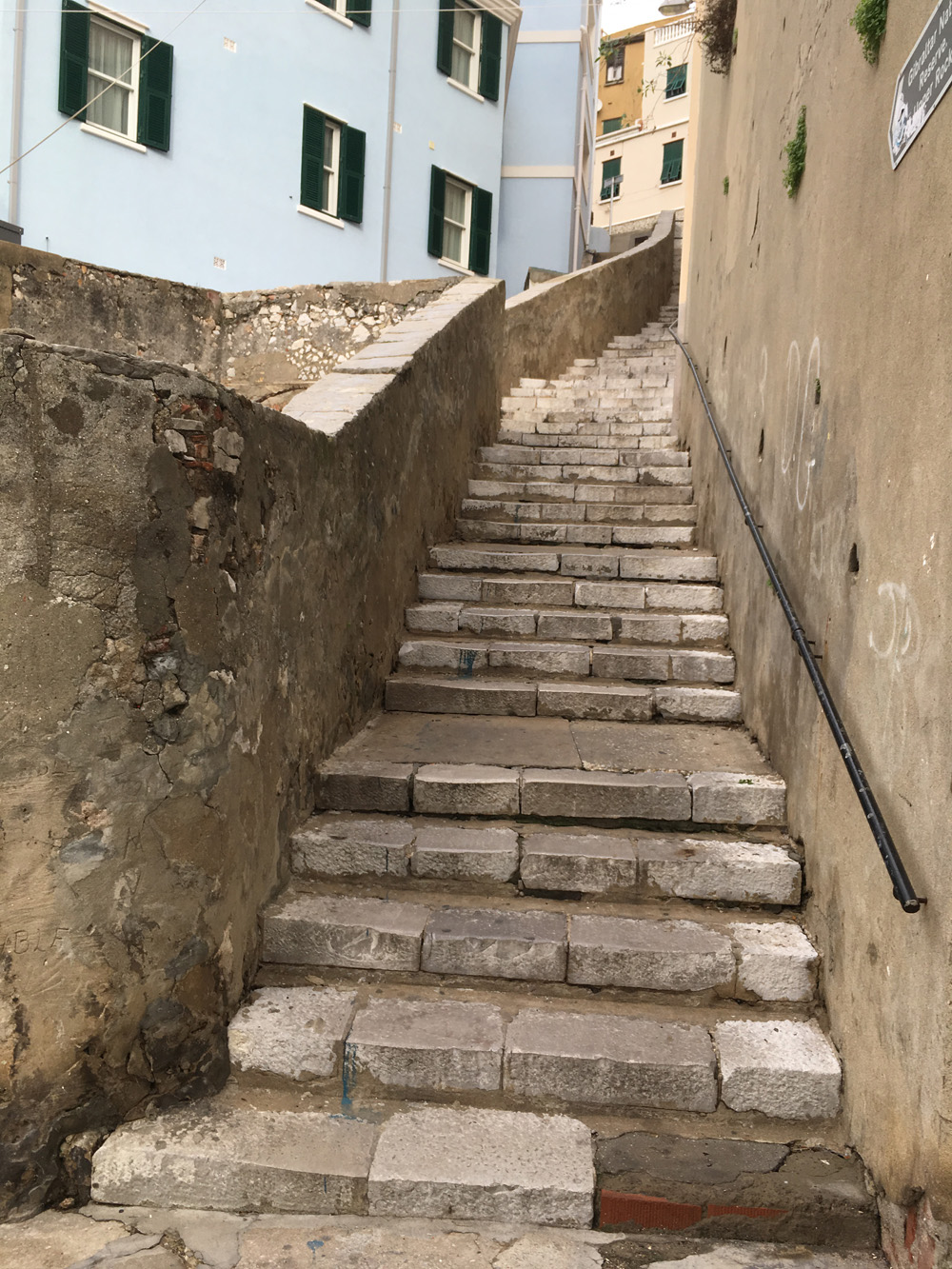 A Late-Night Stroll Through La Calle Comedia
Mark Sanchez – who recently received the Cultural Ambassador award at the 2nd Gibraltar Cultural Awards – has been writing about Gibraltar for the last fifteen years. In this period he has published novels, short stories, historical fiction, travelogues, family memoirs, books of essays, as well as shorter pieces for a range of different publications. He also been invited to speak about his books at different European universities and has seen his work discussed and lectured about by European and American academics.  Very soon he will be publishing Gooseman, his fourth full-length novel and thirteenth book on a Gibraltar-related subject. As part of the build-up to Gooseman's release, we will be publishing a series of extracts from some of Mark's fiction and non-fiction books.  We kick off the series today with an extract from his 2015 autobiographical tome Past: A Memoir, in which Sanchez describes an evening walk through Gibraltar's Upper Town Area in the company of the British historian Nicholas Rankin:
By M.G Sanchez
Some call it Castle Street, others Castle Steps. Both names are used synecdochically – inasmuch as they refer to the lower and upper halves of what is essentially the same street. I've always thought of it as the Upper Town's overstretched and somewhat misaligned spine, narrowing one moment and then widening the next, splintering into a succession of ramps and passages, its relentless gradient only broken by the one or two landings that have been mercifully incorporated at different points along its length.
Among local historians the area is famous for being the site of the 'Castle Street Riot' (when three hundred British soldiers clashed in 1897 with an equal number of working-class natives), but, for me – as I mentioned earlier – it is a neighbourhood that I've always associated with my own family history, an ancient landscape pregnant with personal and ancestral memories. On the evening that I walked up the street together with the British historian Nicholas Rankin, the locality was deserted and the only light came from the lampposts erected at distant intervals by the side of the sloping avenue, a frail, ochre-tinged glow that bounced off the weathered flagstones without quite illuminating the shop fascias and other symbols of modernity in the neighbourhood. I think that Nicholas was surprised to discover this warren of semi-forgotten alleyways just a few minutes away from the hustle and bustle of Main Street, but for me too it was quite a novel experience – more than twenty years having passed since I had last wandered through the area in the middle of the night. On reaching the main landing halfway up the street, we paused for a second and then turned right into Hospital Ramp, one of Castle Street's various offshoots. I focused Nicholas's attention at this point on a wedding-cake-like structure comprised of some type of electrical communications hut, what looked like a converted warehouse just above it, and a mishmash of residential properties stacked in turn behind them. Somewhere atop this untidy cluster of buildings, I explained to him, would have sat the Jack up the Ramps, the most infamous of Gibraltar's Victorian drinking and dancing establishments. Spread over two storeys and employing dozens of female artistes, it served alcohol to hundreds of young British marines and soldiers and effectively acted as a conduit into the brothels on what is now New Passage. In 1897 Archdeacon Decimus Storry Govett, the head of the Gibraltar Temperance Committee, complained that many of the female dancers employed in the Jack up the Ramps were not really dancers at all, but common prostitutes brought in from the adjacent brothels – 'the whole purpose of this detestable establishment,' as he memorably put it, 'being to act as a facilitator for the spread of vice and immorality.'
'That's quite a remarkable story,' Nicholas said, gazing meditatively at the ramshackle collection of buildings in front of us. 'I'm surprised that so few historians have written about it.'
'That's probably because they are not even aware of what used to happen here. I myself didn't know about any of this until fairly recently.'
It is true: when I grew up in the '70s I had no idea what had transpired in these same streets a mere fifty or sixty-odd years before my parents had moved to Chicardo's Passage. To my youthful eyes the area had no past and no prior associations, as if the entire labyrinthine network of crooked streets and dim-lit ramps had been laid down for no other reason than to provide my brother Steffan and me with an oversized adventure playground. When at the age of thirty I finally heard about Gibraltar's forgotten red-light district, it was almost as if a veil had been lifted from my eyes, exposing me to a barbarous and alien world that had lain buried under the rubble of collective forgetfulness. Suddenly it felt as if everything that I had experienced in my childhood had been lived in the shadow of former events, as if the ghosts of the past had always been there, silent and expressionless, tracking each of my youthful scrapes and escapades, frowning mutely at my brother and me from the shadowy margins. Above all, I kept visualising the illicit encounters that must have taken place in the same nooks and crannies where Steffan and I had once played hide and seek. I could almost hear the spit-flecked guffaws, the counterfeit moans, the plangent female sobs that spoke of entrapment and despair, the scandalous chorus of belches and curses that must have echoed down the same twisting streets through which my brother and I had once chased our tumbling leather ball. It was as if my mind had suddenly become a projection screen uniting two different pasts, my own and that of the district around me, the two of them fused together like a pair of overlaid plastic transparencies, making me more aware than ever of the stratified yet strangely interwoven nature of Gibraltarian socio-colonial history....
We continued walking up Hospital Ramp until the street levelled out and we were once again on flat ground. At this point there is one of those hopelessly confusing miniature junctions which are scattered all over the Upper Town – with Chicardo's Passage to the immediate left, the winding, Z-shaped alley known as Abecasis's Passage to the far left, Pezzi's Steps to the right and the lumpy, poorly tarmacked road that goes past the old mortuary straight ahead. After a moment's pause I beckoned Nicholas up the first twenty steps of Chicardo's Passage and then came to a stop outside the ungated entrance to our former apartment. Lowering my voice, I explained to him that, whenever my brother and I used to play football on this same spot, we'd sometimes lose control of the ball and it would end up bouncing down to the junction. If we didn't fetch it in time, it would continue rolling its way down to the bottom of Pezzi's Steps, some fifty or sixty metres away, where it would sometimes fall into the hands of the older kids who gathered in that area, or – if we were particularly unlucky – be carried by its own momentum towards the vicinity of Boschetti's Steps, the next sequence of stone-cut steps on the way back into town. 'Funny, don't you think?' I said, gazing westwards towards the shadowy patchwork of rooftops and terraces which could be seen from our fairly elevated position. 'That's what I always think about when I come up here – that damn ball rolling away down the steps and one of us having to run after it to bring it back here again.'
The last part of our stroll saw us follow the path of that bouncing ball down Pezzi's Steps and into New Passage, where all the brothels would have been located in the nineteenth century. In some ways this was the most atmospheric part of the walk, since the buildings in New Passage are relatively tall and the street which cuts through them is narrow and underlit, all of which serves to make the area appear more sinister than it really is. Guided by the light of the only working lamppost, I led Nicholas to the southern end of the passage, where you can still see the scuffed iron doors once used by the brothel-keepers to shut out unwanted customers. It was not as dark here as in the rest of the lane – thanks in part to the weak copper-coloured light that filtered through from Hospital Steps, the street immediately adjacent to New Passage – and you could hear the sound of canned television laughter coming through a pair of closed Persian shutters. Removing my hands from my pockets, I pointed to one of the ancient doors and, lifting my right foot as if I were about to unleash a kick, explained to Nicholas how those remarkable dents and scratches had been created in the first place. It was at this point that the situation took a surreal turn.
'Pero que poca vergüenza,' an old woman suddenly croaked from a first-floor window, her shrunken grey head just visible behind a crenellated line of terracotta flower-pots. 'Dándole patadas a mi puerta. Ahora misma voy a llamar a la policía.'
'Pero señora,' Nicholas, who speaks perfect Spanish, remonstrated with our geriatric accuser, 'no estábamos dando patadas. Solamente estábamos imitando la acción de una patada.'
'Que llamo a la policía, eh,' the old lady spouted, completely uninterested in what Nicholas was saying. 'Te lo juro, eh!'
It certainly was a bizarre situation – a forty-four-year-old English Literature PhD holder and a sixty-four-year-old Fellow of the Royal Society of Literature being accused of trying to kick down an elderly lady's front door! For a few moments the worthy Mr Rankin continued trying to reason with the flustered dame, but I could see that the old gal, who must have been anywhere between eighty and ninety, and who was getting more and more worked up by the second, was in no mood for circumlocutious explanations.
'Come on, Nicholas,' I said, edgily tapping my companion on the arm. 'We'd better leave the area or you and I are going to end up following in Malcolm Lowry's illustrious footsteps!'