Nov 20 - Comedy for Africa – Bringing Some of the UK's Headlining Comedy Acts to Gibraltar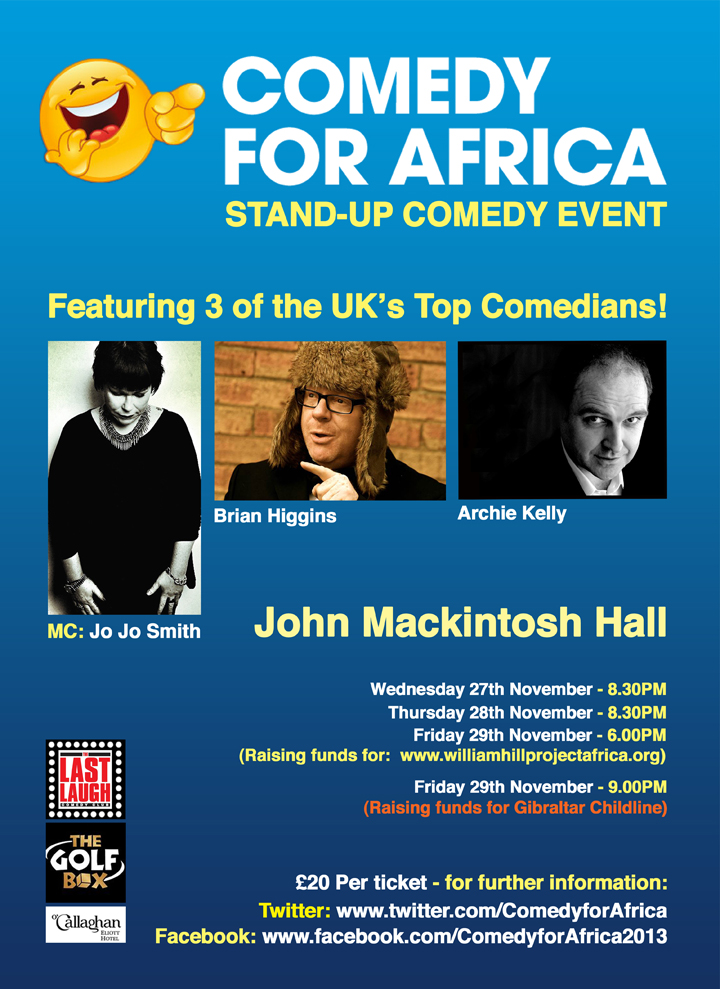 Bringing some of Britain's top names in comedy to Gibraltar, the Comedy for Africa event promises to both fill it's audiences with violent bursts of laughter and raise funds for William Hill's worth while Project for Africa charity as well as Gibraltar's own Childline.
Four shows will be hosted at the John Mackintosh Hall on Wednesday 27th, Thursday 28th and Friday 29th of November. Acts include Archie Kelly, who made a name for himself in Peter Kay's 'Phoenix Nights' playing Kenny 'Dalgish' Senior. Archie has since become a headlining act in a gamut of well know clubs around the UK, including Manchester's 'The Comedy Store'. Archie incorporates his Northern wit and razor sharp song parodies into his stand-up. He has formerly toured with Paddy McGuinness and Peter Kay.
Comedian Brian Higgins is well known in the UK's comedy scene and has had huge success at the Edinburgh Fringe Festival. Brian covers topical material and pushes to the forefront of comedy with his improvisation skills and extraordinarily funny quips about fatherhood and pregnancy. Third act, Jo Jo Smith made her tv stand up debut on Red Dwarf's Craig Charles's ITV show, The Funky Bunker. She is a well-established comedy circuit act as a very 'in your face' comedienne who really just 'says it like it is'.
All proceeds of the four shows, which will kick off at 8:30pm on both Wednesday and Thursday and then 6pm and 9pm on Friday, will go towards the William Hill Project Africa charity that raises funds to build schools and homes for children in Africa. Friday's 9pm show also raises funds for Childline Gibraltar. Tickets are priced at £20 and can be purchased from Happy Healthy Nails at 49 Engineers Lane. They can also be ordered through the Comedy for Africa Facebook page
The project has also seen the sale of blue noses to promote comedy and raise further funds for Childline. Blue noses can be purchased at Holland & Barratt, Music Corner, Calpe Pharmacy and Kitchen. Those who do purchase blue noses are urged to post their photos to the Comedy for Africa Facebook page.