Jun 30 - 2,500 Mile Charity Cycle Raises Funds for BFBS Big Salute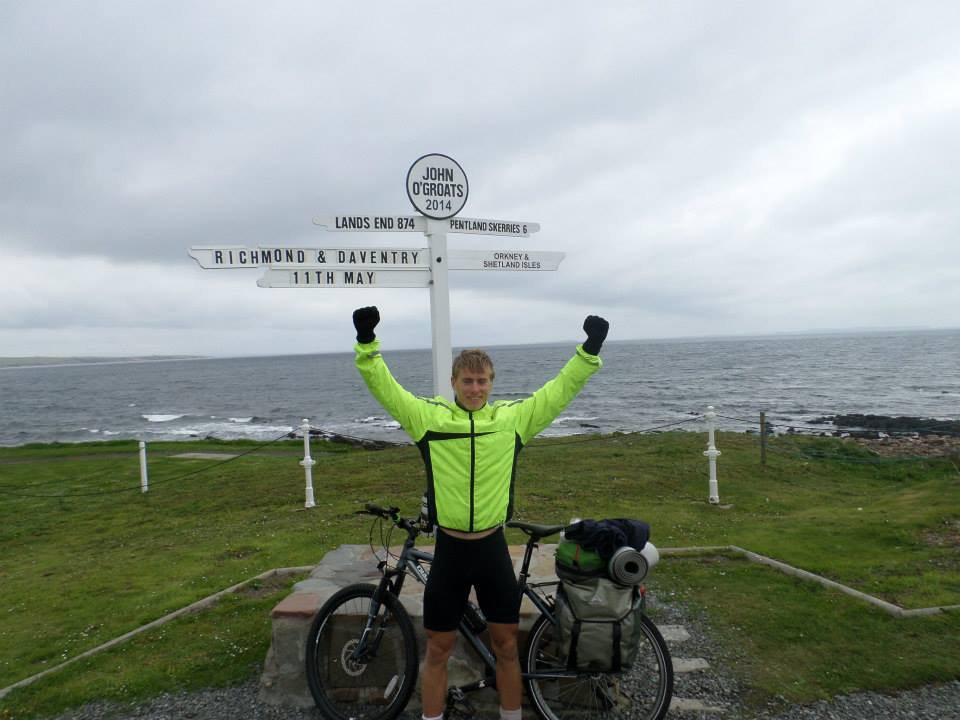 Personal Trainer Jake Wilde completed a grueling 2,500 mile charity cycle ride from Gibraltar to John O'Groats, Scotland in just 27 days.
Riding alone and unsupported Jake managed to raise £220 in cash donations both in Gibraltar and on route for Gibraltar Cancer Relief and £435 in online donations for the BFBS Big Salute Charity via his Just Giving page.
The arduous journey took its toll both mentally and physically but the most challenging part of his ride was cycling through France where the weather and unexpected problems affected his moral, 'The French border is situated at the bottom of a long descent from high up in the Pyrenees and by the time I reached the bottom it was getting late and already pitch black, it was pouring with rain and I was soaked through and shivering uncontrollably, I had wrongly assumed that there would be somewhere for me to stay near the border, I was running out of water but had no choice but to cycle around quiet country roads in France in the dark for about 45 minutes until I finally found somewhere to stay, this was a real low point and it took me about an hour to warm up.'
'For the majority of France the weather was awful, almost every day I found myself cycling through the pouring rain for hours on end, and it was surprisingly cold. If I wasn't wearing a good waterproof jacket I wouldn't have finished the ride and turned back. My trainers, socks and shorts were soaked through nearly the entire length of France. I finally got the chance to dry my kit out when I reached the UK,' Jake said.
Jakes most memorable parts of the ride were reaching new country milestones: 'Every time I got to a border it was big boost, when I reached France after cycling through Spain it made the journey seem much more possible, getting to the UK was fantastic, being able to communicate with people again was amazing, whenever I told someone what I was doing they were really generous, some people let me camp for free or gave me a meal and others simply handed me some money for the charity, it became a real talking point wherever I went but I suppose the absolute highlight was reaching John O'Groats with about 30 minutes of daylight left, it felt strange to be there after heading towards it for 27 days, I literally stayed there for about 20 minutes before getting back on my bike and heading back to my B&B for the night, which was a short two minute ride away, luckily' he said.