Nov 10 - Action 4 Schools Chocolate Santas Launched to Fund Sierra Leone Aid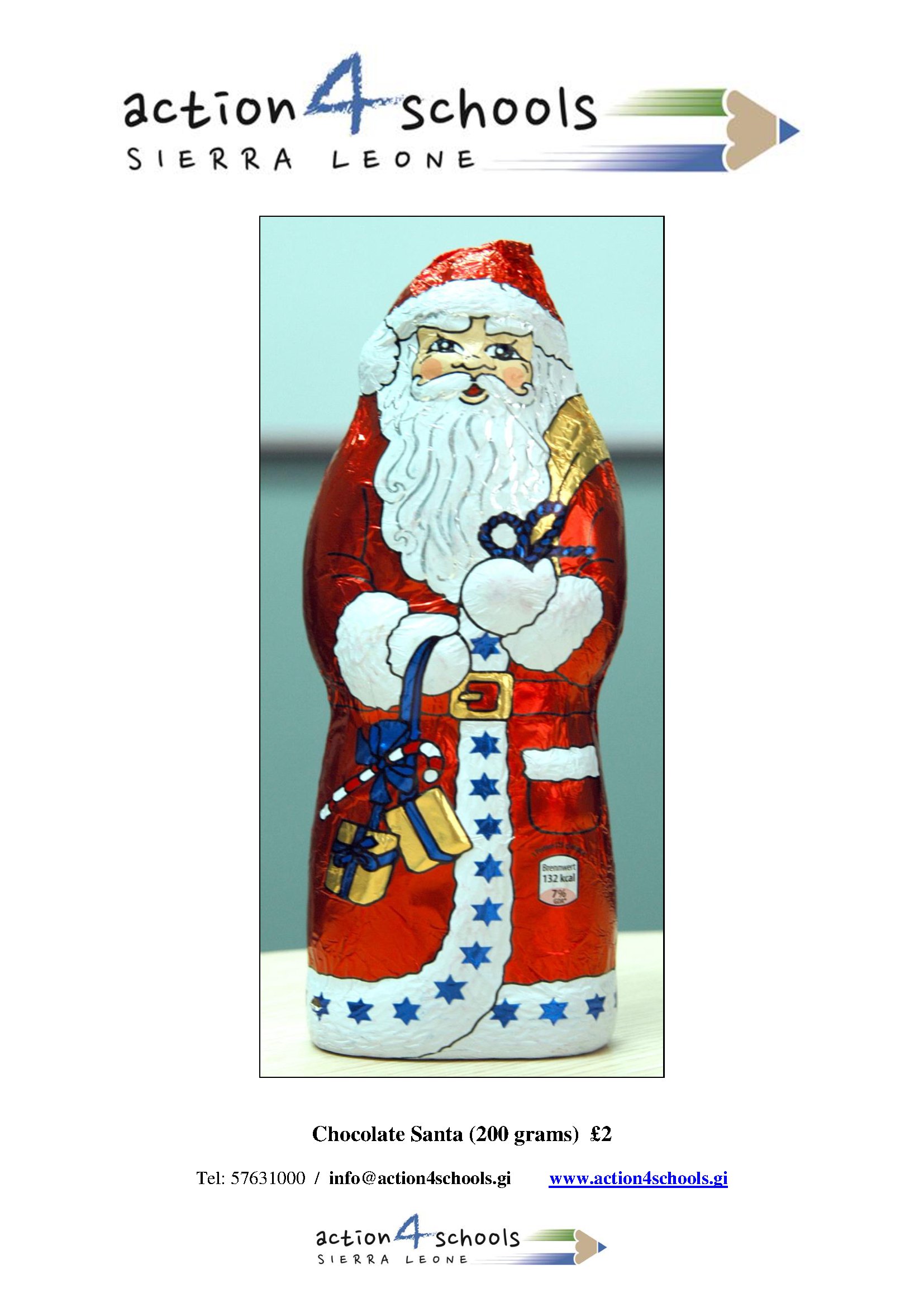 The Action 4 Schools Sierra Leona charity has revealed that the ever popular chocolate Santas and advent calendars are available once again, for purchase, in aid of the charity's school and water well projects in Sierra leone.
Chocolate Santa and advent calendars are priced at £2. All orders must be made by 14th November.
As part of their effort to aid the current Ebola crisis in Sierra Leone c, the charity recently launched an 'Ebola Orphans Appeal', calling on the public to help them raise funds towards the building of homes for 34 ebola ridden orphans who have been taken in by 'Heaven Homes & Primary School', a non-profit organization with the aim of establishing children's homes and centres.
Action 4 Schools recently donated £2,000 to the organization that is desperate to build accommodation for the youngsters. Those wishing to donate can do so via the charity's bank account, the details of which are:
ACTION4SCHOOLS – SIERRA LEONE
 Bank: NatWest, Gibraltar 
Account Number: 48084352 
Sort Code: 60-60-60
Alternatively individuals can contact the charity on This email address is being protected from spambots. You need JavaScript enabled to view it. or by telephone at 57631000.
In an effort to raise further funds, the charity is hosting a dinner on 6th December at the Calpe Rowing Club for £45 per person. The price includes a welcome drink, a three-course meal, wine, coffee and free entry into a prize draw. Live music will be provided by the Jukebox Band.