Jan 31 - Insanathon Event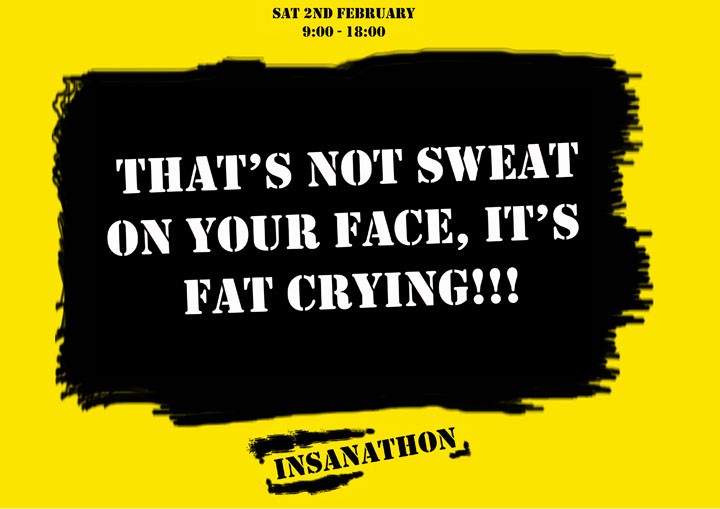 On Sunday 21st April, Gibraltar resident Karl Alvarez will run the London Marathon to raise vital funds for leading medical research charity Arthritis Research UK.
Karl, 28, chose to support Arthritis Research UK since being involved with the charity as a medical student. Now working as a doctor in Southampton General Hospital he witnesses the devastating effects of this common disease on a daily basis. One in six people, including 15,000 children, currently face a daily struggle against arthritis. The debilitating condition is the biggest cause of pain and disability in the UK and there is no cure. 
Karl is aiming to raise £2000 to help the charity to fund its pioneering, world-class research into the treatment, prevention and cure of arthritis and related musculoskeletal conditions. To help raise this amount Karl, along with some teachers from Bayside Comprehensive School, is organizing a local charity event called Insanathon!! This grueling event will involve 10 intense workouts of the popular 'Insanity' series hosted by Shaun T.
The event will be held at the Catholic Community Centre on Saturday 2nd February and will start at 9am. Each session will start on the hour with the last one commencing at 18:00.  Karl along with two friends Gareth Alvarez and Stewart Harrison will aim to complete all 10 sessions!!
Insanathon is open to anyone and everyone, and individuals are encouraged to come down to the Catholic Community Centre during the course of the day and take part. A Donation of £3 per Workout will kindly be required. Whether you think you can complete the challenge, or would like to try out some of the Insanity workouts, or just come and support your local community for this worthy cause, your presence will certainly help to motivate the participants. A refreshments and a cake stall will also be available. Rock Solid Supplements and The Health Store will also have stalls at the event. Every penny raised will go to Arthritis Research UK.
Karl says: "this event promises to be very challenging but a lot of fun!! So far there has been a lot of interest, in part due to the popularity of the 'Insanity' workouts in Gibraltar. We hope that many Gibraltarians will come down to participate and support this worthy cause. We all know someone who has been affected by arthritis or may even suffer with arthritis ourselves. It is for this reason that I feel so strongly about this cause and encourage everyone to get involved".
So if you wish to help Karl to reach their fundraising target pop down to the Catholic Community Centre this Saturday 2nd February.