Jan 13 - Moroccan Theme Dominates this Year's Gibraltar World Music Festival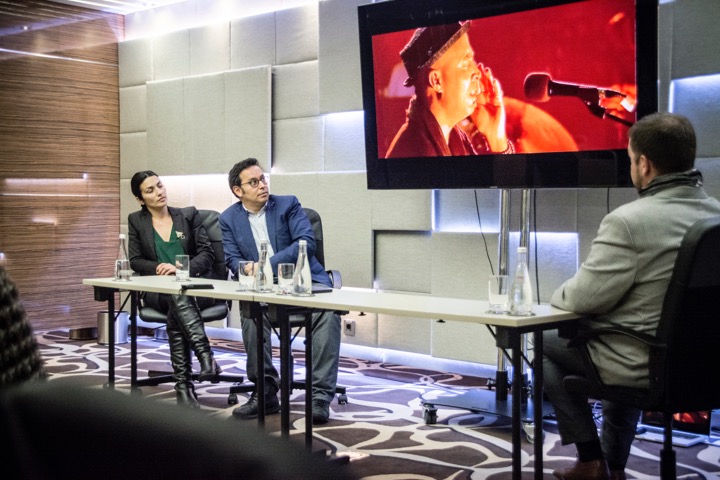 Revealing the theme behind this year's Gibraltar World Music Festival to be the cultures of Maghreb, specifically Morocco, Gibraltar Productions' Fatosh Samuray, Yan Delgado and Jose Luis Martinez touched upon the recent terror attack in Paris and the importance of uniting cultures against such actions.
The Festival will be dubbed 'Khamsa', meaning five in Arabic, a representation of the symbol of protection for all religions of Maghreb. The French-Moroccan singer Françoise Atlan will be the artistic director for this year and will create especially for GWMF a unique production of one hour called 'Convivencia'. Musicians from all religions will perform at the St. Michael's Cave on the 18th of June. This first act is combining music and dance from both sides of the Strait. The Andalusian Orchestra of Tangier, represented by Omar Metioui, the Moroccan emerging star Abir El Abed, the upcoming artist and musician based in Jerusalem Neta Elkayam and Françoise Atlan herself have already confirmed their participation. More artists will take part of the show.
The second act of the evening will be performed by the Tunisian Oud player, vocalist and composer Dhafer Youssef, certainly one of the most admired and surprising artist of his generation currently. His vocal undulations and the resonances of sounds, the jazzy atmosphere and the Mediterranean groove will simply transcend the audience of the Cave. 
Prior to the 18th, the GWMF is preparing a street event called 'Le Souk', an opportunity for Gibraltar to discover sounds, smells and colours that Morocco can offer. A host of further events will be organised throughout the year.