Oct 20 - Road Closures And Disrupted Bus Routes Across Gibraltar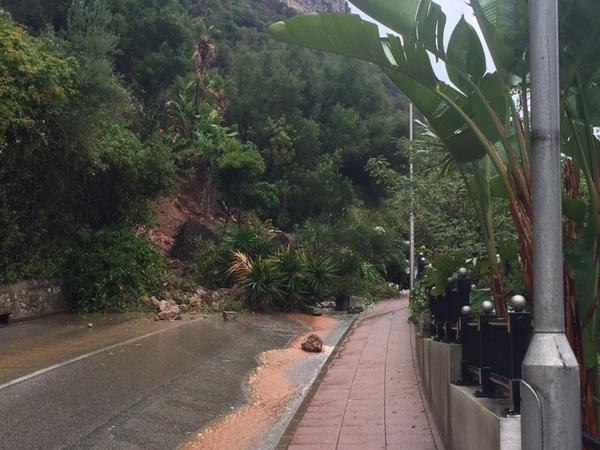 Traffic and bus routes have been disrupted due to a number of road closures because of heavy rainfall across Gibraltar today.
Europa Road has been closed to traffic on both lanes due a landslide between the Rock Hotel and the old Casino building.  The Technical Services Department and Gibraltar Fire and Rescue Services team are working together to assess the situation in the area.
Traffic is being diverted back down South Barracks or towards the old Queen's Cinema.
A small rock fall at Camp Bay has resulted in road closures to the area, with access to the south via South Barracks. Traffic to the area will resume pending assessment from the technical services department.
Queensway Quay was also closed due to flooding outside the Westside School area, from Regal House to Montagu Gardens entrance. A spokesman for the RGP said the road should be opened once the flooding has been cleared.
Gibraltar Bus Company routes have also been affected today. Bus route 7 has been cancelled.
Bus Route 2 from Market Place to Europa Point is going along the east side via Dudley Ward Tunnel, and returning via Europa Road with diversions towards Rosia Road after Loreto Convent.
Bus route 3 is heading towards South Barracks via Humphreys.
{fcomment}