May 05 - Monarch Marks 20 Years Of London Luton To Gibraltar Services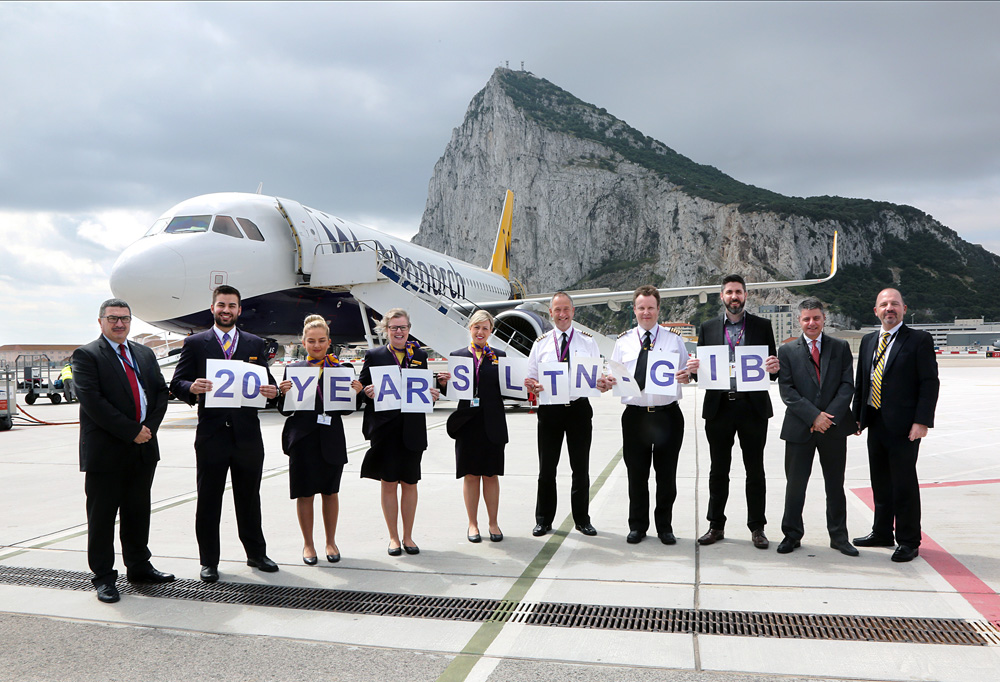 Monarch today marked 20 years of services between London Luton and Gibraltar.
The route, which commenced in May 1997, has carried more than 1.5 million passengers. This service is also one of Monarch's longest operating scheduled routes.
Marking the occasion with the operating crew of flight ZB062 this morning was Ian Chambers, Monarch's Chief Commercial Officer, as well as Gilbert Licudi, Minister for Tourism and Commercial Aviation, Nicky Guerrero, Chief Executive of the Gibraltar Tourist Board and Terence Lopez, Air Terminal Director, Gibraltar International Airport.
Mr Licudi said: "We would like to congratulate Monarch Airlines on reaching this 20 year milestone on services to Gibraltar from London Luton Airport. Whether carrying customers on business, leisure, or visiting friends and relatives on both ends of the route, the airline has provided a vital link between Gibraltar and the region north of London. We continue to work closely with Monarch in promoting Gibraltar as a destination and look forward to celebrating another 20 years on this route."
Monarch also flies to Gibraltar from another three UK departure points: Birmingham, London Gatwick and Manchester. It will offer up to 18 weekly departures this summer season to all four destinations, offering in the region of 190,000 return seats.
Ian Chambers, Monarch's Chief Commercial Officer said: "We are delighted to be celebrating 20 years of flying to Gibraltar. Monarch is the airline with the most routes between Gibraltar and the UK, flying from four of our five UK bases. It's a popular route for us which has grown steadily during the last two decades and as a result of a recent increase in demand we have added frequency into our Manchester programme for summer 2017.
"The Gibraltar routes are part of our core network and we are proud to have flown more than one and a half million customers since the route first started in 1997. We are looking forward to the next 20 years flying to this fantastic destination."
Top left and below: Monarch staff are welcomed to Gibraltar by Minister for Tourism Gilbert Licudi, Air Terminal Director Terence Lopez and Chief Executive of the Gibraltar Tourist Board Nicky Guerrero.
Bottom: Minister Licudi exchanges gifts with Ian Chambers, Acting Chief Commercial Officer (Monarch)